Banks Near Me
Here are three fast, easy ways to find a number of bank locations near you.
Wells Fargo, Bank of America and U.S. Bank have more branches in the U.S. than any other banks, due in part to the fact that breaking into the established retail banking system is difficult for smaller financial institutions.
But there's no shortage, however, of other bank locations in the U.S. In fact, if you drive across town you'll likely see a variety of financial institutions. If you need to locate a nearby bank now, don't waste your time looking for one on foot or by car. Follow the steps for three ways to find the best bank near you.
How to Find a Close Bank Online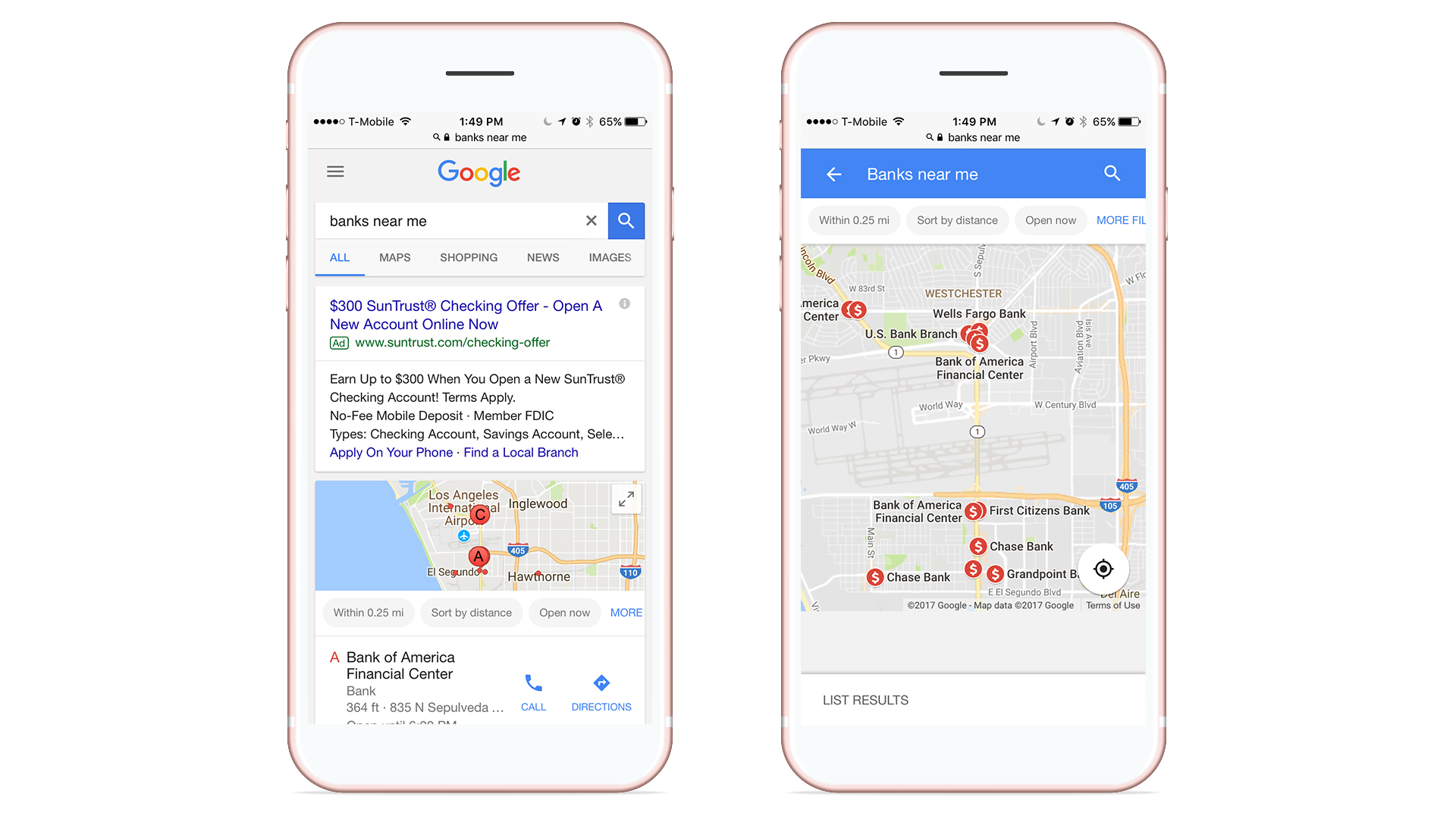 To locate any close financial institution, you can find one quickly online. Here's how:
Type "banks near me" into your browser and hit enter.
Use the scroll function on your computer or device to see the different banks located near you.
Click on the bank location if you want more information about it. Some browsers will provide convenient links to the bank's website or directions to its location on the results page.
Read: 15 Best Mobile Banking Apps and Services
Sponsors of
How to Find a Specific Bank Near You Online
If you want to find the "best bank" — typically, your own — use its online locator. Here's how:
Type the bank's name with the word "locator" after it into your browser. For example, if you want to find a Chase bank, type "Chase Bank locator."
Click on the result for the bank's locator page.
Enter the ZIP code or address, city and state where you want to find a branch into the search bar.
Review the details for bank branch locations near you.
Some bank locators offer options for filtering your search. For example,

Wells Fargo allows you to search for branches

that have a multilingual staff or notary services.
In addition to finding a bank online, you can use your bank's app to find locations near you. You can also access a number of banking services via a bank app, like transferring money, paying bills and checking your balance.
Sponsors of
Related: Choose the Right Bank Account for You
Call Customer Service to Find a Bank
If you don't have online access, call the customer service number for your bank. If you need the number, you can get it for free.
You'll have to listen to an advertisement and the directory assistance is entirely automated — no live operator available — but at least you won't pay a fee. Here's how to call customer service:
Dial the customer service number for your bank or dial 800-FREE-411 to get no-fee directory assistance.
Follow the automated prompts to be connected to an operator or the customer service department.
Give the representative your location and ask for the address or phone number of bank locations near you.
If you're interested in finding an ATM, credit union or bank, any of these methods will work. Keep in mind, though, that online bank locators' search features might vary among financial institutions.
Sponsors of
More on Finding Banking Locations
Editorial Note: This content is not provided or commissioned by the bank advertiser. Opinions expressed here are author's alone, not those of the bank advertiser, and have not been reviewed, approved or otherwise endorsed by the bank advertiser. This site may be compensated through the bank advertiser Affiliate Program.