Wells Fargo Bank Near Me
Locate your nearest Wells Fargo bank locations following these simple steps.
Wells Fargo is a popular financial institution with over 70 million customers and $1.9 trillion in assets, ranking it third for total assets among U.S. banks, according to its first quarterly report of 2017.
With the convenience of 8,600 locations across the country and 13,000 Wells Fargo ATMs, it's easy to understand why Wells Fargo is a top bank. Discover what services this bank offers and how you can find the nearest bank location.
Wells Fargo Banking Services
Whether you require personal, small business or commercial services, Wells Fargo offers products that might suit you. In addition to a host of checking and savings account options, the bank has a line of student, auto and home mortgage loans.
Customers can apply for a Wells Fargo credit card, set up an IRA account and invest in mutual funds. The company's financial advisors are available to help you meet your goals.In addition, you can join the Customer Relationship Program, which comes with perks such as fee waivers, preferred interest rates and rewards bonuses.
Sponsors of
See: Here's Your Wells Fargo Routing Number
Wells Fargo Bank Locations Near You
Wells Fargo makes it easy to determine if there's a Wells Fargo nearby. The company has an online locator tool for viewing bank locations and Wells Fargo bank hours.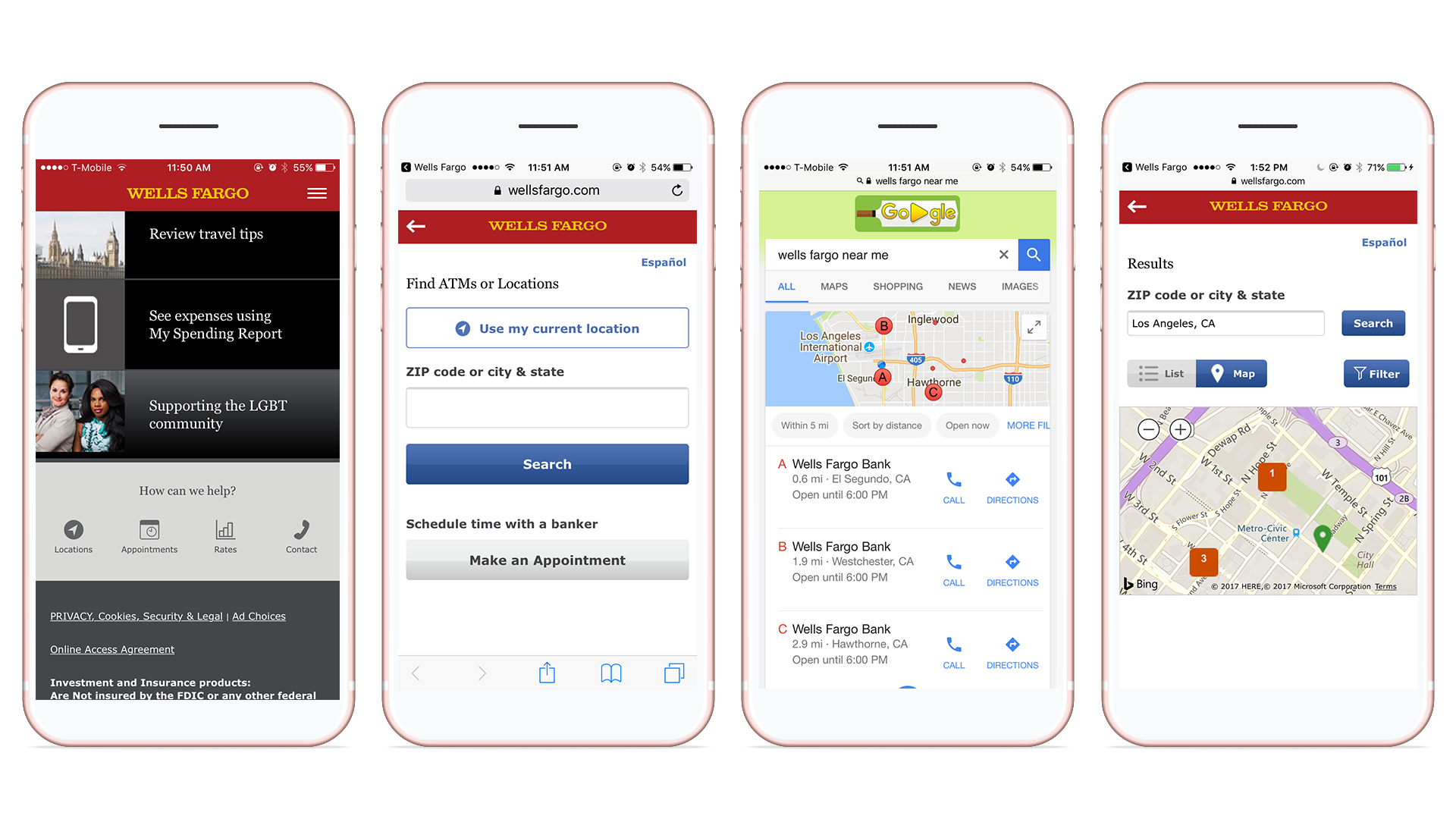 Here's how to find a Wells Fargo close by:
Visit the Wells Fargo locator tool.
Type your ZIP code or city and state in the "Find a Wells Fargo location" box, and press the blue "Search" button.
Take a look at the list of Wells Fargo locations and hours of operation to find the closest branch with the most convenient hours.
See: Wells Fargo CD Rates Review
You can gauge whether this bank is convenient for you by determining whether it has enough locations in your state to meet your needs. Use this chart to view the number of branch locations within the 39 states Wells Fargo currently serves:
Sponsors of
Wells Fargo Locations by State
States With Wells Fargo Locations
Number of  Locations in State
Alabama
134
Alaska
47
Arizona
82
Arkansas
2
California
853
Colorado
145
Connecticut
70
Delaware
19
District of Columbia
25
Florida
626
Georgia
267
Idaho
79
Illinois
20
Indiana
35
Iowa
68
Kansas
8
Maryland
81
Michigan
17
Minnesota
159
Mississippi
13
Montana
37
Nebraska
38
Nevada
102
New Jersey
285
New Mexico
77
New York
77
North Carolina
299
North Dakota
19
Ohio
1
Oregon
95
Pennsylvania
262
South Carolina
140
South Dakota
42
Tennessee
18
Texas
598
Utah
105
Virginia
270
Washington
136
Wisconsin
52
Wyoming
24
Also: How to Find and Use Your Wells Fargo Login
You can also use Google or another popular search engine to find a Wells Fargo bank location near you. Here's how:
Bring up the Google search engine on your computer, phone or tablet.
Enter "Wells Fargo near Me" in the search box and hit enter.
You'll see the closest Wells Fargo locations listed under the map with the option to click on "more places."
Whether you need a full-suite of banking services or need to find a Wells Fargo ATM, this bank offers both. To find the closest branch or money machine, complete with driving directions, use its locator tool. With locations in 39 states, there's a good chance you'll find one near you.
Sponsors of
More on Wells Fargo
More on Finding Banking Locations