Wells Fargo Near Me: Find Branch Locations and ATMs Nearby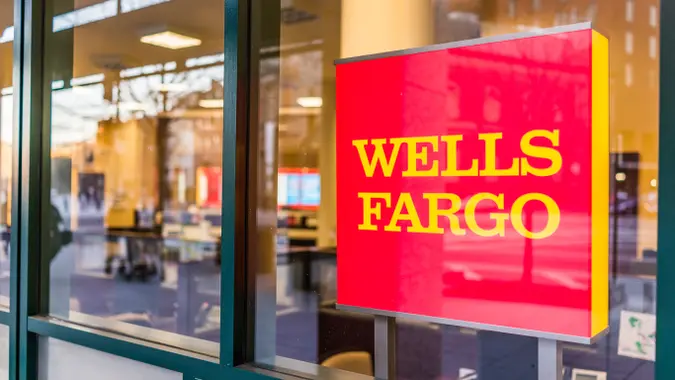 Kristi Blokhin / Shutterstock.com
One of the top four, most popular and well-known U.S. banks, Wells Fargo has thousands of branches and ATMs across the country, making it convenient to find locations with the services you need nearby. They also offer a mobile app for convenient online banking, credit cards and debit cards.
Wells Fargo Bank Locations Near Me
You can easily locate the Wells Fargo bank nearest to you using Google Maps or by visiting the Wells Fargo website, which has a branch locator feature. Just enter a zip code, an address, a city or a state to get started.
The Wells Fargo website's branch locator lets you sort your search results by branch and ATM availability. You can also filter those results by the services you require.
Wells Fargo Bank Branch Near Me
Consumer banking branches offer a wide range of services, from setting up bank accounts to applying for home and auto loans. As stated, Wells Fargo allows you to filter its branch locator search results based on the services you might need and the branches where these services are available.
The bank's branch locator tells you what each location offers, letting you know whether it's a standalone, bank-only branch with or without a drive-up window or whether it's a bank inside a location. It will also note whether the branch offers:
Safe deposit boxes
Appointments
An ATM drive-up
24-hour ATM service
Foreign currency exchange
Notary services
Wells Fargo ATM Near Me
Using the bank's branch locator, you can find Wells Fargo branch locations by city. Each search result will note whether it is an ATM location, a branch location or a "Bank + ATM" location. You can further filter the ATM results by checking the boxes for:
About Wells Fargo
Customer Service
You can find FAQs and tips by topic covering a broad range of subjects on the Wells Fargo website, from checking and savings accounts to security and fraud. If you need help from Wells Fargo Customer Service, you can:
Call 1-800-TO-WELLS to speak to a Customer Service agent who can answer general banking questions.
Sign in to your Wells Fargo online banking account to send a secure email message.
Contact Customer Service through the bank's Facebook page or via Twitter by tweeting your questions at the handle @Ask_WellsFargo. This is the Wells Fargo Social Care Support service, which is active seven days a week.
Hours of Operation
You can view Wells Fargo's hours of operation by branch by using Google Maps and clicking on each location listed in the search results. You can also view this information using the branch locator feature of the Wells Fargo website or by calling the branch you plan to visit. The bank's online locator feature lets you search for branch locations that are open Saturdays and locations with 24-hour ATMs.
Other Banks, ATMs and Services Nearby

Bank Branches

ATMs

Other Services
Alicia Bodine contributed to the reporting for this article.
Information is accurate as of Sept. 22, 2022.