Citibank Near Me: Find Branch Locations and ATMs Nearby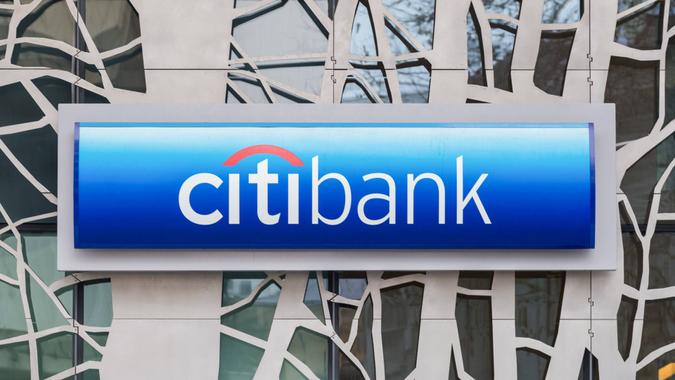 bilciu / Shutterstock.com
Citibank, under its holding company Citigroup, is one of the top four, most popular and well-known U.S. banks. There are around 2,500 Citibank branches and more than 72,000 ATMs worldwide, so it's very convenient to find locations with the services you need nearby. Citibank also offers a mobile app for convenient online banking, credit cards and debit cards.
Citibank Locations Near Me
You can easily locate the Citibank branch nearest to you through a Google Maps search or by visiting the Citibank website and accessing its branch locator. Just enter a ZIP code, an address, a city or a state to get started.
You can sort your search results on Citibank's website by branch or ATM and filter by the services you require. You can also filter your Citibank search for ATM-only or branch-only locations.
Citibank Branch Near Me
Consumer banking branches offer a wide range of services, from setting up bank accounts to applying for home and auto loans. The Citibank locator feature will allow you to filter by services you might need at its branches. The available types of services you can filter by on Citibank's website are:
Relationship manager
Home lending officer
International banking center
Financial advisors
Citibank ATM Near Me
Using the branch locator on Citibank's website, you can find branch locations by city, state and ZIP code or just reposition the Google Maps interface. Each search result will note whether it is an ATM location or a branch location, using a dollar sign icon or a building icon. You can further filter the ATM results by checking the boxes for the following options:
About Citibank
Customer Service
On Citibank's website, you can find contact information by department, such as banking, loans and retirement services. For general customer service help, you can:
Call the general customer service line at 800-374-9700.
Message Citibank using the Citi Mobile app.
Hours of Operation
You can view Citibank's hours of operation by branch via a Google Maps search, by using the Citibank locator feature on its website, or by calling the location you plan to visit.
Like most U.S. banks, Citibank branches are typically closed on federal holidays and some state holidays.
Other Banks, ATMs and Services Nearby

Bank Branches

ATMs

Other Services
This article was updated May 9, 2022, to reflect the number of ATMs in Citibank's network.
Editorial Note: This content is not provided by Citibank. Any opinions, analyses, reviews or recommendations expressed in this article are those of the author alone and have not been endorsed by Citibank. Other information is accurate as of May 9, 2022.