How To Find and Use Your Citi Login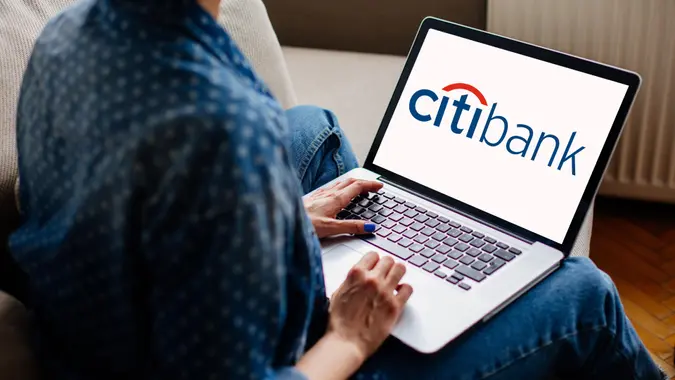 agrobacter / Getty Images/iStockphoto
Citi online banking makes it easy to manage your accounts. If you want to open an account with Citi or access your existing accounts online, you can do so using your computer or the Citi mobile app. A simple sign-up process is all that's needed to access your Citi account online.
Register for a Citi Online Account
To register for an online account, navigate to Citi's website and click on the "Register" button at the bottom right side of the "Sign On" box. You'll need your credit or debit card number or bank account number, the primary cardholder's date of birth and the last four digits of their Social Security number or the ZIP code of the billing address on the account. The website will take you through the steps to register.
How To Log In to Citi Online From a Desktop
It's easy to log in to Citi online using a desktop or laptop computer. Logging in this way will give you the same functions as using the mobile app on your phone or tablet.
Follow these simple steps to log in to your Citi online account:
Visit the Citi login page.
Enter your user ID and password.
Click the "Sign on" button.
Sign out when your session is complete.
Keep in mind that you should never select the "Remember My User ID" option when using a public computer or someone else's device. When using public computers, clear the browsing data when you're done. Deleting browsing data and unchecking "Remember My User ID" are vital steps to protecting your personal information and preventing fraud.
How To Log In to Citi Online Using Mobile Devices
Logging in to your Citi account from your tablet or smartphone is quick and easy. You can access your account through a browser just like with a desktop computer, or you can log in using the Citi app. The Citi Mobile banking app is an easier option and gives you faster access by skipping the login process. The app also provides notifications about bank and credit card transactions.
Here's how to access your account with the Citi Mobile app:
Download the Citi app for your device. You can do this from the Citi site, Google Play or the App Store.
Open the app after it has downloaded.
Enter your Citi online banking login information, including your user ID and password.
Recovering Your Citi Login Password or User ID
If you forgot your Citi user ID or password, you'll need your credit card number to retrieve it. If you linked your credit card account to your debit card, you'll also need your debit card account information. Once you enter the debit card number, you'll need to provide either the date of birth of the primary cardholder, the last four digits of your Social Security number or the security word that you set up when you registered the account.
How To View Your Bank Statement Information
Citi's online platform makes it easy to find your account history at any time. For transactions, use the bottom half of your Account Details page. Citi also offers the Spend Summary, which lets you filter your transactions by category and time period.
If you want to view images of your paid checks, go to your Account Details page and click on the "view image" link. You'll find the images next to the check transactions.
How To Contact Citi Customer Service
Citi has several ways to contact its customer service department. If you're partial to phone calls, you can call at:
1-888-248-4226 in the U.S. or Canada
1-813-604-3000 outside the U.S. or Canada
18001 0800 00 55 00 for individuals who are deaf or hard of hearing
If you're more inclined to use instant messaging, Citi has an online chat function.
If you want a more personal touch, you can schedule a meeting with a Citi banker online. You'll meet that banker in person at whatever date and time you've scheduled.
Benefits of Online Banking
Online banking offers numerous benefits, but perhaps the biggest one is instant access to your account. Instead of having to visit a physical Citi branch to conduct business, or mail out checks using the postal service, you can do it all on your computer or other devices. Online banking lets you set up automatic bill pay, check your account balance and even schedule a transfer from your checking account to your savings account. As long as you have an internet connection, you can do it all in just a few minutes from wherever you happen to be at the time.
More on Citi
More on Using Your Bank Login
Arielle Moscati contributed to the reporting for this article.
Information is accurate as of Sept. 20, 2022. For the most up-to-date information on an institution or its accounts, visit its website.
Editorial Note: This content is not provided by Citi. Any opinions, analyses, reviews or recommendations expressed in this article are those of the author alone and have not been endorsed by Citi.