Newest Citi® Promotions, Bonuses, Offers and Coupons: January 2023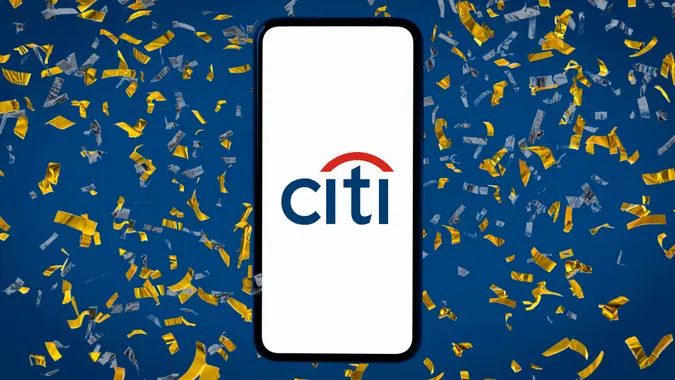 Citi® is one of the biggest banks in the world. It has almost 700 branches in the United States and 4,000 branches in other countries. No matter where you live in the U.S., there's likely to be a Citi location or ATM near you.
Like many banks, Citi offers promotions to attract new customers to the bank. Banks want your business and are willing to pay you for it. You can earn hundreds of dollars by signing up for a new account and following a few steps.
These Citi promotions were selected because they represent the variety of bonuses Citi customers can earn this month. They are also easy to earn as long as you qualify for the account. In most cases, you can earn the bonus cash just by using your account — no Citi coupons required.
Best Citi Checking and Savings Account Promotions
If you're looking for free money for your checking account, you've come to the right place.
Citi Personal Checking Account: Up to $2,000 Bonus
New customers who open a new checking account in an eligible account package can claim a bonus of up to $2,000 if they are able to meet the deposit minimum and maintain it for a period of 60 days. Eligible account packages include the Citigold® Account Package, Citi Priority Package, Citibank® Account Package or Basic Banking Package — regular checking only, so customers of all means should be able to find an account that works for them.
Citi Priority Checking Account: Up to $2,000
If you open a Citi Priority Account by Apr. 4, 2023, and earn a cash bonus of $200, $500, $1,000, $1,500 or $2,000 when you maintain a minimum eligible balance and complete required activities.
Citi Savings Account: Up to $5,000 Bonus
If you live in New York, Connecticut, Maryland, Virginia, Washington, D.C., California, Nevada, New Jersey, Florida or Illinois and have a spare million lying around, you could be eligible to receive a whopping $3,500 in free cash from Citi. The bank is currently offering a series of bonuses depending on how much you save, incentivized for those with higher balances. Read on to find out more.
Best Business Account Promotions
Beginning your business checking relationship with Citi comes with a boost, provided you're able to get to a branch location.
Citi Business Checking: Up to $2,000 Bonus
Citi is offering new business checking customers the opportunity to earn some bonus cash with a new checking account. Three account types are eligible, suitable if you have a small business, need flexibility or are on the larger side with more transactions and bigger deposits.
Best Citi Credit Card Promotions
Citi is known for its credit cards. Read on for the best current offers that will have you raking in the rewards.
: 60,000 Bonus Points — an $600 Value
The Citi Premier credit card was designed for travelers. You'll earn triple points on purchases made at restaurants, supermarkets and gas stations and on air travel and hotels. The card also comes with an annual hotel benefit and no foreign transaction fees. Open a new card and start using it to earn 60,000 bonus points. Here's more:
: 20,000 Bonus Points — a $200 Value
The Citi Rewards+ card rounds up to the nearest 10 points with every purchase. You also earn double points at supermarkets and gas stations for the first $6,000 you spend each year. New cardholders also earn bonus points when they use their new account. Here's more on this Citi offer:
CitiBusiness®/AAdvantage® Platinum Select® Mastercard®: 65,000 Bonus Miles — a $650 Value
If you frequently travel for business, you can put the CitiBusiness/AAdvantage Platinum Select Mastercard to good use. You'll enjoy perks like preferred boarding and savings on air travel while earning AAdvantage miles for every dollar you spend. New customers can earn an additional 65,000 bonus miles after opening a new account. Here are the details:
Other Citi Offers
Citi is currently offering a promotion that may interest those looking to get into the real estate market.
Citi Mortgage Relationship Pricing: $500 Closing Cost Credit
If you have a Citi checking account, you qualify for the Mortgage Relationship Pricing program. You'll earn credit at closing or get a discount on the mortgage's interest rate. Here's how:
Should You Switch to Citi?
Citi has plenty to offer when it comes to banking and branch availability, a variety of different accounts and products, and online and mobile banking options. If you can earn one of the top Citi bonuses, it may be worth switching to Citi and getting the bonus cash.
However, if you prefer a smaller bank with lower fees and lower minimum deposits, you'll probably want to look elsewhere. You can explore your options by checking out the newest promotions, bonuses and offers available at other banks.
Julia Gordon and Levi Leidy contributed to the reporting for this article.
Information on promotions is accurate as of Jan. 10, 2023. Additional requirements may apply. Offers and terms are subject to change. For the most up-to-date information on an institution or its accounts, visit its website.
Editorial Note: This content is not provided by any entity covered in this article. Any opinions, analyses, reviews, ratings or recommendations expressed in this article are those of the author alone and have not been reviewed, approved or otherwise endorsed by any entity named in this article.
This article has been updated with additional reporting since its original publication.