Discover November 2023's Premium Citi Offers: Unique Promo Codes, Bonuses & Coupons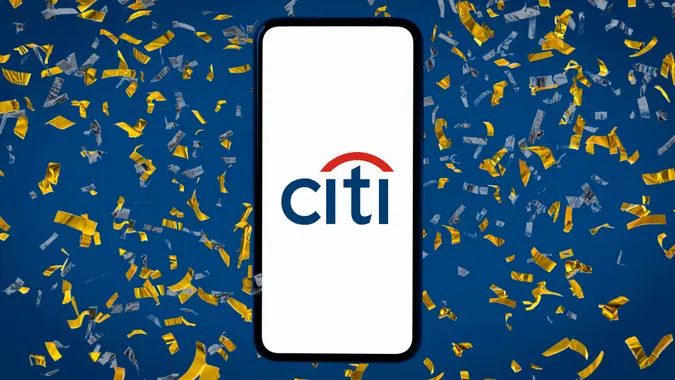 Citi® is one of the biggest banks in the world. No matter where you live in the U.S., there's likely to be a Citi location or ATM near you. Like many banks, Citi offers promotions to attract new customers to the bank. In most cases, you can earn a Citibank bonus just by using your account — no Citi bonus coupons required.
Best Citi Checking and Savings Account Promotions
If you're looking for free money for your checking account, look no further than these Citi promotions. While there's no $5,000 bonus right now, you could be as much as $2,000 richer after taking advantage of some high-yield savings account offers to checking account sign-up bonuses. 
Citi Welcome Checking Cash Bonus Offer: Up to $2,000 Bonus
New customers who open an eligible checking account can claim a Citi bank bonus of up to $2,000 by meeting the deposit minimum and maintaining it for 60 days. Eligible accounts include Access, Basic, Citibank® Account, Citi Priority and Citigold®.
Citi® Checking Account Bonus: Fees Waived
Citi® will waive your checking-account fees for three months when you open an account with a relationship tier or in any month in which the account receives $250 or more in enhanced direct deposits. Choose between Access and Regular checking. Regular Checking customers also have their $2.50 non-network ATM fees waived when the account receives at least $250 in enhanced direct deposits.
Citi®Accelerate Savings Account: APY
Customers in eligible locations can earn up to 16x the national average with a Citi® Accelerate Savings Account, a high-yield account that gives customers the benefit of earning one of the highest rates, regardless of account balance. This online-only account is easy to sign up for, has no limit on interest earned and also has goal-setting and budgeting tools available to help you reach your savings goals. The Citi Accelerate savings rate is APY as of Nov. 14, 2023.
Citi® Savings Account Bonus: Fees Waived
Citi® will waive your $4.95 savings-account fees for three months after account opening or with a relationship tier, $500 average monthly balance or a Citi checking account. Relationship tiers provide benefits immediately, and all your eligible account balances qualify.
Best Citi Credit Card Promotions
Citi is known for its credit cards. Read on for the best current offers that will have you raking in the rewards.
: 60,000 Bonus Points–a $600 Value
The Citi Premier credit card was designed for travelers. You'll earn triple points on purchases made at restaurants, supermarkets and gas stations and on air travel and hotels. The card also comes with an annual hotel benefit and no foreign transaction fees. Open a new card and start using it to earn 60,000 bonus points. 
: 20,000 Bonus Points–a $200 Value
The Citi Rewards+ card rounds up to the nearest 10 points with every purchase. You earn double points at supermarkets and gas stations for the first $6,000 you spend each year. New cardholders also earn bonus points when they use their new account. 
: 20,000 Bonus Points–a $200 Value
The Citi Custom Cash Card offers 5% cash back on purchases in your highest eligible spending category up to $500 spent in each billing cycle and 1% cash back on everything else. New cardholders can earn bonus cash back. Here's how:
AT&T Points Plus Card: $100
The AT&T Points Plus card offers up to $240 back on your AT&T wireless bills each year, as well as 3x points at gas stations, 2x points at grocery stores and 1x points on everything else. New cardholders can earn a $100 statement credit. If eligible, you can earn as much as $240 toward your AT&T wireless bill each year.
American Airlines AAdvantage® MileUp® Card: 10,000 Bonus Miles and $50 Statement Credit–a $150 Value
Travelers who prefer American Airlines can earn AAdvantage miles with this card — 2x miles at grocery stores and on American Airlines purchases and 1x miles on everything else. New cardholders can also earn both bonus miles and a statement credit. 
Citi®/AAdvantage® Executive World Elite Mastercard®: 70,000 Bonus Miles–a $700 Value
Cardholders earn 4X miles on qualifying American Airlines purchases for every $1 spent with the Citi® / AAdvantage® Executive World Elite Mastercard® for any American Airlines purchases, as well as 10 AAdvantage Miles®for hotels and car rentals. You can earn 1x points on other purchases, one loyalty point for each mile earned and 10,000 Loyalty Points after reaching 50,000 in one year. New cardholders can also earn bonus miles.
Citi®/AAdvantage® Platinum Select® World Elite Mastercard®: 50,000 Bonus Miles–a $500 Value
Another card with perks for American Airlines flyers, the Citi® / AAdvantage® Platinum Select® World Elite Mastercard® offers 2x miles at restaurants and gas stations, as well as on American Airlines purchases, and 1x miles on other purchases. New cardholders can earn bonus miles.
CitiBusiness®/AAdvantage® Platinum Select® Mastercard®: 65,000 Bonus Miles–a $650 Value
If you frequently travel for business, you can put the CitiBusiness/AAdvantage Platinum Select Mastercard to good use. You'll enjoy perks like preferred boarding and savings on air travel while earning AAdvantage miles for every dollar you spend. New customers can earn an additional 65,000 bonus miles after opening a new account. 
Citi® Online Member-Get-Member Promotion: $150 Per Referral Plus Up to $1,050 Bonus Cash
Citi wants to reward you for inviting your friends and family to take advantage of welcome offers that could earn them 8% cash back, 30,000 bonus miles or 40,000 bonus miles, depending on which eligible card they're approved for and accept. Make enough successful referrals during the qualifying period and you could get an extra bonus.
Other Citi Offers
Citi is currently offering promotions that may interest those looking to get into the real estate market or who have friends or family members who are looking to open a new Citi account.
Citi® Mortgage Promotion: $500 Closing Cost Credit
Apply for a Citi® mortgage, and if you're approved, you'll receive a closing credit.
Citi® Business Checking: Up to $2,000 Bonus
Citi offers new business checking customers the opportunity to earn some bonus cash with a new checking account. Three account types are eligible, making the offer ideal for anyone who has a small business, needs flexibility or is on the larger side with more transactions and bigger deposits.
Past Citi® Promotions
Although past promotions aren't available anymore, they give you an idea of the kinds of offers you might see in the future.
Citigold® Private Client Referral Bonus: Up to $10,000
Clients with existing Citigold® Private Client accounts could refer friends and family members to earn $500 for every successful referral, up to 20 referrals.
Final Take To GO: Should You Switch to Citi?
Citi offers plenty of variety when it comes to basic banking, online banking, branch availability, a variety of different bank accounts and products and online and mobile banking options. If you can earn one of the top bonuses, such as the Citi $1,500 bonus or $2,000 bonus, it may be worth switching to Citi and getting the cash.
However, if you prefer a smaller bank with lower fees and lower minimum deposits, you'll probably want to look elsewhere. You can explore your options by checking out the newest promotions, bonuses and offers available at other banks.
More on Citi Bank
Caitlyn Moorhead, Daria Uhlig, Julia Gordon, Levi Leidy and Amber Barkley, and Caitlin Cao contributed to the reporting for this article.
Information on promotions is accurate as of Nov. 13, 2023. Additional requirements may apply. Offers and terms are subject to change. For the most up-to-date information on an institution or its accounts, visit its website.
Editorial Note: This content is not provided by any entity covered in this article. Any opinions, analyses, reviews, ratings or recommendations expressed in this article are those of the author alone and have not been reviewed, approved or otherwise endorsed by any entity named in this article.