Latest SoFi Promotions, Bonuses, Offers and Coupons for November 2023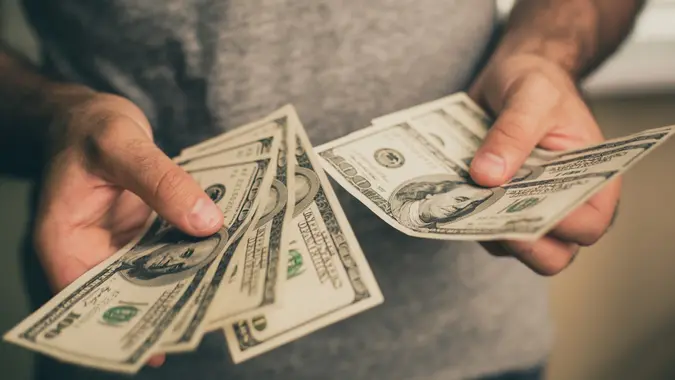 Sergey Nazarov / iStock.com
SoFi is a fintech that offers a suite of financial products ranging from student loan refinancing to banking. The company has been around for over a decade. As it has grown, it has continued to offer new products. Some of those products come with a promotional bonus attached. Luckily for you, we've compiled a list of current bonuses and promotional offers available through SoFi.
It's worth pointing out that promotional offers change regularly. The information in this article is accurate as of November 2023.
SoFi Bonuses and Promotions
When you are comparing financial products, the right bonus could make all the difference. SoFi offers a couple of attractive promotional bonuses that might be the right fit for your wallet.
Below is a closer look at current SoFi bonuses and promotional opportunities.
SoFi Online Bank Account Bonus: $250 Cash Value
SoFi offers an account that combines both a checking account and a savings account into a single product. If you open the account, you have an opportunity to earn a $50 or $250 bonus.
Cash value: $250
Minimum deposit to qualify: $5,000
Expiration date: Dec. 31, 2023
How to get it: opening the account. Next, you set up a direct deposit. If the account receives at least $5,000 in direct deposits within a 25-day evaluation period, you'll score the $250 bonus. If the account receives between $1,000 and $5,000 in direct deposits within the 25-day period, you'll score a $50 bonus.
When you'll get it: Within seven business days after your evaluation period ends and iyou receive enough direct deposits to qualify.
Terms and conditions: The evaluation period starts when your bank account receives the first direct deposit. for the bonus, it will hit your account. You must receive your first qualifying direct deposit by the expiration date in order to be eligible for the bonus offer.
Monthly fee: $0
Promotion page: SoFi Online Bank Account Bonus
When you choose to set up direct deposit to the account, a cash bonus isn't the only reward. Account holders who set up direct deposit can earn a APY on the savings portion of this account.
Payments that count as direct deposits are made via ACH. These payments might include your paycheck, pension, government benefits or Social Security payments.
SoFi Invest Bonus
Cash value: Up to $1,000 in stocks
Minimum investment required: $10
Expiration date: Dec. 31, 2023
How to get it: Open an Active SoFi Invest Brokerage account. From there, you must fund the account with at least $10. If you hit this requirement, you'll have the chance to play an electronic "claw game" to select your prize.
When you'll get it: Within 30 days of opening the account
Terms and conditions: For most customers, the selected stock isn't worth nearly that much. In fact, SoFi claims the probability of receiving $1,000 is 0.028%. But you do have an 85.488% chance of snagging a fractional share worth $5 and a 9.498% chance of winning a fractional share worth $10.
Monthly fee: $0
SoFi also advertises a bonus of up to $1,000 in stocks when you fund an investment account. The promotion is a "claw grab" that offers users who meet specific eligibility requirements to select an undisclosed stock, which may be worth $1,000.
With the stated odds, it's rather unlikely you would walk away from this promotion with a sizeable boost to your fledging investment portfolio. But it's worth a shot if you want to pursue the opportunity anyway and potentially gain a fractional share.
SoFi Credit Score Monitoring Bonus
If you are new to SoFi, you can earn rewards worth $10 by creating a SoFI account for credit monitoring. The process starts by setting up a new account. From there, you can activate the credit monitoring feature. Within a few days, you should receive SoFi Rewards points, which can be redeemed for $10 as cash in your SoFi Checking and Savings account, SoFi credit cards, SoFi loan balances, and fractional shares through SoFi Invest.
The $10 bonus is a nice perk. But you may also get a lot of value out of the information available through SoFi's credit monitoring service. It can help you manage and improve your credit score to unlock better financing opportunities in the future.
What To Know About SoFi Bonuses
A bonus from SoFi can give your finances a lift. But it's important to understand the details surrounding SoFi bonuses to avoid being caught off guard. Below are some important things to be aware of as you pursue SoFi bonuses.
Taxable Income
Bank bonuses are usually considered taxable income, as is the interest you earn through your bank account. Since this income is taxable, you'll need to factor that into your tax bill at the end of the year.
At tax time, SoFi should send you a 1099-MISC form to include in your tax return. This document reports the amount of money you've earned from SoFi in the form of bonuses and interest payments throughout the year.
If you miss the memo from SoFi about this document, you should be able to find it somewhere in your account. For example, this information might be an "Important Documents" section. Make sure to include this income in your tax returns.
Existing Customers Aren't Eligible
Don't get your hopes up for this bonus if you already have a banking relationship with SoFi. Unfortunately for existing SoFi Money customers, the $250 bank bonus isn't available. Instead, the promotional bonus opportunity is reserved for new SoFi banking customers.
What To Do With Your SoFi Bonus
If you earn a bonus from SoFi, that's great news. The next step is to determine what you want to do with those funds. Below are some ways to consider making the most of your newfound funds:
Beef up your emergency savings account: If you score a cash bonus of $50 or $250, that could be the perfect way to boost your emergency savings. Many experts recommend saving between three to six months' worth of expenses in an emergency fund, which can be a difficult target to hit for many savers. Stashing this bonus with your emergency savings could give you much-needed breathing room for the unexpected things that life throws your way.
Pay off debt: If you are trying to get out of debt, every little bit counts. That's especially true if you are dealing with high-interest debt. For those with a debt repayment plan, use the extra funds to accelerate your debt repayment timeline.
Invest for the future: Investing for your long-term savings goals, like retirement, is never a bad use of funds. If you have a stocked emergency fund and don't have any high-interest debt, directing your funds into an investment portfolio could be the right move.
Cover specific spending goal: An extra $250 can make a big difference to any budget. If you have a specific thing you want to spend the money on, consider treating yourself. For example, you might cover your holiday spending without tapping into other funds or paying for a much-needed household item.
Treat yourself: Spending incoming cash on a splurge often gets a bad rap. But the reality is that there is nothing wrong with treating yourself, especially if you have your household finances under control. Consider using the funds to take someone out to a nice dinner or finally booking the spa treatment you've been dreaming of.
If you score a cash bonus from SoFi, make the most of it. Everyone has a different financial reality. For some, using the funds to boost emergency savings is a priority. But for others, paying off debt with the funds will make the most of the funds. Still others in stable financial situations might prefer to use the funds to cover a fun splurge. Do what makes the most sense for your unique situation.
Final Take
SoFi does offer some attractive bonus opportunities through its products. If you decide that SoFi's accounts are the right fit, don't hesitate to sign up and complete the steps to hit the bonus. But if you aren't convinced SoFi's products have what you are looking for, explore some of the other top bank account bonuses to stretch your dollars further.
FAQ
The prospect of snagging a SoFi bonus is exciting. Here are the answers to some of the most common questions about SoFi bonuses.
How do I get my SoFi $250 bonus?

In order to get the $250 direct deposit bonus from SoFi, you must set up a direct deposit to your account. The account must receive at least $5,000 in direct deposits within 25 calendar days to earn the $250 bonus. If the account receives less than $5,000 in direct deposits but more than $1,000 within this timeframe, you'll get a $50 cash bonus.

What are the benefits of direct deposit with SoFi?

The most immediate benefit of setting up direct deposit with SoFi is the ability to score a $250 bonus. Additionally, the account will offer a competitive APY on savings accounts and Vaults set up through the platform to accountholders who set up direct deposit.

What bank gives you money for setting up direct deposit?

SoFi is one banking platform that provides a bonus when you set up a direct deposit. But it's not the only bank account that offers this opportunity.
Rates are subject to change; unless otherwise noted, rates are updated periodically. All other information on accounts is accurate as of Nov. 14, 2023.
Editorial Note: This content is not provided by any entity covered in this article. Any opinions, analyses, reviews, ratings or recommendations expressed in this article are those of the author alone and have not been reviewed, approved or otherwise endorsed by any entity named in this article.