Ally vs. SoFi: Which Bank Is Better for You?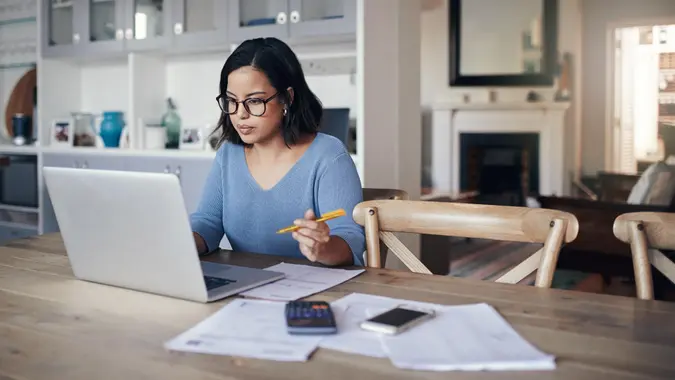 mapodile / Getty Images
SoFi and Ally Bank are two of the most well-known names in online banking. Both have a ton of offerings, no monthly fees and interest checking. Keep reading to learn how they compare on rates, features and benefits to decide which is the better choice for your money.
Ally vs. SoFi: At a Glance
Feature
SoFi
Ally Bank
Interest Checking
Up to APY
No fees or minimums, up to APY
Savings
Up to APY
APY, no fees or minimums
CDs
No
-Terms from 3 months to 5 years
-APYs from to
Money Markets
No
No monthly fees, no minimum balance and an APY of
FDIC Insured — up to $250,000
Yes
Yes
ATM Network
55,000+ AllPoint Network ATMs with no fees
-43,000+ ATMs through AllPoint Network
-$10 fee reimbursement for out-of-network ATMs
Early Direct Deposit
Yes
Yes
Crypto trading
Yes
No
Investment products
Yes
Yes
About SoFi
SoFi, originally "Social Finance, Inc." was founded in 2011 by students at Stanford business school. By 2012, SoFi had become the first company to provide refinancing for federal and student loans. The company remains on the cutting edge of lending today, offering a variety of student loans, personal loans, mortgages and auto refinancing.
To date, the bank has funded $73 billion in loans, helped members pay off over $34 billion in debt, and serves over 5 million members.
About Ally Bank
Ally Bank compares favorably to SoFi with its vast amount of offerings, from deposit accounts to loan products and credit cards. Ally Bank offers 24/7 customer service by phone, chat or email, and offers CDs with industry-high interest rates.
When you bank with Ally, you'll gain free access to the AllPoint network of 43,000+ ATMs nationwide, plus get fees up to $10 reimbursed for using out-of-network ATMs. Most Ally products have no monthly maintenance fees, no minimum daily balance to avoid fees, no overdraft fees and no fees for incoming wires or ACH transfers.
SoFi Deposit Accounts
SoFi has just two offerings when it comes to deposit accounts:
SoFi Plus Checking and Savings
To unlock access to SoFi Plus, you'll need to establish direct deposit into your SoFi account. This unlocks higher interest rates, loan discounts and extra cash back rewards from your SoFi credit card. Other than that, both accounts are similar and provide many of the same features, including no monthly maintenance fee.
Unlocking SoFi Plus also gives you access to a cash bonus when your first direct deposit clears. Your SoFi Plus account offers:
Up to APY on savings
APY on checking
No minimum balance fees
Overdraft coverage up to $50 with no fees
Direct deposit two days early
Overdraft coverage with no fees
15% cash back with your SoFi debit card when you shop close to home
When you deposit funds into your SoFi account, you can choose to place it in various "vaults." This can help with budgeting or even saving money for specific purposes. You can also set up automatic savings.
It's worth mentioning that SoFi members also gain free access to financial planning and career coaching, plus 15% off estate planning services, such as creating a will.
Ally Deposit Accounts
When it comes to the variety and value of deposit accounts, Ally Bank wins, hands down. With three different types of CD products and a broad range of interest rates and terms, plus traditional savings, checking and money market accounts, if you are seeking traditional bank services, Ally should be your choice.
Here's an overview of some of the Ally Bank products and interest rates:
Interest Checking offers APY
Online Savings offers APY
Money Market accounts offer APY on all balance tiers
High Yield CD offers APYs up to
Raise Your Rate CD offers APYs up to
No Penalty CD offers a APY
Ally makes it easy to budget and save with specific "buckets" in your checking and savings accounts where you can place your money for specific purchases or purposes. You can set up your account so that money not allocated to spend is automatically transferred into savings to receive the higher interest rate.
You can also set up automatic savings, or "round up" your debit card purchases to go directly into savings. Using these tactics can show you that a little saving can go a long way.
Who Is SoFi Best For?
SoFi is an all-around financial services resource that can help you find insurance, invest in stocks or ETFs, buy crypto and pay down debt using their vast array of loan products. If you are looking for an all-in-one fin-tech and don't mind having a hybrid checking and savings account, SoFi is a clear winner.
Who Is Ally Best For?
If you are looking for CDs or money market accounts, want 24/7 service by phone, and want separate checking and savings accounts, Ally Bank could be the choice for you.
Final Take
Both of these online banks offer a wide variety of accounts that are sure to fit most banking needs. When comparing the two, you should consider what features are most important to you and see which stands out for those factors.
More on Ally Bank
FAQ
Here are the answers to some of the most frequently asked questions about Ally vs. SoFi.
How do Ally and SoFi compare?

Ally and SoFi are both FDIC-insured online banks. SoFi offers higher interest rates on its hybrid checking and savings account. But you can find even higher interest rates with an Ally CD or money market account.

What are the disadvantages of Ally Bank?

For customers seeking a traditional, brick-and-mortar bank with physical branches, Ally Bank may not be the best option. Beyond that, Ally's checking, savings and credit card offerings are straightforward, and free of most fees, making it a solid choice for a bank.

Why is SoFi better than other banks?

SoFi offers a high interest rate on its hybrid checking and savings account. It is also offering a cash back bonus when you set up an account and establish direct deposit right now. Beyond that, SoFi has built a community of members interested in improving their personal financial situations. With that in mind, the online bank offers career coaching, financial planning, low prices on insurance and other tools to help you make the most of your money.

Can Ally Bank be trusted?

Like other U.S. banks, Ally Bank is FDIC insured up to $250,000 per account holder. It has a long history and stable track record. Ally Bank is the digital-only banking division of Ally Financial, a company in the banking industry since the 1920s. Reviewers hail Ally Bank's customer service as "top-rated."
Rates are subject to change; unless otherwise noted, rates are updated periodically. All other information on accounts is accurate as of March 21, 2023. 
Editorial Note: This content is not provided by any entity covered in this article. Any opinions, analyses, reviews, ratings or recommendations expressed in this article are those of the author alone and have not been reviewed, approved or otherwise endorsed by any entity named in this article.