Newest First National Bank Promotions: Best Offers, Coupons, and Bonuses August 2020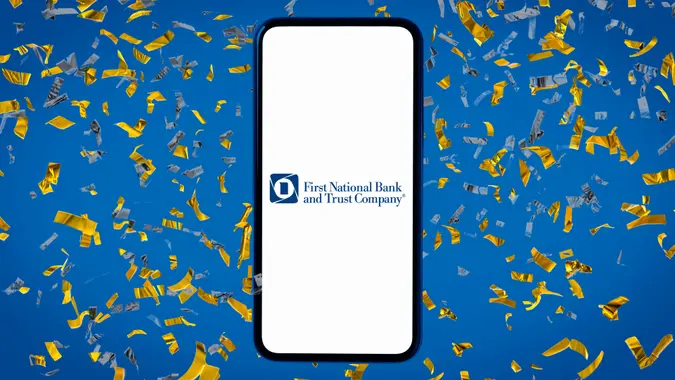 Headquartered in Pittsburgh, First National Bank is Pennsylvania's second-largest bank by assets. It offers a variety of personal and commercial financial products in its home state as well as Maryland, North Carolina, Ohio, South Carolina, Virginia and West Virginia. Like most banks, First National Bank offers promotions and other incentives to draw new customers.
Too many Americans are missing out on these opportunities to earn money from banks. A GOBankingRates survey revealed that more than half of respondents don't know if their bank offers sign-up bonuses, and nearly 38% keep their money in non-interest bearing checking accounts. That's free money going to waste.
This guide to the newest First National Bank promotions shows you ways to save or make money at the bank.
Current First National Bank Promotions
First National Bank isn't offering any cash bonuses this month, but the bank offers other ways to put extra money in your account. The bank has four personal checking accounts and five business checking accounts, as well as specialty checking accounts and personal savings accounts. In addition to standard features like online and mobile banking, each account comes with perks that save you money. Keep reading to learn more.
Fee Waivers
Ignoring bank fees can be a costly mistake, as maintenance fees and ATM charges easily add up. First National Bank offers ways to waive the monthly charge on select accounts by maintaining a minimum daily balance or meeting other requirements. These include Freestyle Checking, Mystyle Checking and Premierstyle Checking accounts for personal checking customers.
Similar options are available for business checking accounts along with credits to offset fees. With Premierstyle Checking, you also avoid charges for using out-of-network ATMs.
Checking Account Perks
First National Bank checking accounts come with additional benefits that can help you save money on other products. With three of the bank's personal checking accounts, you receive a free safe deposit box for storing valuables. Select checking accounts include options for free checks and paper statements. You also can earn interest on the balances you keep in the following accounts:
Business Interest Checking
IOLTA Checking
Lifestyle Checking
Nonprofit Interest Checking
Premierstyle Checking
Preferred Interest Checking
Discounted Loan Rates
Discounted rates on loans and other services can add up to big savings over time. First National Bank offers customers a rate discount on auto loans when they sign up for automatic payments. Business checking customers with a Small Business Financial Solutions checking account enjoy reduced rates on loans and lines of credit, as well as discounts on merchant services and remote deposit equipment. Business Analysis checking customers can use credits to offset fees for merchant services — a deal that over time might even be more lucrative than First National Bank's business account bonuses.
If none of these money-saving options appeals to you, consider other banks that currently offer promotions for new customers. You can find a range of cash bonuses and other offers to put money in your pocket.
How To Open a First National Bank Account
You can apply for a First National Bank account online or at a local branch. No First National Bank coupons are required to open an account, but you do need to locate the webpage for the account you want. From there, you have the option to apply online or meet with a representative. Select the option you want and follow the prompts to provide your contact information. You'll have to provide a non-expired government-issued ID when you apply.
How Much Money Do You Need To Open a Bank Account at First National Bank?
The minimum deposit you need to open a First National Bank account depends on the account you choose. Personal checking and savings accounts require a $50 opening deposit. No minimum opening deposit is required for business checking accounts.
If you plan to get a certificate of deposit, you'll need at least $100 to get started. First National Bank has three personal CDs, starting with the Saver's Goal CD. A standard CD requires a $500 opening deposit, but you'll need at least $5,000 to open a promotional CD.
Is First National Bank the Right Bank for You?
If you're looking for cash bonuses for opening a new account, First National Bank might not be the best choice right now. No lucrative First National Bank account bonuses are available in June. However, if you live in the service area and can benefit from the bank's products, take a closer look. Cash bonuses and other incentives are great extras, but they're no substitute for banking products and services that help you meet your financial goals.
Check back each month for updates and new promotions as they are available. If none of the above promotions seem like a good fit for you, there are also a number of other banks offering promotions this month.
This content is not provided by First National Bank. Any opinions, analyses, reviews or recommendations expressed in this article are those of the author alone and have not been reviewed, approved or otherwise endorsed by First National Bank.
Information on promotions was sourced from banks' websites on July 28, 2020. Additional requirements may apply. Offers and terms are subject to change.
This article has been updated with additional reporting since its original publication.