5 Best Private Banks of September 2023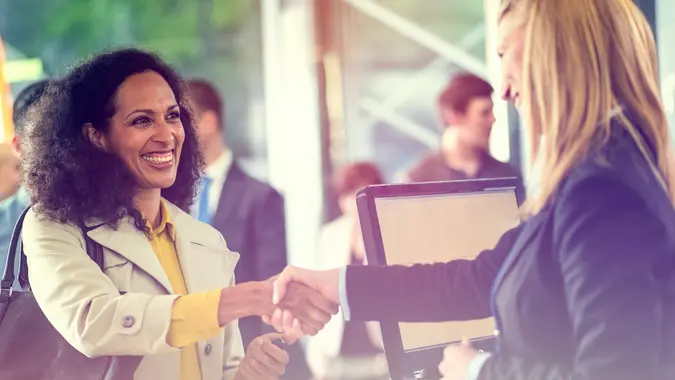 simonkr / Getty Images
A private bank is a division or department within a bank or investment firm that caters to the needs of high-net-worth individuals. Private banks provide highly personalized banking and wealth management products and services. Often, clients have a 1:1 relationship with a banker who helps them with every aspect of their financial affairs. Available only to individuals with millions of dollars in deposits and investments, a private bank should also offer customers exclusive access to all the services that wealth planners provide. If you think you'd benefit from joining a private bank, keep reading to see what the top five are.
Best Private Banks of 2023
To find the best private banks for 2023, GOBankingRates ranked the following based on these factors:
Total assets
Number of branch locations
Checking account annual fee
Savings account APY
12-month CD APY
Customer service products offered
Bauer rating
Products and services offered
Average mobile app rating
Here are the best private banks of 2023.
Morgan Stanley:

$1.4 Trillion in Assets

Why it stands out: Morgan Stanley is a premier investment bank and financial services company. It offers a basic set of banking products and lines of credit through Morgan Stanley Private Bank, which is part of E*Trade from Morgan Stanley. It has more robust cash and wealth management tools from the Morgan Stanley Private Banking Group.
Morgan Stanley Private Bank integrates checking and savings accounts with E*Trade's Securities account for a seamless experience whether you're managing your cash or investing it.
The Premium Savings account is especially notable because it's insured for up to $500,000 per depositor by the Federal Deposit Insurance Corporation. Joint accounts are insured up to $1 million.
Two checking accounts — a non-interest-bearing basic account with no fees and an interest-bearing Max-Rate Checking account.
Lines of credit are also available to investors with $50,000 in combined cash-accessible assets.
Morgan Stanley's Private Banking Group gives you access to a team that includes a private banker to help you reach your financial goals and preserve wealth. Clients get a CashPlus brokerage account with such benefits as easy transfers between Morgan Stanley accounts and outside accounts, identity and credit protection and a $695 Annual Engagement Bonus from American Express.
A Preferred Savings Program lets you tap into the cash reserves in your investment portfolio. Certificate of deposits are also available, and upon maturity, funds are deposited into the Preferred Savings Progam.
Unlike a standard bank loan, Morgan Stanley's securities-based lending program uses eligible investments in your Morgan Stanley account as collateral. You can use the loan for just about any purpose, such as purchasing a home or investment property, funding a business or satisfying capital gains. Morgan Stanley investment customers may also be eligible for discounts on mortgage loans.
Pros:
Choice between no-frills banking and traditional private banking services
Cons:
Minimal selection of products
What to look for: Check to make sure you open accounts with the correct private banking entity.
Is It a Good Idea To Have Private Banking?

Private banking is a good idea for anyone who meets the minimum invested-asset and net worth criteria. These banks offer a level of service you won't find with standard retail banking.

For example, you'll be assigned a banker or other adviser who will assist with issues that arise with your accounts. They also will help you navigate the very complicated decisions you'll make as one of the individuals tasked with protecting your family's legacy.

You will pay high fees for private banking — typically, about 1% of your assets under management, although some private banks charge sliding fees. Account fees, such as monthly service fees, typically are not included in the fee for private banking.
Bank of America Private Bank: $1.3 Trillion in Assets
Why it stands out: Bank of America Private Banking takes personalized approaches to the needs of ultra-high-net-worth clients with at least $3 million in investable assets. Because of its affiliation with Merrill Edge, Bank of America clients can move seamlessly between brokerage and private banking services.
Bank of America, Member FDIC, Private Banking clients work with a private client advisor and may also have the following:
A private client manager
A portfolio manager
A trust officer
Private banking offerings are categorized as solutions and can help you manage your cash flow and increase liquidity. Private banking provides a complimentary financial consultation with an advisor who can explain what you can expect. This can cover deposit accounts, certificates of deposit, credit cards and mobile and online banking.
A significant banking benefit is the upgraded Preferred Rewards program. You can qualify for the Diamond level by having a three-month combined average daily balance of $1 million to $10 million. Diamond Honors tier can be reached by having a three-month combined average daily balance of $10 million or more. Diamond and Diamond Honors members receive credit card rewards bonuses, interest rate boosts, fee waivers for ATM transactions and loan discounts.
Beyond those basic products and services, you'll find a range of high-end financial solutions. Some are alternative investments, art collection management, family office consolation, a donor-advised fund for charitable giving, endowment and foundation consultation and, of course, investment management.
Pros:
Easy to link accounts for Merrill Edge customers
Impressive selection of solutions for wealthy and ultra-wealthy clients
Cons:
0.85% annual fee for online-only Merrill Edge advisor
Not much derivatives trading at Merrill Edge
What to look for: Merrill Edge doesn't give customers access to advanced derivatives like futures and forex, so you might look elsewhere if you want more advanced trading options with an advisor.
J.P. Morgan Private Bank: $4.3 Trillion in Assets
Why it stands out: Global Finance magazine named J.P. Morgan as 2023's "Best Private Bank in the World." It offers specialists in a number of different categories: taxes, estate planning, charitable giving and business strategies. You'll also have access to the private banking experience at Chase branches in the U.S., Latin America, Asia, Europe, Middle East and Africa.
Your experience with J.P. Morgan Private Bank begins with banking products that serve your everyday needs and preserve cash flow. Account types include checking, savings, CDs and time deposits, all of which reflect the needs of ultra-high-net-worth clients. You might start with personal banking services, but banking custody services are also also available. You can take advantage of institutional-level global custody services with the help of a team of custody professionals to ensure complete security for your assets.
J.P. Morgan Private Bank clients also have access to wealth planning and advice. This includes the following:
Trust and estate planning
Philanthropy services
Family governance
Family office consultations
When it comes to your investments, your J. P. Morgan team, which includes credit analysts and economists, will work with you to create a personalized portfolio solution.
Private banking clients can also take advantage of securities-based lending, where your assets are used as collateral for a line of credit. Real estate lending and specialty loans for major expenses such as art and aircraft financing are available.
Pros:
Access to thousands of Chase branches nationwide
Dedicated J.P. Morgan team members and client service professionals
Cons:
Entry fee for private banking
Higher fees potential
What to look for: The biggest drawback to opening an account at J. P. Morgan Private Bank is that you'll need $10 million in assets. Having this amount will get you personalized financial planning, cross-border wealth advisory, goals-based investing and advice.
Citi® Private Bank: $2.4 Trillion in Assets
Why it stands out: Citi Private Bank aims to help the world's wealthiest families, law firms and individuals grow and protect their wealth. Citi services about 200 million customer accounts and does business in over 160 countries and jurisdictions.
Citi Private Bank offers ultra-high-net-worth clients customized services to preserve and grow their wealth. Personal banking products such as cash and checking accounts, time deposits, CDs and money-market accounts support short- and medium-term wealth management strategies.
For clients' long-term needs, Citi Private Bank offers:
Investing — including alternative investments, hedge funds and capital markets
Trust and wealth planning
Art advisory and planning
Philanthropy consulting
Family office advisory
One particularly interesting service is the Next Generation program which focuses on intergenerational wealth planning and management. The program provides heirs with resources and opportunities to network with other future custodians of intergenerational wealth.
Pros:
Extremely customized banking experience
Opportunities for heirs to meet peers worldwide at events designed to educate, inform and entertain
Cons:
Caters to the very wealthy
What to look for: Citi's private banking services are mainly aimed at wealthy families and family offices, professional investors, lawyers and law firms. To qualify, you'll need a minimum investment of $10 million and a total net worth of at least $25 million.
Goldman Sachs: $2.6 Trillion in Assets
Why it stands out: Goldman Sachs offers a wide range of financial services such as consumer banking, investment banking, management and securities to a client base that includes individuals, corporations, governments and financial institutions. Headquartered in New York, Goldman Sachs has offices across major world financial centers.
The company invests its own capital with its clients to grow business and offers customized banking products to spend, borrow and save. Private wealth advisors curate the following:
Investment planning
Trust and estate planning
Banking and lending
Philanthropic guidance based on the client's goals and values
Goldman Sachs is different from the other private banks on this list in that it provides a digital platform called GS Select for its private banking clients. You can use GS Select to open and manage your own bank accounts and apply for a line of credit.
GS Select lines of credit are securities-based, meaning you use your non-retirement invested assets as collateral. Loan amounts range from $75,000 to $25 million, and you can use the funds however you want except to trade or carry margin stock. No personal financial statements or tax returns are required.
Pros:
Invests its own capital with customers
Access to Global Investment Research division
Cons:
Must have $10 million in assets for accounts in private wealth division
What to look for: If you have $10 million to open an account, Goldman Sachs might be right for you. If you don't, however, you might want to consider checking out a Marcus: by Goldman Sachs, Member FDIC, account, which requires no minimum deposit and has no fees. The account also offers a competitive Annual Percentage Yield on its high-yield online savings account.
What Are the Minimum Assets for Private Banking?

Among the private banks listed here, the minimum is $3 million in investable assets. However, some private banks serve clients with investable assets of $750,000 or more.
What Is the Best Private Bank of 2023?
Bank of America is the best of the best when it comes to private banking. Although it's the smallest bank listed in terms of assets under management, those assets total over $1 trillion, which makes Bank of America a powerhouse by any standard. Its team approach ensures that in addition to the manager they're assigned, clients have access to the right finance professionals to guide them through every aspect of their wealth growth and preservation.
Bank of America also has the strongest offerings in terms of perks with the Preferred Rewards program. The Diamond and Diamond Honors tiers provide significant value with the following features:
Enhanced credit card bonuses
Savings rate boosters
Lifestyle experiences
Access to third-party experts for topics like college planning, career support and eldercare
Final Take
Private banking is designed for high-net-worth individuals who are looking for a customized experience and a number of services for managing, preserving and growing intergenerational wealth. These features do come at a cost, however. But the investment and net worth requirements justify the fees for ultra-wealthy clients. If you're not eligible for private banking, consider whether relationship banking coupled with wealth management might meet your needs.
Barri Segal contributed to the reporting for this article.
GOBankingRates is a personal finance and consumer interest rate website and an online marketing company serving top-tier banks, credit unions and other financial services organizations. Some companies mentioned in this article might be clients of GOBankingRates, which serves more than 100 national, local and online financial institutions. Rankings and roundups are completely objective, and no institution, client or otherwise, paid for inclusion or specific placement. Any opinions, analyses, reviews or recommendations expressed in this article are those of the author alone and have not been reviewed, approved or otherwise endorsed by the companies included in the article. All fees and rates are subject to change at the issuers' discretion. Some interest rates might be short-term or promotional offers only, and it is possible additional terms and conditions must be met to obtain the interest rates listed. Rates and availability might vary by region. Verify terms and conditions before opening an account.
GOBankingRates bases its assessment of "best" and "top" products on the above-stated parameters to create a baseline for comparison. This assessment is an approximation of "best" and "top" designed to help consumers find products that might be appropriate for them. There could be other options available as well. Consumers should consider various options appropriate for their circumstances.
Rates are subject to change; unless otherwise noted, rates are updated periodically. All other information on accounts is accurate as of Sept. 12, 2023.
Editorial Note: This content is not provided by any entity covered in this article. Any opinions, analyses, reviews, ratings or recommendations expressed in this article are those of the author alone and have not been reviewed, approved or otherwise endorsed by any entity named in this article.
Editorial Note: This content is not provided by Chase. Any opinions, analyses, reviews, ratings or recommendations expressed in this article are those of the author alone and have not been reviewed, approved or otherwise endorsed by Chase.
Our in-house research team and on-site financial experts work together to create content that's accurate, impartial, and up to date. We fact-check every single statistic, quote and fact using trusted primary resources to make sure the information we provide is correct. You can learn more about GOBankingRates' processes and standards in our editorial policy.