Newest Marcus by Goldman Sachs Promotions, Bonuses, Offers and Coupons: June 2022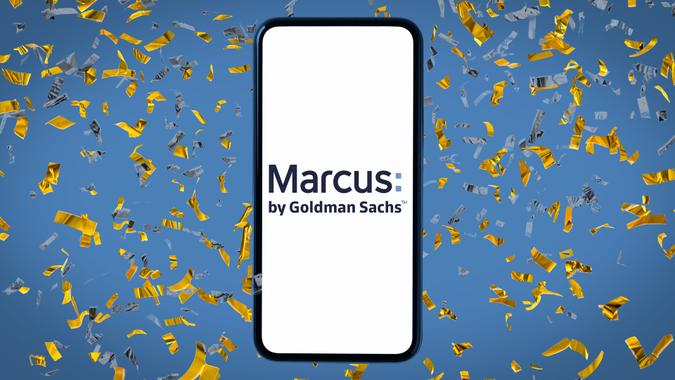 Named for the founder of investment firm Goldman Sachs, Marcus by Goldman Sachs offers savings products and personal loans for individuals. The bank has a simplified product line that includes a high-yield savings account, certificates of deposit and personal loans. Marcus by Goldman Sachs offers some of the highest interest rates available for savings products.
Banks want your business. Many of them are willing to pay you hundreds in cash when you open a new account or use their branded credit card. And in the current economy, extra money is a good thing.
Like most banks, Marcus by Goldman Sachs occasionally runs special promotions to attract new customers. No Marcus by Goldman Sachs promotions are available this month, but the bank does offer other ways to save. Over time, the savings add up and may even exceed what you might get in a sign-up bonus. Here's a closer look at the savings options.
High-Yield Savings Account
The standout feature of Marcus by Goldman Sachs's high-yield savings account is the APY. At 0% APY, it far exceeds the national average of 0.06% APY. If the high rate isn't enough, the account also comes with no fees or minimum balance requirements. Other banks, like Bank of America and Chase, charge $5 to $25 per month for savings accounts. By comparison, a Marcus savings account can save you from $60 to $300 a year.
You can link to other bank accounts for easy transfers and have access to your money when you need it. Marcus by Goldman Sachs coupons are not required to get these rates.
CDs
Marcus by Goldman Sachs offers no-penalty and high-yield certificates of deposit. Five-year, high-yield CDs can earn an impressive 0% APY, but the no-penalty CDs can be an even bigger saver. You can lose as much as one year's worth of interest if you cash in a high-yield CD before it matures. However, the Marcus No-Penalty CD lets you withdraw the full balance of your CD and gives you the interest it already earned.
What Are the CD Rates at Marcus by Goldman Sachs?
CD rates at Marcus by Goldman Sachs vary depending on the terms of the CD. Current CD rates range from % to 0% APY for a high-yield CD or % to % APY for no-penalty CDs. See the bank's No-Penalty CD calculator to determine your potential earnings.
How To Open a Marcus by Goldman Sachs Account
You need to complete an online application to open an account with Marcus by Goldman Sachs. Here's how:
Locate the application on the bank's website.
Choose the type of account you want to open.
Complete the application, including the following details:

Name
Email address and password

Provide personal information and verify your identity.
Fund the account.
How Much Money Do You Need To Open a Bank Account at Marcus by Goldman Sachs?
Marcus by Goldman Sachs does not require a minimum deposit to open a savings account. If you do not deposit any money within 60 days, the bank may close the account.
To open a certificate of deposit, you do need to deposit at least $500. You can fund your accounts through a transfer from a linked bank account, direct deposit, mailed check or domestic wire transfer.
Is Marcus by Goldman Sachs the Right Bank for You?
Marcus by Goldman Sachs may be the right bank for you if you're looking for a savings account or certificate of deposit that earns impressive rates. You don't have to dedicate large sums of money or maintain minimum balances to avoid fees and earn the best rates. Take a look at this Marcus by Goldman Sachs review to learn more about what the bank offers customers.
However, the bank doesn't offer many other products or services like checking accounts and credit cards. If you need a full-service bank, check out other financial institutions like the top banks in the country. If you're interested in earning Marcus by Goldman Sachs bonuses, check back to find out when they're available.
Julia Gordon contributed to the reporting for this article.
Rates are subject to change; unless otherwise noted, rates are updated periodically. Savings and CD rates were updated on June 30, 2022 to reflect current rates. All other information on accounts is accurate as of June 2, 2022.
Editorial Note: This content is not provided by Marcus by Goldman Sachs. Any opinions, analyses, reviews or recommendations excessed in this article are those of the author alone and have not been reviewed, approved or otherwise endorsed by Marcus by Goldman Sachs.
This article has been updated with additional reporting since its original publication.