How To Find and Use Your Wells Fargo Login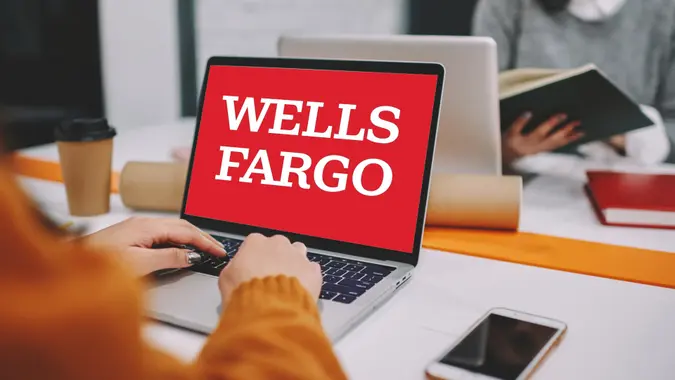 GaudiLab / Getty Images/iStockphoto
Like most major banks, Wells Fargo offers online banking and other services that give customers convenient access to their accounts, online bill payments and financial transactions. You can access Wells Fargo Online and the bank's mobileapp via a secure and simple Wells Fargo banking login.
Wells Fargo launched mobile banking in 2007, and within 10 years it had more than 14.5 million users taking advantage of its mobile services, according to the company's website. Learn how to take advantage of this popular and convenient way to manage finances, which wasn't always mainstream.
How To Set Up a Wells Fargo Login
Setting up your Wells Fargo Online login is easy if you already have a checking or savings account at the bank. If you prefer to enroll over the phone, you can call 800-956-4442. If you'll be visiting a physical branch to set up a new account, you can set up online banking at the same time.
Here's a look at the steps you'll need to take to set up your Wells Fargo online account.
1. Gather the Required Information
To set up your account, you'll need to gather the following personal information:
Name
Social Security number or tax ID number
Wells Fargo bank account number(s)
Loan number, if applicable
Debit card number
Birthdate
Entering one of your Wells Fargo account numbers or the account number printed on your ATM/debit card lets you access all of your accounts. If you don't have an account number, enter your birthdate.
2. Set Up a Username and Password
During the enrollment process, you'll be able to set up a username and password to access your account. Wells Fargo requires that your username and password contain six to 14 characters and include at least one letter. Your username and password must have fewer than nine consecutive numbers, and they cannot:
Repeat the same number or letter more than three times consecutively
Contain a sequence of more than three letters or numbers
3. Complete Your Online Access Agreement
Wells Fargo has an online access agreement that explains the bank's obligations to you, your obligations as a user, your waiver of class-action rights and limitations on the bank's liability to you.
Read this agreement carefully — it covers online and mobile services available through Wells Fargo Online, Wells Fargo Business Online, Wells Fargo Mobile and Wells Fargo Advisors online services.
4. Validate Your Email Address
As part of its security process, Wells Fargo will send you an email message with a six-digit code and a link returning you to the Wells Fargo website, where you'll enter the code to validate your email address. Validate your email within 21 days of your enrollment date to retain your Wells Fargo online banking login.
How To Log In to Your Wells Fargo Account From a Computer
After going through the process of setting up a login, actually logging in to your account is a piece of cake. When you get to the Wells Fargo homepage, you'll see a place to sign in to your account on the left-hand side. Simply type your username and password into their respective slots.
You can click the "Save username" checkbox to make the process quicker in the future, but before you do, consider whether or not someone could find and steal your personal information. If you're using a shared computer or public Wi-Fi, you might want to think twice before hitting that box.
How To Log In to Your Wells Fargo Account From a Mobile Phone or Tablet
Your Wells Fargo login covers multiple devices, meaning you'll use the same login for both your desktop and your mobile phone or tablet. You can download the Wells Fargo app on either Apple or Android devices. When you open the app, it'll prompt you to log in. As with your desktop, simply enter your username and password in their respective entry spaces.
You can use the Wells Fargo mobile app to deposit checks, transfer money, pay bills and even set up alerts. It's the perfect tool for proactive banking.
How To Retrieve a Forgotten Username or Password
In case you forget your username or password, your first step is to click the "Forgot username or password?" link under the login fields. You'll be redirected to a page that will ask you which one you need. Select the appropriate option.
After that, you'll be asked to input either your password or username. You'll also need to provide your Social Security number or individual taxpayer identification number to verify your identity.
How To View Your Wells Fargo Statement Information
Wells Fargo makes it easy to go paperless and still have your account statements available at your fingertips. Just sign in to view your statements on your desktop or mobile device. Once you've selected the statement you want to view, Wells Fargo will let you download the statement to your device. From there you can print it for your physical records — at no cost to yourself.
How To Contact Wells Fargo Customer Service
Wells Fargo has several ways to contact its customer service department. If you're in the U.S., you can call either of the following numbers 24/7, depending on the type of assistance you need:
General banking: 800-869-3557
Wells Fargo Online: 800-956-4442
If you need to make an international call, you can find the international access codes for the country you're calling from at the Wells Fargo website.
If you prefer communicating over social media, Wells Fargo is on Twitter as @Ask_WellsFargo.
What Are the Benefits of Online Banking?
There are many benefits to online banking, but the biggest one might be your ability to access your account quickly and from anywhere there's an internet connection. Instead of having to visit a physical branch or mail checks through the postal service, online banking lets you conduct business on your computer or another device, set up automatic bill pay, check your account balances and even schedule a transfer from your checking to your savings. You can do it all in just a few minutes from wherever you happen to be.
Information is accurate as of Nov. 28, 2022.
Editorial Note: This content is not provided by any entity covered in this article. Any opinions, analyses, reviews, ratings or recommendations expressed in this article are those of the author alone and have not been reviewed, approved or otherwise endorsed by any entity named in this article.