How to Find and Use Your Wells Fargo Login
Learn how to set up and use online and mobile banking with Wells Fargo bank.
Wells Fargo Bank, the world's second-largest bank by market capitalization, offers online banking and online investing customers convenient access to bank accounts, online bill payments and financial transactions with Wells Fargo Online and the Wells Fargo mobile app via a secure Wells Fargo banking login.
The bank launched mobile banking in 2007, and within 10 years it had over 14.5 million users taking advantage of its mobile services, according to Wells Fargo. Learn how to take advantage of this popular and convenient way to manage finances, which wasn't always mainstream.
How to Set Up a Wells Fargo Login
Setting up your Wells Fargo online login is easy if you already have a checking or savings account at the bank. Wells Fargo calls the sign-up process "enrollment." If you prefer to enroll over the phone, you can call 800-956-4442. If you'll be visiting a branch to set up a new account, you can set up online banking at the same time. There is no monthly service fee for Wells Fargo Online banking, although some charges might apply for same-day payments initiated through its bill pay service. Once you sign up, you can take advantage of convenient features like Wells Fargo SurePay.
Sponsors of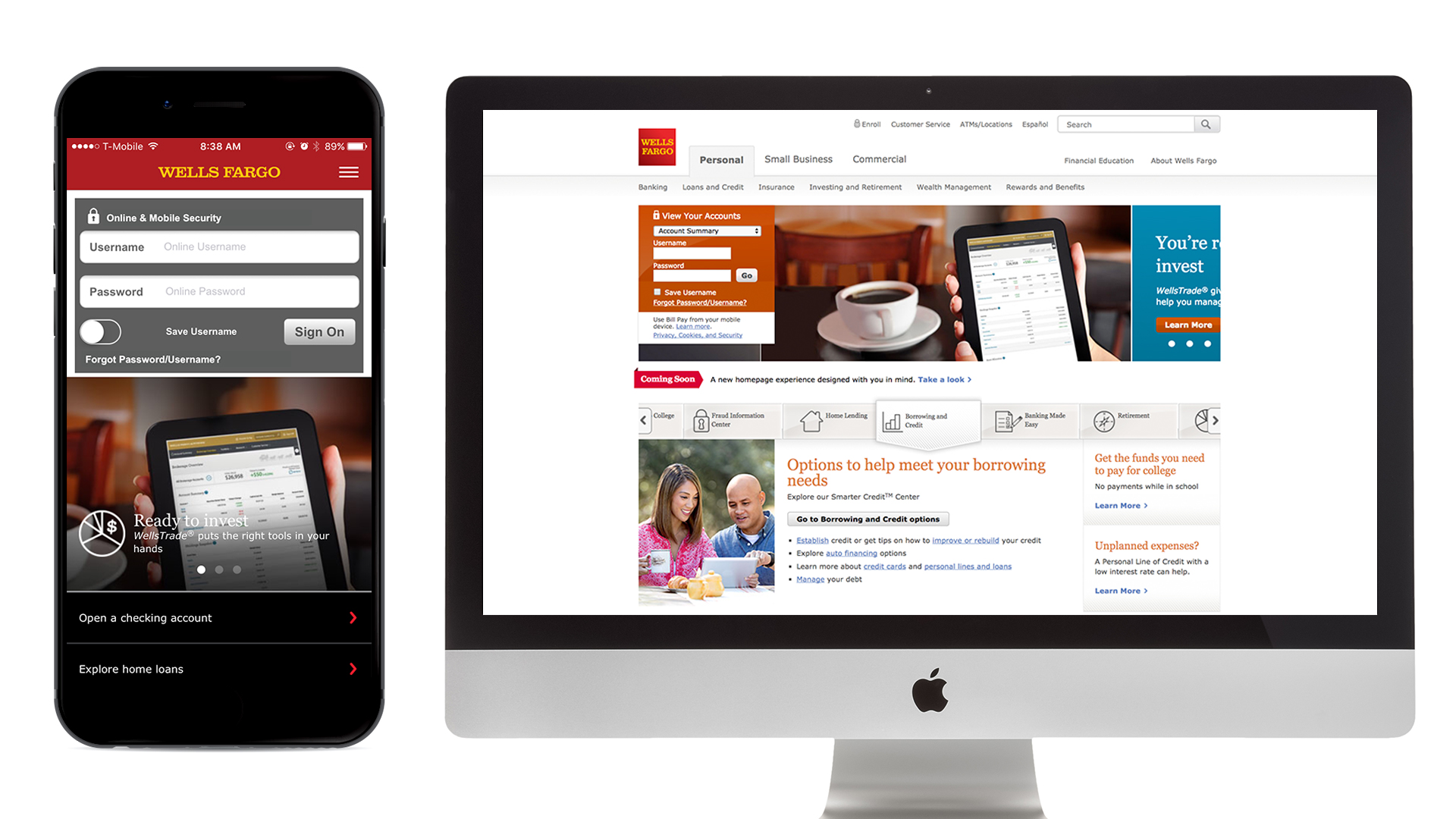 Follow these steps to set up your Well Fargo online access account:
1. Gather the required information. To set up your account, you'll need to gather the following personal information:
Name
Social Security number
Wells Fargo bank account number
Loan number, if applicable
Debit card number
Birth date
Entering one of your Wells Fargo numbers or the account number printed on your ATM/debit card lets you access all your accounts. If you don't have an account number, enter your birth date.
Read: Here's Your Wells Fargo Routing Number
2. Set up a username and password. During the enrollment process, you will be able to set up a username — a Wells Fargo login — and passwords to access your account. Wells Fargo requires that your username and passwords contain six to 14 characters and include at least one letter. Usernames and passwords must have fewer than nine consecutive numbers, and they cannot:
Repeat the same number or letter more than three times consecutively
Contain a sequence of more than three letters or numbers
3. Complete your online access agreement. Wells Fargo has an Online Access Agreement that explains the bank's obligations to you, your obligations as a user, your waiver of class-action rights, and limitations on the bank's liability to you. Read this agreement carefully — it covers online and mobile services available through Wells Fargo Online, Wells Fargo Business Online, Wells Fargo Mobile, and Wells Fargo Advisors online services.
See: How to Log In to Your Bank Account Online
4. Validate your email address. As part of its security process, Wells Fargo will send you an email message with a six-digit code and a link returning you to the Wells Fargo website, where you'll enter the code to validate your email address. Validate your email within 21 days of your enrollment date to retain your Wells Fargo online banking login.
5. Access your accounts. Once you've set up online access, navigate to the Wells Fargo "Sign On to View Your Accounts" screen to access your accounts. Alternatively, you can download smartphone and tablet apps for your Android, iPhone and Windows Phone mobile devices. The apps allow you to complete all mobile banking services, view statements and receive account notifications.
More on Wells Fargo:
More on Using Your Bank Login