ecoATM Near Me: Find ecoATM Locations To Cash In on Your Old Smart Devices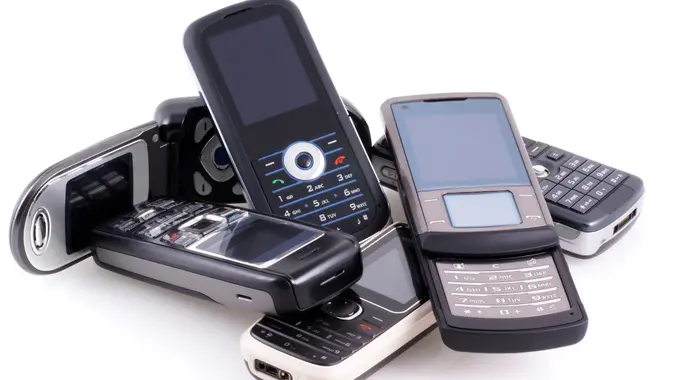 SasPartout / Getty Images/iStockphoto
If have a drawer full of old cellphones, smartphones and tablets — don't throw them away. Chances are they're made of copper, gold, palladium and other materials you can trade in for cash quickly and simply at ecoATM.
ecoATM has taken the cash machine concept and turned it into a place to sell your old smart devices. Keep reading to learn how it works and where to find an ecoATM near you.
What Is ecoATM?

You might have seen Coinstar machines at your local supermarket that let you exchange small change for cash bills or a gift card you can use at a long list of retailers. An ecoATM machine is similar, except that it accepts old phones, MP3 players and tablets — and pays you for them on the spot.
ecoATM is one of a few companies that make it possible to sell your old gadgets. Recycling used electronics is an environmentally friendly way to dispose of them — and it's nice to know you can earn a little cash for doing some good.
How Does ecoATM Work?
ecoATMs are test stations that can analyze your devices and make you an offer instantly. If you like the offer, the machine will pay you cash quickly and on the spot. You can sell numerous types of MP3 players, smartphones and tablets.
Some of the major brands include:
Apple
LG
Motorola
Samsung
Best of all, the device doesn't have to work. You can still get cash for a broken one.
Make Your Money Work Better for You
How Much Money Can You Get at an ecoATM?
If you're curious about how much cash you can get for your electronics, head over to ecoATM's Price Your Device page. Select from the following options:
Your device's brand
Model details
Storage amount
Carrier
Phone condition
For example, an unlocked iPhone 12 with 64 GB of storage that powers on and displays properly, but has a crack on the screen, can earn you $95 in cash. If there are no cracks, the ecoATM will pay you $155 for the same iPhone. Keep in mind that amounts might fluctuate over time.
ecoATM Near Me
ecoATM locations are available everywhere except Maryland and Washington, D.C. You can look for the green machine using the online kiosk finder or at participating Kroger stores, Walmart stores and malls.
You can also find ecoATMs near you with Google Maps.
How Much Does It Cost To Use ecoATM?
There are no fees for using an ecoATM. The price the machine offers you is your final price. You can accept it and receive cash for the amount the kiosk quoted you, or decline and think it over.
How Do I Use an ecoATM?
If you're ready to trade in your old devices, here's an example of how to use an ecoATM machine if you're getting rid of an Apple iPhone or iPad:
1. Turn Off Find My iPhone
If your Apple device works, you'll need to disable your iPhone or iPad's tracking software. Follow these steps:
Make Your Money Work Better for You
How To Disable Your iPhone or iPad

Find "Settings."
Tap on your name at the top of the screen.
Open the "Find My" section.
Tap on "Find My iPhone."
Tap the switch to turn off "Find My iPhone."
Enter your Apple ID password.
2. Erase the Contents of Your Device
Now that you've turned off "Find My iPhone," follow the same steps as you would for all other devices. Go into your device's settings and select "Factory Data Reset," "Erase All Data" or the equivalent version for your phone.
3. Take Your Devices To One of the ecoATM Locations
Make your way to the kiosk and plug one device at a time into the test station. The machine will run diagnostics about the item you're interested in selling and inspect it to determine its condition.
4. Get an Offer
Once the ecoATM completes its diagnostics, it will give you an offer based on the condition of your MP3 player, phone or tablet.
If you're unsure whether to accept the offer, the machine can provide you with a locked-in price for up to a week. There's no obligation to sell — you can accept or decline the price and take time to think about it.
5. Receive Your Cash
If you agree to the amount, tap "Let's Do It." You'll receive the cash right from the same machine. You can also turn in the chargers and accessories that came with the device even if they don't work. You won't get paid extra for the items, but ecoATM will recycle them.
Make Your Money Work Better for You
Don't forget to check for SIM cards or any other items you don't intend to sell. Once you accept the offer and the device is taken, you won't be able to get it back.
Banks, ATMs and Other Services Nearby

Bank Branches

ATMs

Other Services
Information is accurate as of Oct. 20, 2022.
Editorial Note: This content is not provided by any entity covered in this article. Any opinions, analyses, reviews, ratings or recommendations expressed in this article are those of the author alone and have not been reviewed, approved or otherwise endorsed by any entity named in this article.