Coinstar Near Me: Find Coinstar Locations and Other Coin Machines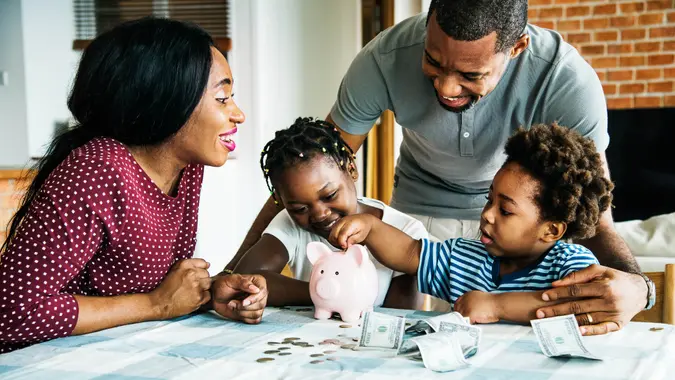 Rawpixel / Getty Images/iStockphoto
A coin-counting machine makes quick work of tallying your pile of pennies — or whatever types of coins you have. And if you're ready to cash your change in, Coinstar may be the easiest way. Read on to find out how to find a Coinstar near you, the coin cash-in options you'll have at the kiosk and what it will cost you.
See: What To Do If You Owe Back Taxes to the IRS
Where Is There a Coinstar Near Me?
You'll find Coinstar kiosks nationwide at major grocery stores, retailers and some financial institutions. Here's a look at two ways to find locations near you.
Google Maps
You can locate nearby Coinstar kiosks by using the Google map below.
Coinstar Kiosk Locator
Another easy way to find a Coinstar near you is to use the kiosk locator on the Coinstar website.
Not every kiosk provides the same coin cash-in options. At most Coinstar kiosks, you can get an e-gift card or donate to a charity in addition to getting paper money for coins. However, e-gift card and charity selections vary by location. So do the fees if you choose cash. A quick search of the Coinstar kiosk locator can help you locate a machine that offers a particular e-gift card or allows donations to your charity of choice.
To use the kiosk locator to find a Coinstar near you:
Go to the Coinstar website.
Select "Find a Kiosk."
Choose "Address" or "Zip."
Enter your street address with the city and state or your ZIP code.
If necessary, use the drop-down options that appear to narrow your search to kiosks with a specific e-gift card or charity option. You can also search for machines that sell cryptocurrencies, but you can't purchase crypto with coins.
Click on any location to learn more about the kiosk's options and fees or to get directions

.
Make Your Money Work Better for You
What Is Coinstar?
If you're unfamiliar with Coinstar, it is a service that helps you cash in your small change by sorting and counting it, and paying you the value minus a fee, depending on the cash-in option you choose. Coinstar also sells cryptocurrencies through some kiosks, including bitcoin, ethereum, litecoin and more.
Coinstar provides three ways to trade in your coins:
For cash
For a Coinstar e-gift card that you can redeem at more than 20 retailers and restaurants
As a donation to a charity of your choice
How Do I Use a Coinstar Machine?
Using a Coinstar machine is pretty simple. Here are the steps you should follow:
Follow the prompts on the kiosk touch screen to get started.
Choose a payment method: cash, e-gift card or donation.
Dump your clean, dry change into the machine's tray and remove any debris that may jam the machine.
Lift the handle to tilt the basket so the coins fall into the slot.
Take your printed voucher that displays your total once the machine completes its count.
If you opted for cash, exchange the voucher for cash at a register. If you chose an e-gift card, use the unique code on the voucher to redeem it.
Make sure to keep track of your voucher before cashing it in. Coinstar cash and e-gift card vouchers can't be replaced if lost or stolen.
How Much Does It Cost To Use Coinstar?
You may be wondering how many of your coins Coinstar keeps for counting them. There is a fee of up to 12.5% plus 50 cents if you get cash for your coins.
Fees vary by kiosk location and can be steep if you have a lot of coins. Consider how much Coinstar takes out of $100. If the kiosk charges the maximum 12.5% fee, you'll pay a $13 fee for the service — $12.50 plus the additional 50 cents. If you don't want to pay to trade money for money, you can always choose to get a fee-free e-gift card. You can also donate your coins to charity without a fee.
Make Your Money Work Better for You
The e-gift card selection varies by location but may include any of the following:
AMC Theatres
Amazon
Apple
Applebee's
Cabela's
Chili's
Domino's
DoorDash
GameStop
Gap, Old Navy, Banana Republic and Athleta stores
Hotels.com
IHOP
Lowe's
Nike
Outback Steakhouse
Red Robin
Roblox
Southwest Airlines
Starbucks
Steam
Texas Roadhouse
Do Banks Have Coin Counters?
Some banks do have coin counters, and the service is typically free for bank customers. Most banks used to have them, but over time, the machines disappeared. Here are some of the banks and credit unions that have them:
American Eagle Financial Credit Union: Free for customers, 10% for noncustomers
Apple River State Bank: Free for customers
Hancock County Savings Bank: Free for customers
Hyperion Bank: Free for customers
JBT: Free for customers, fee for noncustomers
State Bank of Dekalb: Free for customers
Suncoast Credit Union: Free for customers on amounts up to $100, 5% on coin totals over $100, 10% for noncustomers
If you bank locally and have the time to sort your change and place it in paper wrappers to make coin rolls, you may be able to trade them in for cash for free at your bank. However, some banks don't accept rolled coins, so you may want to call or check your bank's list of services online to confirm it will take them.
How Do I Avoid Coinstar Fees?
Finding a fee-free coin machine near you isn't always easy if you want cash for your coins. Coinstar is a convenient service with easy-to-locate machines across the country, but its fees can get expensive if you have a lot of change.
To avoid Coinstar fees, choose to get an e-gift card at the kiosk rather than a cash voucher. Also, check with your local credit unions or community banks to see if they offer coin counters. If you don't have an account, the bank may charge you a fee, but it could be less than what you pay at a Coinstar kiosk.
Make Your Money Work Better for You
Banks, ATMs and Other Services Nearby

Bank Branches

ATMs

Other Services
Cynthia Bowman contributed to the reporting for this article.
Information is accurate as of Aug. 11, 2023.
Editorial Note: This content is not provided by any entity covered in this article. Any opinions, analyses, reviews, ratings or recommendations expressed in this article are those of the author alone and have not been reviewed, approved or otherwise endorsed by any entity named in this article.