Home Depot Credit Card: 5 Things You Need To Know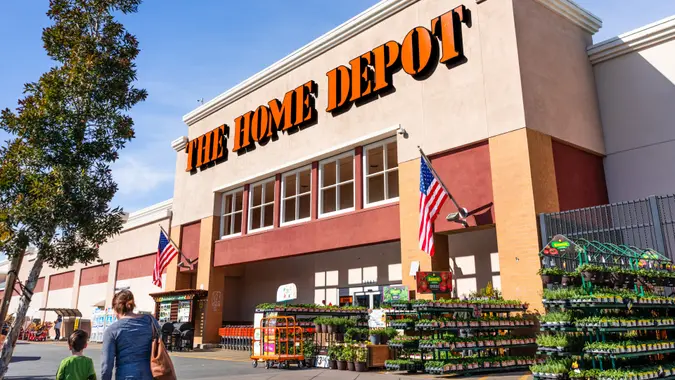 Sundry Photography / Getty Images
Your upcoming renovation in your home may have prompted you to consider applying for the Home Depot Consumer Credit Card. You can use the card to finance purchases like new floors or energy-efficient appliances. 
However, if you're eager for big rewards or incentives, you may be disappointed. Unlike rewards cards that offer miles for travel or cash back on purchases, the Home Depot Consumer Credit Card lacks a rewards program. The card is meant to help you finance home projects. You can get six months of financing on purchases of $299 or more and up to 24 months of financing during special promotions. 
What To Know About the Home Depot Credit Card
Even though you won't earn points or cash back, the Home Depot Consumer Credit Card doesn't come with an annual fee. New cardholders may also be eligible for a small discount, and all cardholders can take advantage of more flexible return policies. 
Before you apply, let's explore five important things you need to know about the Home Depot Consumer Credit Card. 
1. The Card Comes With Deferred Interest
The Home Depot Consumer Credit Card offers deferred-interest financing, which is not the same thing as a 0% annual percentage rate. A 0% APR credit card offers absolutely zero interest for a set amount of time, such as 12 months. After that introductory period is over, the rate goes up. 
Similar to a 0% APR promotion, the deferred interest on the Home Depot Consumer Credit Card comes with an introductory period of six months. Within this time, you will not be charged any interest on purchases you make. 
When the six months are over, you must pay off your entire balance. Otherwise, you'll be charged the entire amount of the interest retroactively.
Also, if you miss a payment or make just one late payment, you'll be charged all the accumulated interest at once. The Home Depot Consumer Credit Card has an APR of 17.99% to 26.99%. To give you an idea of how it compares, the average credit card rate is currently around 20%. The rate you get will depend on your creditworthiness. 
Because of the deferred-payment risks, you may want to avoid carrying a balance from month to month. The six-month promotional period may end faster than you think. 
2. No Bonuses or Per-Dollar Earnings
Since the Home Depot Consumer Credit Card doesn't come with any rewards, think of it as a no-frills card that is meant to help you finance your renovation or repair needs. You can buy the items you need and not pay any interest for half a year when you spend $299 or more.
But if you're determined to earn rewards for your purchases, you may want to look elsewhere. The best rewards credit cards may offer cash back or points if you spend at specific stores like Home Depot or Lowe's or within certain categories, such as home improvement. Keep in mind the categories for certain cards change each quarter. 
Here are a few options to consider:
The Bank of America® Customized Cash Rewards credit card offers 3% cash back on up to $2,500 in purchases at home improvement stores.
Chase Freedom Flex is offering 5% quarterly cash back on up to $1,500 in purchases at Lowe's and Amazon.com this quarter (April to June 2023). Cardholders must activate this bonus category by June 14 in order to earn cash back at this rate.
Alternatively, if you'd be satisfied with receiving a discount instead of earning cash back, another option to consider is the Lowe's Advantage Card. The card is offering 5% off everyday eligible purchases or six months of deferred-interest financing on purchases of $299 or more. Its deferred-interest promotion is just like that of the Home Depot Consumer Credit Card. 
3. How It Affects Your Credit Score
Like most store cards and credit cards, when you apply for a Home Depot Consumer Credit Card, a hard inquiry will likely be made. Generally, hard inquiries negatively impact your credit score by less than five points, according to FICO. However, you could find out if you pre-qualify for Home Depot's Consumer Credit Card without impacting your credit score. While there's no guarantee, it's a good way to check the likelihood of approval without lowering your score.
According to Citi®, the card's issuer, you must meet its standards of creditworthiness in order to get approved. Your limit is determined by your income and debt.
If your score is on the lower side, you may only be approved for the smallest credit limit, which is $300. If you're in this boat, consider using the card regularly and paying it off on time. This helps improve your overall credit, and in time, you could even request a credit limit increase by emailing customer service. There are no guarantees you'll get an increase, and the requests need to be reviewed beforehand.
4. A Longer Time Frame For Returns
As a cardholder, you get an entire year to return items for a full refund, which is more time than you would get under Home Depot's standard return policy of 90 days on purchases.
Not all purchases qualify for this 365-day return policy. There are limits on what can be returned, such as furniture and consumer electronics, which only have a 30-day window.
5. You May Be Eligible for a Discount
In addition to more flexible return policies for all cardholders, the Home Depot Consumer Credit Card offers a discount for new account holders. You could save up to $100 on your qualifying purchase. This offer is valid until July 26.
New account holders can choose to take advantage of one of the following discounts: 
$25 off of purchases of $25 to $299
$50 off of purchases of $300 to $999
$100 off of purchases of $1,000 or more
For purchases that are well over $1,000, this offer likely won't make a huge dent in your savings, but it's better than nothing. 
Final Thoughts
If the Home Depot Consumer Credit Card has you feeling a bit empty, you may be better off with a Lowe's Advantage Card or checking out other cards that offer home improvement categories for rewards. 
The Home Depot Consumer Credit Card can be a great way to finance your purchases and make flexible returns. Just remember to try and pay off the balance within the six-month time frame for deferred-interest financing, and don't miss any payments. 
FAQ
What bank is the Home Depot credit card from?

The Home Depot Consumer Credit Card is issued by Citi.

How can I avoid paying interest with the Home Depot Consumer Credit Card?

The outstanding balance of your Home Depot Consumer Credit Card must be paid off by the expiration date for the promotion.

Can I use my Home Depot credit card anywhere?

No, you cannot use your Home Depot Consumer Credit Card everywhere. It is a store card that can only be used at Home Depot stores and through the Home Depot website.

How do I reach customer service for the Home Depot Consumer Credit Card?

You can reach customer support by calling 800-677-0232.
Information is accurate as of May 11, 2023.
Editorial Note: This content is not provided by any entity covered in this article. Any opinions, analyses, reviews, ratings or recommendations expressed in this article are those of the author alone and have not been reviewed, approved or otherwise endorsed by any entity named in this article.
The information related to Chase Freedom Flex was collected by GOBankingRates and has not been reviewed or provided by the issuer of this product/card. Product details may vary. Please see the issuer's website for current information. GOBankingRates does not receive commission for this product.