What Is a DoorDash Red Card and How Does It Work?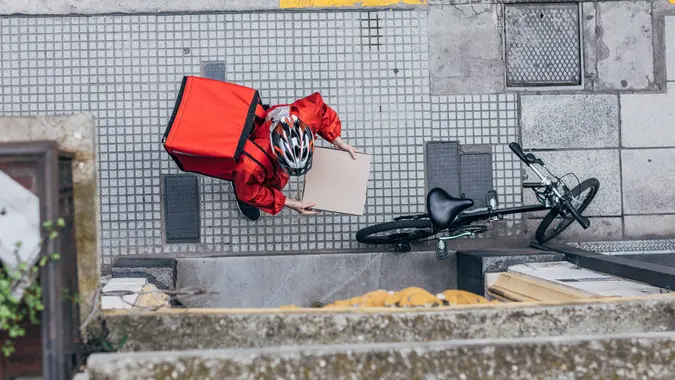 South_agency / Getty Images
DoorDash, a popular online food ordering and delivery service, offers flexibility and decent earning potential for people looking to earn some extra cash. But if you want to make the most of this side gig, you might need to take on some Red Card orders.
Red Card orders are optional, but they can add to your total earnings. Before you can accept them, however, you'll need to have an active DoorDash Red Card.
With that in mind, here's what you need to know about the DoorDash Red Card.
What Is the DoorDash Red Card?
Not to be confused with the DoorDash Rewards Mastercard, the DoorDash Red Card is a prepaid card that people who drive for DoorDash — informally known as Dashers — can use to pay for certain orders. It only works for orders that haven't been prepaid by the customer, also called Red Card Orders.
Many Dashers receive a Red Card during orientation. However, you can choose to get it as part of your Welcome Kit, which you'll get in the mail after completing your first delivery. You'll need to provide your current mailing address to receive the kit. It can then take up to 7 business days for the kit to arrive.
How the DoorDash Red Card Works
Once you have the Red Card, you'll have the option of taking on orders that require it. You'll know whether an order is a Red Card order before accepting it.
Using the DoorDash Red Card
When fulfilling a Red Card order, you may see something like "Pay with Red Card" in the app. You can then use the card at the intended location to pay for the order, just like you would with any debit or credit card.
DoorDash will add the exact amount of funds needed to the Red Card before you reach your destination. This means you won't have to worry about payment or tips. You also won't need to keep any receipts, unless specifically requested.
What Happens If the DoorDash Red Card Is Declined?
It's possible for your Red Card to be declined. This usually only happens if the DoorDash app does not require the card and you try to use it.
If your card isn't working, check the app to make sure it requires the Red Card. If it does, sign out of your account and uninstall the app. Wait for a few minutes, then reinstall the app and try again. If it still doesn't work, reach out to the DoorDash support team on the app.
How To Activate DoorDash Red Card
Setting up the DoorDash Red Card is easy, but the activation process can vary depending on which device you use.
Activating the DoorDash Red Card on Android

If you're using an Android device, follow these steps:

Tap the "Menu" icon in the top left corner of the screen.
Choose "Red Card" from the dropdown menu.
Enter your card's six-digit Delight number and the last four digits from on the front of the card.

Activating the DoorDash Red Card on iOS

If you're using an iOS device, follow these steps:

Open the Dasher app and choose "Account."
Tap "Did DoorDash give you a payment card?" at the top of the screen.
You may not be able to activate your Red Card if you haven't completed the sign-up process. You should receive a Welcome message indicating that your account has been activated. If you haven't, wait for a few days and try again.
To activate your DoorDash Red Card, you'll also need to be connected to WiFi. If you experience any trouble, try uninstalling and reinstalling the app. Make sure you have the latest version of the app on your device.
Ways To Use a DoorDash Red Card
You can only use the Red Card for DoorDash orders that require it. The card is also only valid at the specific time and place the order is for. Also, the Red Card will not have any funds on it until a Red Card order is placed.
DoorDash will not deposit your earnings to your Red Card, nor is this card linked to your bank account.
Can I Use My Doordash Red Card for Gas?
You can't use your DoorDash Red Card for gas — or any other personal reasons, even those related to your DoorDash deliveries.
If you want to earn cash back for gas or other personal purchases, consider getting the DasherDirect Visa Business Card. With this card, you can receive payment for orders as you complete them — without a deposit fee. You can also earn 2% cash back at the gas station.
Certain other purchases, such as groceries or online shopping, may also be eligible for cash-back rewards.
Can You Still DoorDash Without a Red Card?
You do not need a Red Card to be a Dasher. However, you might need to have an active card before you can accept any Red Card orders. If you're working but don't have your Red Card with you, you can always decline any orders that require it.
Using Your Personal Card
Keep in mind that you can use your own credit or debit card to pay for Red Card orders. Be sure to keep the receipt if you do this, though. That way, you can submit it to DoorDash and get reimbursed later.
DoorDash will also reimburse you for Red Card orders if your card isn't working or if the restaurant only accepts cash. The reimbursed amount will either be added to your usual weekly pay or be available when you use Fast Pay to cash out.
What If You Lose Your Red Card?
If you lose your Red Card, or if it stops working, it's a good idea to get a replacement card. Otherwise, you could end up paying from pocket — and getting reimbursed later — or missing out on potential earnings.
Fortunately, requesting a new card is easy. The first step is to report your card as lost. Here's how to do it:
On Android: Log into your account, tap "Menu," and select "Red Card" under the Account section. Then, choose "Mark as Lost."
On iOS: Log into your account, choose "Account" and select "Lost your Red Card?" Then, tap "Yes, it's lost." Input some information to remove the card from your account.
After this is done, go to the DoorDash Store and click "Dasher Gear." Find the Red Card for your region — USA, Canada or AU/NZ — and follow the instructions to request the card.
The good news is that the replacement card is free. However, it may take some time for it to arrive.
Bottom Line
If you're interested in working for DoorDash as a Dasher, chances are you're going to need the DoorDash Red Card. After all, certain non-prepaid orders will ask for it. Having the Red Card could increase your earning potential simply by increasing the number of orders available for you to accept.
But remember, you don't have to accept Red Card orders. These orders still pay the same amount as standard ones, but they might take more time to complete since you have to run your card at the counter.
Consider whether it's worth taking the time to fulfill Red Card orders before accepting them. Even if you don't take them, it doesn't hurt to keep the card on hand — just in case.
Information is accurate as of April 26, 2023, and is subject to change.
Editorial Note: This content is not provided by any entity covered in this article. Any opinions, analyses, reviews, ratings or recommendations expressed in this article are those of the author alone and have not been reviewed, approved or otherwise endorsed by any entity named in this article.