Overstock Credit Card: 5 Things You Need To Know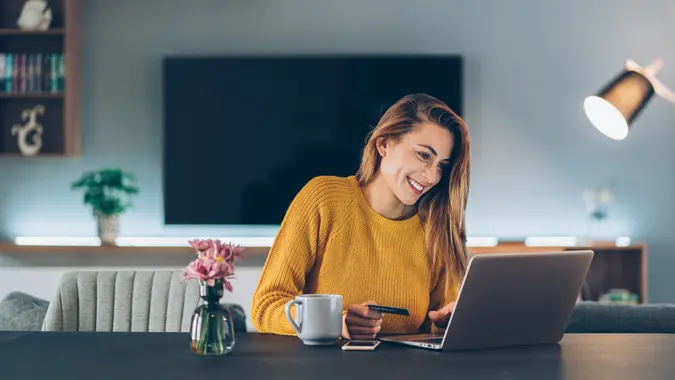 filadendron / Getty Images
The Overstock Mastercard by Citi® offers generous rewards for Overstock loyalists. Cardmembers earn 5% for every purchase from Overstock.com. Plus, there's no annual fee. 
It's a solid option for loyal customers who regularly purchase from the company. But you can only redeem rewards on the site. So if you're not an avid Overstock shopper, you might be better off with a different rewards credit card. 
Here's everything you need to know about the Overstock credit card from Citi and whether it's the best card for you.
1. Free Membership to Club O
Club O is Overstock's membership program. It usually costs $19.95 annually, but there's no fee for cardholders. As a Club O member, you qualify for free returns, a price match guarantee and double rewards for reviews. 
You also get Extra Rewards Store access, earning up to 40% in additional rewards points. The free membership is a valuable perk that can help you save hundreds of dollars annually.
It's a nice cardholder bonus that can help maximize your rewards earnings. But with a savings of $19.95, it's not a strong enough incentive to apply for the card unless you already plan to get it. 
2. Special Financing Offers for New Cardholders
You can access special financing offers for 0% or 9.99% APR if you're a new cardholder. It's a generous sign-up perk that can help you save money. But it's essential to understand the terms of the offer, or you could wind up paying more than you would have otherwise. 
Depending on the size of your purchase, you can receive 0% financing for up to 24 months. But suppose you don't pay the balance in full by the promotional deadline. In that case, you must pay interest charges dating back to the purchase date — the current variable interest rate is 31.99%.
If you want a longer repayment term, the card offers long-term financing with a 9.99% APR for up to 60 months. The terms for this financing option are the same as other credit card purchases.  
It's a practical solution and a helpful cardholder perk if you can secure 0% financing and pay the balance in full before the deadline. But if you can't, you could pay more than you would with a different financing option. 
3. Generous Rewards for Loyal Shoppers
As an additional benefit of a Club O membership, you can earn 5% rewards on all Overstock purchases. This perk comes with every membership and is not exclusive to credit cardholders. 
However, credit card holders are the only members who can earn an additional 3% at apparel and department stores, 2% on gasoline and 1% on everything else. The extra earnings can help you accrue points faster and is a great way to grow your rewards balance. 
But the real rewards benefit comes from the 5% you can earn on Overstock purchases. If you want to accrue as many rewards as possible, you might be better off with a cash-back credit card for purchases that fall into the other rewards categories. 
4. It's Easy To Redeem Rewards
Overstock makes it simple to calculate and redeem rewards. Each reward point is worth $0.01. For example, if you have 1,000 in rewards points, you can use them for $10 off your purchase. 
You get to decide how many points you want to use and how frequently you want to redeem them. As long as your membership is active, the points don't expire.
You can only use points to pay for Overstock purchases, though. When you check out, there is a "Submit Order" button. Under that, there is an option for "My Rewards." Input the number of rewards points you want to use and then check out.
5. You Might Be Able To Try the Rewards for Free
Most rewards associated with the Overstock Mastercard are due to the complimentary Club O membership. The promotional financing and the ability to earn rewards from purchases at different retailers are the only perks specific to the card. 
If you want to try Club O for free, you might qualify for membership based on your career. Overstock offers free memberships for active military, veterans, first responders, teachers and students.
If you qualify, it could be a great way to check how often you use the rewards and see if it's the right fit. If it is, you could consider applying for a credit card to maximize the benefits. 
Bottom Line
The Overstock credit card might make sense if you're an avid Overstock shopper who spends hundreds or thousands of dollars on the site each year. But if you're on the fence, you can pay $19.95 to try Club O for the year. It's a low-stakes way to test the rewards program before committing to the credit card. 
FAQ
How do I pay my Overstock credit card bill?

Citi issues the Overstock Mastercard, and you can pay your bill through your Citi account. You can

log in online

or call 833-714-0051 to pay your bill. 

Where else can I use the Overstock credit card?

You can use your Overstock Mastercard at any store that accepts Mastercard payments. Cardmembers earn the most rewards for purchases from the Overstock website. But you'll earn at least 1% on all purchases.

How much is the Overstock credit card's late fee?

Citi charges a late fee of up to $41. If you don't pay at least the minimum payment, the late fee is $30. If you have another late payment in the following six bill cycles, the late fee is $41.
Information is accurate as of June 7, 2023.
Editorial Note: This content is not provided by any entity covered in this article. Any opinions, analyses, reviews, ratings or recommendations expressed in this article are those of the author alone and have not been reviewed, approved or otherwise endorsed by any entity named in this article.