Visa vs. Mastercard: What's the Difference and Which Is Better?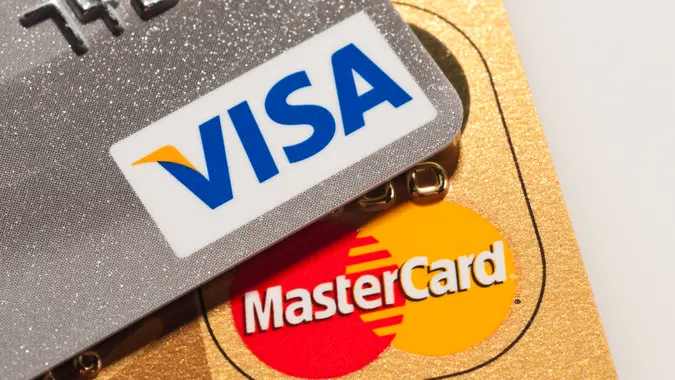 fcafotodigital / iStock.com
More likely than not, readers here will almost certainly have a credit card or debit card tied to either Visa or Mastercard. Although Discover and American Express both have their own cards in the U.S. too, Visa and Mastercard are the true kingpins on an international scale. As the dominant forces of the global payment industry, there are several important similarities and differences between the two.
What Do Visa and Mastercard Do?
Visa and Mastercard operate digital payment networks for global economies. The pair processed a combined $7.4 trillion worth of payments in 2021, bringing the total number of cards in circulation to several billion, according to the Nilson Report. They are integrated with millions of merchants across the globe and process billions of transactions each year.
Contrary to popular belief, Visa and Mastercard are not card issuers; they merely facilitate payments on their networks. Both companies partner with major institutions such as banks, credit unions, governments and companies that issue cards fit for consumer purchases. These are what's known as co-branded cards.
What's the Difference Between Visa and Mastercard?
Consumers may believe there are major differences between Visa and Mastercard — however, the opposite is true. In actuality, the pair are very similar. As illustrated in the table below, both Visa and Mastercard offer near-identical services with few exceptions.
| Features | Visa | Mastercard |
| --- | --- | --- |
| Availability | 200 countries and territories | 210 countries and territories |
| ATM services | 2 million worldwide | 2 million worldwide |
| Credit cards | Yes | Yes |
| Debit cards | Yes | Yes |
| Prepaid cards | Yes | Yes |
| Gift cards | Yes | Yes |
| Contactless payments | Yes | Yes |
| Online payments | Yes | Yes |
| Click To Pay (saved details for online purchases) | Yes | Yes |
| Tokenization (security for payments) | Yes | Yes |
| "Buy now, pay later" installments | Yes | Yes |
In spite of this, there are some minor differences in credit card offerings between Visa and Mastercard, which are discussed next.
Visa vs. Mastercard: How Do Their Credit Card Benefits Compare?
Both Visa and Mastercard have three credit card offerings:
| Visa Card Type | Mastercard Card Type | Tier |
| --- | --- | --- |
| Visa Traditional | Standard Mastercard | Basic |
| Visa Signature | World Mastercard | Premium |
| Visa Infinite | World Elite Mastercard | Premium |
Here's a breakdown of what is generally offered by each with their basic and premium offerings.
What Do You Get With a Basic Credit Card From Visa or Mastercard?
Visa's basic credit card is Visa Traditional, and Mastercard's alternative is the standard Mastercard. The following benefits are provided with each:
Visa Traditional Benefits
Standard Mastercard Benefits
Zero liability protection — coverage for unauthorized payments
24/7 roadside assistance

Emergency card replacement

Lost and stolen card services
Discounts and rewards for online shopping and travel purchases
Emergency cash reimbursements
Zero liability protection
24/7 emergency assistance
ID theft protection
What Do You Get With Premium Credit Cards From Visa and Mastercard?
Visa's premium credit cards are the Visa Signature and the Visa Infinite. Mastercard's premium offerings are the World Mastercard and the World Elite Mastercard. Here are the perks of each:
Visa Premium Credit Card Benefits
Mastercard Premium Credit Card Benefits
Extended warranty protection
Auto rental coverage

Lost luggage coverage

Delayed trip coverage
Travel rebates
Trip cancellation coverage
Travel accident coverage
VIP lounge access
Baggage delay reimbursements
Luxury hotel and dining discounts
Hotel theft protection
Cellphone protection
Emergency medical and dental coverage
Price protection guarantees
Emergency evacuation
Returns protection
Purchase coverage for items bought in the last 90 days
Concierge services
Professional travel services
Lowest hotel rate guarantee
Hotel stay guarantee
Luxury hotel discounts
Travel booking discounts
Upgrades on car rentals
Airport concierge
VIP services and discounts for entertainment, sports, travel, shopping and dining
Should You Choose Visa or Mastercard?
Despite the benefits advertised on Visa's and Mastercard's websites, this doesn't provide a full picture of the perks that come with each card. Visa and Mastercard do not issue cards themselves; they simply partner with card issuers. As such, each individual card will have its own unique advantages. 
Consumers should shop around to find the best deals on credit cards from a bank, credit union or other institution that meets their needs. Fees, insurance protection, cash back, discounts and other perks should be considered when choosing a debit card or credit card.
Is Mastercard More Accepted Than Visa?
Mastercard claims on its website that "no card is more accepted around the world." This appears to be true, to at least some extent, as it operates in 210 countries and territories compared to 200 for Visa. However, Visa has disclosed that it is integrated with more than 70 million merchants globally, whereas figures have not been provided by Mastercard.
Both Visa and Mastercard have extremely high acceptance rates among U.S. merchants — close to 100%. Both offer access to two million ATMs available for use internationally, as well.
Which Is Better, Visa or Mastercard?
Despite Visa possibly edging ahead on some credit card benefits here and there, it's probably not worth changing financial institutions for. There are few corners of the earth where either one will not be accepted, and the perks are generally the same with both. 
To find the best overall package, consumers should instead research perks and benefits that a bank or other institution offers on cards. Account fees, surcharges at ATMs and interest rates are all worthy factors to consider on top of traditional card benefits offered by Visa or Mastercard.
Information is accurate as of Aug. 12, 2022.