Nearly 45% of Americans Are Considering Changing Banks — Here's What To Consider If You're One of Them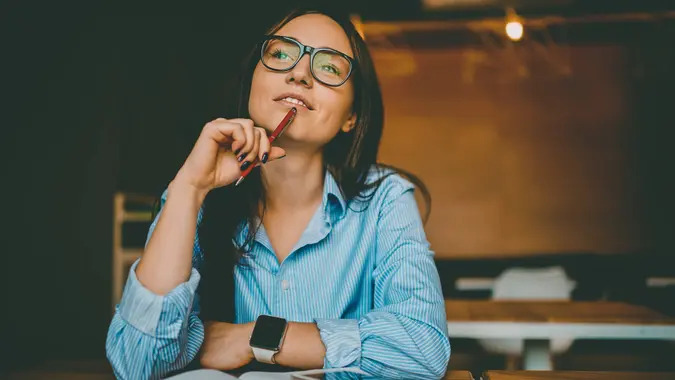 GaudiLab / Getty Images/iStockphoto
A new GOBankingRates survey found that almost half of Americans considered changing banks last year, for a variety of reasons, including the quest for lower fees or online access. The 25-34 age group and the 35-44 age group were the ones who considered changing banks the most, with 55% and 52% of respondents, respectively.
The three most popular factors for those who have considered changing banks in the past year were online access (28%), COVID-19 (12%) or the fact that they moved (7.5%), according to the survey.
In addition, the features that are most important to people when opening an account with a new institution are unsurprisingly low fees (34%) and good rates (22%). But what all do you need to consider when shopping around?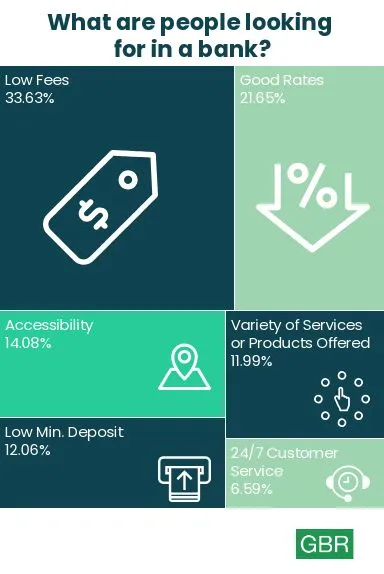 What To Consider When Looking For a New Bank
It's important to note that the survey also shows that the most preferred method of banking is mobile, via an app (55%), followed by online (31%). In-person banking, at a physical branch or an ATM is the least favorite (14%).
"In case you haven't heard the news, online-only banks can be as safe and legitimate as the big familiar national banks that have brick-and-mortar branches right in your town," Kate Hoots, banking analyst, MerchantMaverick.com, told GOBankingRates.
She added that if you're thinking of switching to a new bank, it's definitely worth taking a look at some online-only options as these banks can be competitive when it comes to rates and minimum requirements.
"Choosing an online bank can feel more like a self-service option, though, because you probably won't find it easy to reach a live person for help, even over the phone. So if you're looking for face-to-face service options, or if you don't feel comfortable using a mobile app to complete most of your banking transactions, you might do better choosing a national bank with physical locations," Hoots added.
On the other hand, if you're up for exploring options online on your own, your first step should be to look for online banks that are FDIC insured to the limit, she said.
"If you don't see the FDIC guarantee on an online bank's website, you can move your browser to the next option," she added.
Hoots also recommends that for each online bank you're considering, read the bank's fee schedule, if you can find it.
"If you can't locate it on your own, check out the FAQ page or use the chat option, if there is one, to ask a representative about fees. Be aware that even when online banks advertise 'no fees,' most of them do charge something – though you may have to dig a little to uncover it," she said, adding that banks that advertise no or very few fees often make up for it by applying relatively high minimum balance requirements or daily/monthly transaction limits.
"Drop below the minimum balance, or exceed the transaction limits, and you may see charges you weren't expecting if you didn't dig far enough into the website. It may take a little time, but it's a worthwhile investment," she recommended.
In terms of why Americans want to stay with their current banks, interestingly, 20% say it's because they believe the process of finding a new bank will be difficult and time-consuming, while 16% say they don't know enough about other banks to want to make the switch, the survey found.
But according to some experts, it's always a good idea to evaluate your bank accounts, credit cards and other financial products at least annually.
"Habits change and the market evolves, so what used to be a good deal may no longer be so attractive," Ted Rossman, senior industry analyst at CreditCards.com, told GOBankingRates.
For example, convenience and fees are two primary considerations with bank accounts.
"Let's say you used to frequent a bank near your office but now you work from home or you've changed jobs. To avoid out-of-network ATM fees, you should probably switch to a bank that's more convenient," Rossman said, adding that consumers should keep a close eye on fees, including late fees, overdraft fees and monthly account maintenance fees.
"Online banks often charge lower fees and offer better rates because they have less overhead. It's hard to find any banks that are offering attractive savings or CD rates right now, so maybe fees carry more weight than they used to," he said, adding that you also might be able to get a nice sign-up bonus for switching banks or credit card issuers.
Another key finding of the GOBankingRates survey is that men are far more likely than women to have considered changing banks in the past year, with 55% of men saying they have considered changing banks compared to only 35% of women.
Finally, according to George Castineiras, CRO of financial and insurance benefits company Avibra, there are three important questions to ask yourself when making a decision on changing banks at a high level. First, why are you changing banking relationships and can your current bank solve for that? Next, will this change support your needs over time? And lastly, what will it cost to do business with this new bank?
"What consumers generally value is convenience at a fair price," Castineiras told GOBankingRates. "That price obviously includes any and all fees for any service, but it also includes the amount of interest the bank is willing to offer you on your accounts or a potential loan in the future."
More From GOBankingRates
Methodology: GOBankingRates surveyed 1,335 Americans aged 18 and older from across the country on between December 1 and 3, 2021, asking twelve different questions: (1) What category does your current financial institution fall under?; (2) Have you considered changing Banks within the past year?; (3) If you have considered changing banks in the past year, were any of the following factors? (select all that apply):; (4) Which feature, perk, or other offering is most important to you when opening an account with a new institution?; (5) Are you currently satisfied with all your banking products and services offered by your Bank/Credit Union?; (6) Would you ever have different types of accounts across multiple banks? (i.e. Checking at Chase, but Savings at TD Bank); (7) What is your most preferred method of banking?; (8) Which of the following is the biggest factor of you staying with your current bank?; (9) Which of the following bank accounts do you currently use/have open? (Select all that apply); (10) How much is the minimum balance you keep in your Checking Account?; (11) How much do you currently have in your Savings Account?; and (12) If you are in a relationship or married do you share bank account(s) with your partner? All respondents had to pass a screener question of: Are you currently a member of a Bank (online included) or Credit Union?, with an answer of "Yes". GOBankingRates used PureSpectrum's survey platform to conduct the poll.