Chase vs. Wells Fargo: Which Bank Is Better for Your Money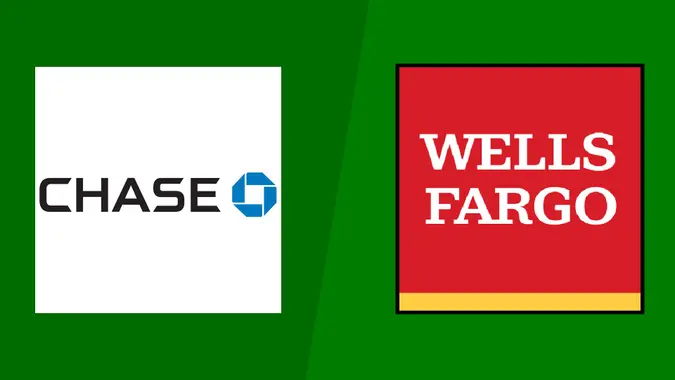 13-Smile / Getty Images/iStockphoto
Chase and Wells Fargo are two banking powerhouses. They both have branches nationwide and a variety of products for people and businesses. So which of the two giants is better? It all depends on what you're looking for. This Chase versus Wells Fargo comparison will help you decide which bank is best.
Who Is Chase Best For?
Customers who like online and mobile banking and prefer to have access to ATMs over branches should consider choosing Chase. A couple of benefits in which Chase wins over Wells Fargo are:
More than 15,000 ATMs versus Wells Fargo's 12,000
Additional digital wallet offerings: Fitbit Pay, Garmin Pay, Timex Pay and Click to Pay
Who Is Wells Fargo Best For?
Customers who prefer traditional banking and keep lower balances in their checking accounts should consider choosing Wells Fargo. Benefits offered by Wells Fargo include:
Chase vs. Wells Fargo: Account Types
Here are the different account types the two banks have to offer personal banking customers.
Account Type
Chase
Wells Fargo
Checking
-3 standard accounts
-3 youth/student accounts
-2 premium accounts
4 standard accounts, 2 of which are appropriate for teens
Savings
2 savings accounts
2 savings accounts
CDs
17 term options between 1 month and 120 months
3 term options from 3 months to 1 year

Loans
-Mortgages
-Home equity lines of credit
-Car loans
-Mortgages
-Car loans
Other
-IRAs
-Rollovers
-Education accounts
-Investing
-Wealth management
-IRAs
-Rollovers
-Education accounts
-Investing
-Wealth management
Chase vs. Wells Fargo: Fees
As you can see, both banks offer customers plenty of options to manage their money. But how much will it cost you? Here is how Chase's fees compare to Wells Fargo's.
Type of Fee
Chase Cost
Wells Fargo Cost
Monthly Maintenance
$0, $4.95, $5, $6, $12, $25, $35
$5, $10, $25
Overdraft/Non-Sufficient Funds
$34 per item, up to 3 per business day*
$35 per item, up to 3 per business day
ATM
-Non-Chase domestic: $2.50 for some accounts
-Non-Chase international: $5 for some accounts
-Non-Wells Fargo domestic: $2.50
-Non-Wells Fargo international: $5
Replacement Debit Card
$0 fee for standard shipping; $5 for rush requests for some accounts
$0 fee
Cashier's Check
$8 each for some accounts
$10 each for some accounts
Wire Transfer
-Domestic and international incoming: $15 or $0 when sent via Chase banker, Chase.com or Chase Mobile
-Domestic outgoing with assistance from Chase banker: $35
-Domestic online outgoing: $25
-International outgoing with assistance from Chase banker: $50
-International USD online outgoing: $40
-International FX online outgoing: $5 or $0 for $5,000 USD or more
-Wire transfers are not available with all accounts; some accounts have free transfers
-Domestic outgoing: $30
-International outgoing: Starts at $35
-Incoming domestic: $15
-Incoming international: $16
Chase vs. Wells Fargo: Rates
If you plan on depositing your savings with either bank, earning the highest interest possible should be one of the top reasons to choose one bank over the other.
| Account | Chase Rate | Wells Fargo Rate |
| --- | --- | --- |
| Checking | | |
| Savings | | |
| CDs | | |
Is Chase Better Than Wells Fargo?
No two people are alike — and neither are the services of competing banks. Chase might be better than Wells Fargo when you're on a tight budget and tend to incur overdraft fees.
Overdraft Fees
Wells Fargo's overdraft fees are slightly higher than Chase's, and the fee applies if your account is overdrawn over $5, whereas Chase has a more generous policy.
You have a chance to avoid an overdraft fee if your account is overdrawn no more than $50 or if the account had sufficient funds at the moment the bank authorized the purchase that overdrew the account. 
Savings Options
If you want to maximize your savings, however, Wells Fargo beats Chase on how much you can earn in interest on CDs, but you'll need a relationship account to qualify.
If you're interested in a wider variety of CD terms or premium checking accounts, Chase is the better option. 
Tips To Pick the Right Bank
When comparing banks, there are several factors you should consider so you can narrow down your options. The following tips can help you choose the best bank for you.
Choose a Bank With Low Fees
Look for accounts with no fees or those that waive monthly maintenance charges for certain activities. This includes setting up direct deposits, using your debit card or maintaining a minimum balance.
Also take into consideration any other fees for actions, such as for closing your account, inactivity and even replacing a lost or stolen card.
Watch Out for Overdraft Fees
Some banks charge as much as $35 for each overdraft, making it one of the most expensive fees a bank charges. Even worse, a bank may allow multiple overdraft fees per day, which could seriously put a dent in your balance. If you occasionally overdraw your account, look closely at how the bank handles overdrafts and the order they use to process credits and debits to your account.
Research Sign-Up Bonuses
Many banks provide cash sign-up bonuses when you open a new account. You could earn hundreds of dollars simply by giving a new bank a try.
Ask Your Friends and Family
Word-of-mouth is one of the best ways to know how a bank may work for you. Ask your friends, family and work colleagues about which financial institution they bank with. Find out what they like about the bank and what they think could improve.
Their experience can provide you with good insight into how the bank could benefit you.
Consider Accessibility
Depending on your banking habits and how comfortable you are with online or mobile banking, you may want to choose a bank with physical branches where you can get in-person help with your banking.
Mobile Apps Offer Convenience
A user-friendly app with mobile check deposit and free ways to send money to friends and family can improve your banking experience by reducing your need for checks and the number of visits you need to make to the ATM.
If you're comfortable with online banking, do some research on each bank you're considering and how its mobile banking app works.
What Are Your Financial Goals?
If you're actively saving for retirement or growing your savings, choose a bank with robust retirement and investment features.
Depending on where you are in your financial journey, you may want a bank that provides more than a checking account. In most cases, banks will give you special discounts or preferential rates on their loan, insurance and savings products if you already bank with the institution.
Allison Hache, Cynthia Measom and Daria Uhlig contributed to the reporting for this article.
Rates are subject to change; unless otherwise noted, rates are updated periodically. All other information on accounts is accurate as of Apr. 7, 2023.
*Chase charges a $34 insufficient funds fee per item during its nightly processing, beginning with the first item that overdraws your account balance by more than $50 (maximum of three fees per business day, up to $102).
Editorial Note: This content is not provided by Chase. Any opinions, analyses, reviews, ratings or recommendations expressed in this article are those of the author alone and have not been reviewed, approved or otherwise endorsed by Chase.