Chase vs. Bank of America Comparison: Which Bank Is Better for You?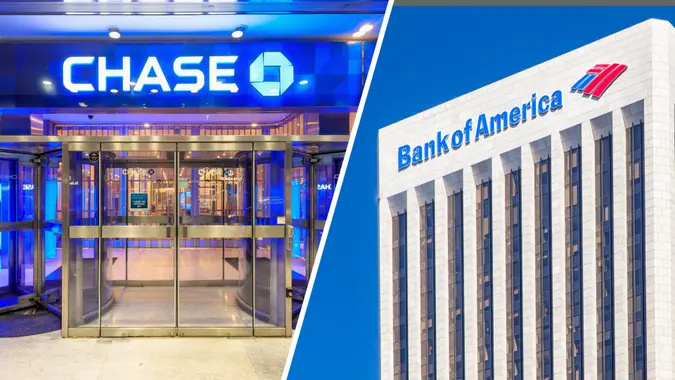 Tooykrub / Ken Wolter / Shutterstock.com
Chase and Bank of America represent two of the largest banking operations in the world, and they rank second and third, respectively, for the most branch locations in America behind Wells Fargo. For those people who prefer the convenience of having plenty of locations and ATMs close by — even when they're out of town — deciding between these two options can be tough. You want a bank that's best suited to your needs, but the differences between having an account with Chase and Bank of America aren't always completely clear. To help you understand why one or the other might be right for you, here's a closer look at what each bank has to offer.
JPMorgan Chase
The banking behemoth JPMorgan Chase came into existence in 2000 with one of the biggest mergers in the history of finance, but both banks had a long, storied history before that moment. Chase was founded in 1799 as the Bank of the Manhattan Company, while JPMorgan got its start as Drexel, Morgan & Co. in 1871. Today, the banking conglomerate employs a quarter of a million people and has over $2.8 trillion in assets.
With nearly 5,000 branches in the United States, Chase's footprint is a large one, and you can expect to find a branch in almost any market. And that's even before you consider the 16,000 ATMs the bank has scattered across the landscape. All of this is to say that when it comes to maintaining an easily accessible banking infrastructure, few banks can compete with JPMorgan Chase.
That said, Chase's basic accounts leave something to be desired. In particular, the interest rates on its savings accounts are pitifully low at a mere 0.01% annual percentage yield. So in effect, the primary benefit to a Chase savings account versus hiding money under your mattress is the FDIC insurance. Other than that, don't expect a lot of real growth in your savings if they're stashed in one of Chase's basic savings accounts.
Still, given the ubiquity of the branches, plenty of people might be willing to forgo a competitive interest rate on their savings account for the relative convenience Chase can provide them, particularly if they already have a checking account or credit card there.
Bank of America
Bank of America can also trace its roots back to the earliest days of the republic, though it got its start a bit farther north. The company that would become Bank of America began as the Nantucket Pacific Bank in 1804. "Nantucket" refers to the island of Nantucket and its thriving whaling industry — the industry the bank was built to service.
Today, Bank of America offers a similar slate of products to consumer banking customers. Like Chase, it has a bevy of physical locations you can put to use, including roughly 4,200 locations and about 16,000 ATMs — so it's unlikely you'll struggle to find a Bank of America ATM when you're out and about.
However, much like Chase, the basics of their accounts leave a lot to be desired. While the North Carolina-based institution matches what Chase is offering with 0.01% APY interest on its basic savings account, that is, once again, very low. If you are looking for a chance to use a savings account to make your money grow, neither Bank of America nor Chase provides an avenue for that — making you rely on less-flexible CDs to get more competitive rates.
Account Comparison
Of course, for many consumers, picking a bank is more about comparing the numbers than anything else. Here's a closer look at the different options for accounts offered at each and how they compare.
Account Type
Chase
Bank of America
Savings

Chase Savings and Chase Premier Savings
$5, $25 monthly service fee (waived for some customers)
Relationship rates available for Chase Premier Savings
Automatic savings program
Online and mobile banking options

Bank of America Advantage Savings
Tiered rates to offer higher interest to Preferred Rewards clients
$100 minimum deposit
$8 monthly service fee (waived for some customers)
Automatic savings programs
Online and mobile banking options

Checking

Chase Total Checking, Chase Secure Checking, Chase Premier Plus Checking and Chase Sapphire Checking
Monthly service fees of $12, $4.95, $25 and $25, respectively (fee for all except Secure Checking waived for some customers)
Interest paid on balances for Chase Premier Plus and Chase Sapphire options
24/7 service line for Chase Sapphire
Can use with Zelle
Mobile check deposit

Advantage SafeBalance, Advantage Plus and Advantage Relationship Banking
$4.95, $12 and $25 monthly fee, respectively (waived for some customers)
Interest paid on balances in Advantage Relationship Banking account
Can use with Zelle
No paper checks with Advantage SafeBalance
Budgeting tools, debit card controls
Mobile check deposit

CDs

Offers CD relationship rate to customers with linked Chase checking account
$1,000 minimum opening deposit for the standard rate
Terms range from one month to 10 years
Standard rate is

0.01%

 APY

Relationship rate is

0.02%

 APY for balances under $10,000 and

0.05%

 APY for a $10,000-plus balance

Featured and Standard Term accounts
Minimum opening deposits:

$10,000 for Featured
$1,000 for Standard Term

Featured CDs range from 7-37 months, earn

0.05%

APY
Standard Term CDs range from 28 days to 10 years, earn

0.03%

APY
Optional automatic renewals

Youth Savings

No dedicated youth savings account but Chase Savings waives the the monthly fee for account owners under age 18

No dedicated youth savings account but the monthly fee is waived for Advantage Savings account owners under age 18 (25 for students), and kids under 16 can open a joint account with an adult age 18 or up
For savings and checking accounts for both Bank of America and Chase, there are several ways to waive the monthly maintenance fees associated with the accounts, most of which involve some combination of maintaining a large enough balance, making regular direct deposits or having other types of accounts with the same bank.
Rate Comparison
Neither Bank of America nor Chase offers especially competitive rates on savings accounts, but it's still important to compare your options to see what to expect.
Chase
Bank of America
Savings Account Rates

0.01%

 APY
Chase Premier Relationship Savings:

0.02%

APY

0.01%

 APY
Preferred Rewards clients can earn higher rates

0.02%

APY for Gold Tier

0.04%

 APY for Platinum Honors, Diamond and Diamond Honors tiers

Checking Account Rates

0.01%

APY for Premier Plus and Sapphire Checking accounts

0.01%

APY under $50,000 and

0.00%

APY for $50,000-plus, only available for the Advantage Relationship Banking account

CD Rates

0.01%

APY standard rate

0.02%

APY relationship rate with balance below $10,000

0.05%

APY relationship rate with balance $10,000 or higher

0.03%

APY for Standard Term CDs

0.05%

APY for Featured CD products ($10,000 minimum to open)

Auto-renews to Standard Term CD account with the same term at maturity
Fee Comparison
The monthly maintenance fee for checking and savings accounts is most notable for both Bank of America and Chase. However, in each case except Secure Checking, you can get those fees waived by meeting certain standards, so be sure to carefully consider these for each option before committing. Depending on how you handle your finances, you might satisfy the criteria just by conducting your everyday banking. Be aware that there are several conditions to meet, each of which is different for every account.
As for the dreaded overdraft fees, Chase charges a $34 insufficient funds fee per item with a maximum of three per day for a total charge of $102. However, these are only charged in those instances when Chase covers your purchase based on your account's history — a decision over which it has total discretion. If your charge is declined, you aren't charged the fee. Accounts that include Overdraft Assist have no overdraft fees for overdrafts of $50 or less or if the item is $5 or less*.
Bank of America, meanwhile, offers an overdraft protection service that will automatically transfer the necessary funds to cover a purchase from another account should you be short. However, this isn't available for every account, and in some cases, each transfer incurs a $12 fee. For transactions that aren't completed due to insufficient funds, there is no fee.
Which Is Right for You?
If you're trying to decide which bank to go with, you might be well-served by selecting the one with the most convenient locations to your home and/or work. The differences in the services and rates aren't enormous, so you're likely to be satisfied either way you go.
Daria Uhlig contributed to the reporting for this article.
Last updated: March 26, 2022.
Rates are subject to change; unless otherwise noted, rates are updated periodically. All other information on accounts is accurate as of March 26, 2022.
*With Chase Overdraft AssistSM, we won't charge an Insufficient Funds Fee if you're overdrawn by $50 or less at the end of the business day OR if you're overdrawn by more than $50 and you bring your account balance to overdrawn by $50 or less at the end of the next business day (you have until 11 PM ET (8 PM PT) to make a deposit or transfer). Chase Overdraft Assist does not require enrollment and comes with eligible Chase checking accounts.
Editorial Note: This content is not provided by any entity covered in this article. Any opinions, analyses, reviews, ratings or recommendations expressed in this article are those of the author alone and have not been reviewed, approved or otherwise endorsed by any entity named in this article.