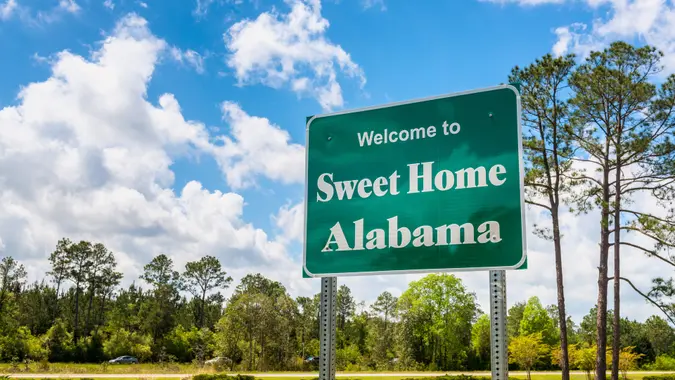 Allard1 / Getty Images/iStockphoto
Are you in search of a new bank and wondering, how many banks are there in Alabama? There are currently over 100, making it difficult to choose one. Fortunately, GOBankingRates did all the footwork to bring you the seven best banks in Alabama.
Best Banks Near Me: How Banks In Alabama Made the List
The annual GOBankingRates Top 100 Banks list is a compilation of the best banks in the country. Criteria includes customer service, national branch availability, fees, interest rates, regional market share and more. To find the best banks in Alabama, the top 100 were further narrowed down to the financial institutions that operate in the state.
7 Best Banks in Alabama
The following seven banks were the highest-rated in the state. Here's more on why.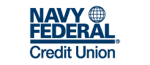 Navy Federal Credit Union
Why it stands out:
Alabama is home to five military bases and a large population of current and former personnel. Navy Federal Credit Union is the top bank in Alabama and geared towards those in the Armed Forces and their families. NFCU isn't a traditional bank
–
it's one of the
best credit unions in the country
. Alabama residents who qualify for membership and can bank with Navy Federal will have access to fee-free accounts that earn dividends of  0.05% to 0.50% on balances, depending on the account type and balance, as well as an international support system of branches based on where you're deployed. NFCU provides a multitude of access points, such as a mobile banking app, branches, Co-Op locations and phone support. And as mentioned, deployed account holders will find locations overseas at military bases in Cuba, Spain, Italy, Guam, Japan, Korea and more.
Pros:
Full service banking featuring plenty of account options, vehicle loans, mortgages and more.
Low-cost banking featuring four free checking accounts and a premium checking account with waivable fees
A network of 30,000 free ATMs available in the U.S.
Up to $240 per year back on out-of-network ATM withdrawal fees
Cons:
Limited to military personnel and relatives
Not as many Alabama branches as other local banks
What to look for:
Sign up for the NFCU Cash Rewards credit card to earn up to 1.75% cash back on all your purchases. Plus, you get a $200 bonus if you're approved.
READ OUR FULL REVIEW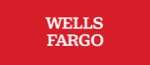 Wells Fargo
Why it stands out:
Wells Fargo has always been known as a business- and people-friendly bank with a wide network of branches and excellent customer support. There are 85 branches in Alabama and 158 ATMs. For banking at your convenience, the Wells Fargo mobile app is also available. You can make mobile deposits and skip the teller lines, set up account alerts and manage your account 24/7. In addition, there are plenty of
Wells Fargo credit cards
to supplement the debit card that comes with your checking account.
Pros:
Accounts have monthly maintenance fees that are waivable
Low opening deposit minimums of $25 on nearly all accounts
The mobile banking app is highly rated by millions of iOS and Android users
Branches and ATMs throughout the state
Cons:
Low interest rate yields
Watch out for the pricey overdraft fees of $35 per item and $12.50 per overdraft protection transfer
What to look for:
Start with the basic Everyday Checking account, one of the
best checking accounts
available. Opening minimums start at $25 and the monthly maintenance fee of $10 is fairly easy to avoid. Young adults between 17 and 24 or account holders that maintain a minimum balance or monthly direct deposit of $500 can skip the fee.
READ OUR FULL REVIEW
Redstone Federal Credit Union
Why it stands out:
Redstone Federal Credit Union is the second credit union on the best banks in Alabama list. While Navy Federal limits membership to military personnel and family, Alabama residents can qualify for membership with Redstone through government employment, military service or belonging to/working for one of over 1,500 partner organizations and businesses. If you qualify, you'll find everything you need under one roof. Redstone Federal Credit Union offers checking, savings and money market accounts, CDs, mortgages, personal loans, credit cards and more. Redstone also runs regular promotions to save you money, such as an offer of only $1 in mortgage origination fees when purchasing a home through the end of June 2022. Credit unions often have better rates than a traditional bank on your savings. If you're interested in a share certificate and can set the money aside for a specific term, a 12-month term will earn
0.50%
APY, with higher rates available for longer terms.
Pros:
Direct deposits arrive up to two days earlier
Three free or low-cost checking account options loaded with perks
Brighter Day Savings account earns an impressive APY on balances up to $2,500
27 area branches
Cons:
Membership is required to access banking
Rates on some products such as savings and share certificates could be better
What to look for:
The Brighter Day savings account offers a very high APY. The only drawback is, the high yield is capped at balances of up to $2,500. However, it may still be worth it if you intend to keep some cash set aside for an emergency.
READ OUR FULL REVIEW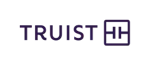 Truist
Why it stands out:
If you like options, Truist Bank has them. There are five checking accounts alone to choose from, and they're all significantly different, focusing on a particular customer. Individuals who have trouble opening an account because of a past with
Chexsystems
or poor credit could open a prepaid checking account. There are no monthly maintenance fees as long as you load at least $500 each month and the account comes with a debit card. For more traditional banking products, Truist Bright and Dimensions checking come with more perks and a waivable monthly maintenance fees. Truist Online Savings doesn't have any monthly fees or minimum balance requirements. The money market account helps you earn more for your account balances. And there's always CDs available as long as you have at least $1,000 to set aside. Although Truist offers the standard savings options, the bank is best for checking accounts. The rates earned on CDs and even the money market account are minimal
–
with a
0.05%
max on CDs and
0.01%
on money market accounts. You may want to park your savings elsewhere.
Pros:
Free checking available
Prepaid checking with no fees as long as you pay in at least $500 per month
Money market account with a $100 opening balance requirement and waivable monthly fee with a minimum daily balance of at least $1,000
Locations in 51 Alabama towns and cities
Cons:
Low yields of

0.05%

on CDs and

0.01%

on money market accounts
What to look for:
If you'd like to avoid overdraft charges, set spending limits on your debit card or opt for the Prepaid Money checking account.
READ OUR FULL REVIEW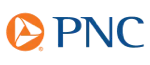 PNC
Why it stands out:
Most of the banks in this "best of" focus on a strong local presence. While PNC Bank is no exception, what may stand out most about the financial institution is its strong digital platform. New account holders will need to set up a Virtual Wallet to hold their checking and savings account in one place. Once they do, they can also add other accounts as required, to save money for specific goals and more. PNC's checking accounts may be its strongest feature. There are three levels of spend accounts, PNC's term for checking. The basic Virtual Wallet account has no monthly fees as long as you receive or maintain $500 per month in the account. Otherwise, the fee is $7. You'll receive $5 back in ATM withdrawals per month and two free withdrawals. The next level is known as Virtual Wallet with Performance Spend. The monthly fee is $15 unless you can maintain or receive $2,000 per month. The first four ATM fees plus a reimbursement of $10 in ATM withdrawals is included. Lastly, Virtual Wallet with Performance Select is the bank's highest tier. You'll need balances or deposits of $5,000 to avoid a $25 fee but this account tier is a good option if you make frequent ATM withdrawals. PNC won't charge you for any domestic or international withdrawals and will refund any third-party ATM surcharges for up to $20 per month.
Pros:
Clean, graphic mobile banking app interface is user friendly
Monthly maintenance fees can be waived
A 24-hour grace period to fund an overdrawn account before overdraft fees are charged
Cons:
Only one branch in Selma, Alabama
Daily overdraft fee of $36
What to look for:
To avoid the high overdraft charges, turn on Low Cash Mode in the mobile banking app. You'll receive notifications when your account falls below a set amount, so you can decide whether you'd like to decline certain transactions or fund your account to cover them. You'll receive 24 hours to bring your account out of the negative before the high overdraft fees get charged.
READ OUR FULL REVIEW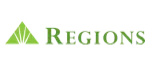 Regions
Why it stands out:
Regions Bank has a strong local presence in Alabama with 25 local, full-service branches and drive-up ATMs. You'll find plenty of low-fee checking and savings account options. Regions Bank's savings products are worth checking out simply for the low costs and options. Three savings accounts are available. LifeGreen and and Now Savings have no fees or minimum balances. They're ideal when you'd like to save towards goals such as a large down payment or emergency fund. However, interest rates are low at only
0.01%
APY on all balances.
Pros:
Full-service banking available
Free savings with no minimum balance requirements
25 branches and drive-up ATMs in Alabama
Prepaid Visa card available
Cons:
Low interest rates on balances
What to look for:
All Regions Bank checking accounts have a monthly maintenance fee. Luckily, the fee can be waived with minimum direct deposits or daily balances. Before you choose an account, be sure you understand the requirements to avoid the monthly fee.
READ OUR FULL REVIEW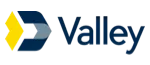 Valley National Bank
Why it stands out:
Valley Bank primarily focuses on New York, New Jersey, Florida and Alabama. It offers a full-service experience that includes banking, loans, insurance and financial planning. The All Access Rewards checking account may be one of the best features of banking with Valley National. There are no fees or minimum balance requirements. Plus, you can earn rewards of $20 per month for a year if you set up direct deposits. If you plan on setting money aside as savings, Valley National's rates for a money market can range between
0.04%
to
0.20%
, depending on your balance. Or you can earn
0.04%
APY for a 1-year CD. Valley National also offers a much higher special rate on their 25-month CD.
Pros:
The 25-month CD pays an impressive APY
Earn $20 per month for one year from your All Access Rewards Checking when you receive qualifying direct deposits
Loans, insurance and investing also available
Branches in 10 Alabama cities
Cons:
Fairly basic mobile banking app
High opening balance requirement of $2,000 for money market savings
What to look for:
Although the money market account has a more lucrative interest rate, the higher balance requirements may not be worth it. Opening a checking account and setting funds aside in a 25-month CD may be the best way to max out the interest you could earn.
READ OUR FULL REVIEW
Takeaway
Alabama has plenty of banks and credit unions available to choose from. Although the national banks are present, your best bet may be one of the regional banks or credit unions in the state. You may find fewer fees and better interest rates and services. Before you decide, compare a handful to find the one that's best for you. 
Best Banks By Region
FAQ
What banks are there in Alabama?

There are currently over 100 banks in Alabama. Among the largest are Regions, BBVA Compass, Wells Fargo and ServisFirst Bank.

What is the best bank to bank with in Alabama?

GOBankingRates selected seven banks as the best in the state.
For military-affiliated individuals, Navy Federal Credit Union is a good option.
For a full-service bank with national availability, Wells Fargo is a great option.
If you're in search of a local bank with a strong presence, Regions Bank is the best bank in Alabama.

What is the largest bank in Alabama?

The largest bank in Alabama as far as deposits and presence is Regions Bank. It's also named as one of the best banks in Alabama in the annual GOBankingRates study.
Rates are subject to change; unless otherwise noted, rates are updated periodically. All other information on accounts is accurate as of August 9, 2022.
Editorial Note: This content is not provided by the banks listed. Any opinions, analyses, reviews, ratings or recommendations expressed in this article are those of the author alone and have not been reviewed, approved or otherwise endorsed by the banks listed.
GOBankingRates is a personal finance and consumer interest rate website owned by ConsumerTrack Inc., an online marketing company serving top-tier banks, credit unions and other financial services organizations. Some companies mentioned in this article might be clients of ConsumerTrack Inc., which serves more than 100 national, local and online financial institutions. Rankings and roundups are completely objective, and no institution, client or otherwise, paid for inclusion or specific placement. Any opinions, analyses, reviews or recommendations expressed in this article are those of the author alone and have not been reviewed, approved or otherwise endorsed by the companies included in the article. All fees and rates are subject to change at the issuers' discretion. Some interest rates might be short-term or promotional offers only, and it is possible additional terms and conditions must be met to obtain the interest rates listed. Rates and availability might vary by region. Verify terms and conditions before opening an account.
GOBankingRates bases its assessment of "best" and "top" products on the above-stated parameters to create a baseline for comparison. This assessment is an approximation of "best" and "top" designed to help consumers find products that might be appropriate for them. There could be other options available as well. Consumers should consider various options appropriate for their circumstances.
To discover the Top 100 Best Banks, GOBankingRates looked at all institutions with available published data (National, Regional, Local, and Online) from the 2022 Best Banks categories as well as all Credit Unions with over $1 billion in total assets and accessible to a wide audience. GOBankingRates looked at the following factors: (1) total assets as sourced from the FDIC and NCUA; (2) number of branch locations as sourced from the FDIC and NCUA; (3) checking account annual fee; (4) savings account APY rate; (5) 12-month CD APY rate; (6) customer service products offered (24/7 customer service and live chat with a human); (7) Bauer rating (out of 5 stars); (8) products/services offered (auto loans, mortgage loans, credit cards, investment services, and insurance); and (9) the average mobile app rating between the android and apple stores. All factors were then scored and combined, with the lowest score being best. Factors (1) and (4) were weighted 1.5 times in final scoring, factor (2) was weighted 2 times, factor (6) was weighted 0.5 times, and factor (8) was weighted 2.5 times. For all Savings and Checking Account data only the basic accounts/products offered at each institution was analyzed. Rates and fees subject to change.