Credit Union vs. Bank: Which Is Better?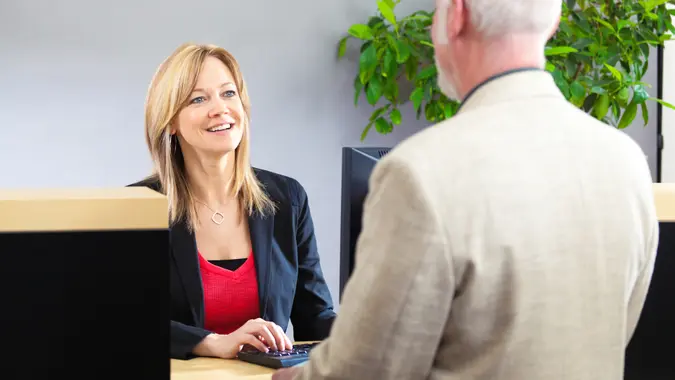 YinYang / Getty Images/iStockphoto
If you're looking for a new banking solution, you may be considering credit unions versus banks. But what's the difference? The primary difference between the two is that banks operate as for-profit businesses while credit unions operate as not-for-profit businesses in which each member is a shareholder.
This difference means that fees are typically lower at credit unions. However, large, profitable banks are able to provide a wider range of services than most credit unions. Regardless of your choice, the decision is personal and requires consideration of both options' pros and cons.
Is a Credit Union Safer Than a Bank?
Whether you decide to work with a multi-national banking institution or a small local credit union, your money is equally safe. That's because the federal government insures them both through different organizations. The FDIC insures bank accounts, while the NCUA insures credit union accounts.
FDIC vs. NCUA
From a consumer's viewpoint, there are no discernible differences between the FDIC and the NCUA. The Federal Deposit Insurance Corporation and National Credit Union Administration are both federally-operated government agencies and offer insurance on $250,000 in deposits per person, per registered bank or credit union.
Both also insure more than $250,000 in deposits, if you spread those deposits across multiple banks. If you have more than $250,000 to deposit, be sure to split your deposit between multiple institutions to ensure coverage on your entire balance.
Do Banks or Credit Unions Charge Lower Interest Rates on Loans?
You can usually expect a lower interest rate at credit unions than at banks — but because there are multiple factors that determine your rate, your personal experience may differ from the norm.
Bank Loan Rates
Banks are for-profit businesses, meaning they earn profits by charging consumers fees and interest on loans. They also typically pay lower rates on deposit accounts, earning a high margin when they use money held in these accounts as backing for loans.
Credit Union Loan Rates
Because credit unions are not-for-profit companies that typically funnel their earnings back to their shareholders — the account holders — they offer lower interest rates and fees on loans and higher returns on deposit accounts.
Do Banks or Credit Unions Pay Better Interest Rates on Deposit Accounts?
Credit unions usually offer higher return rates on deposit accounts than brick-and-mortar banks. This is part of the return of value the not-for-profit credit union business model offers to members.
Online Banks
However, you may not get the best rates at credit unions. Online banks with far less overhead than traditional financial institutions often offer high-yield savings accounts. Some of these accounts offer interest rates as high as 5% or higher.
What Is the Down Side of a Credit Union?
After reading everything above, you may be thinking that credit unions are the better option over banks. Although credit unions do usually offer lower interest rates and fees on loans and higher returns on deposit accounts, they may not always be the best option for every scenario. 
Credit unions may come with strict membership requirements, and — contrary to popular belief — they don't always have the best rates. Moreover, they may not even offer the level of service you're looking for. 
Credit Unions Have Membership Requirements
Credit unions typically support a specific demographic of people. So, you may have to meet membership requirements to sign up.
For example, some credit unions are geared toward serving members of the military, so you or someone in your family has to be on active duty, work for the military in another capacity or meet other potential eligibility requirements. Other credit unions require you to live in a certain area or work in a specific industry.
Credit Unions May Not Have the Best Rates
As mentioned above, credit unions typically offer lower rates on loans and higher rates on deposit accounts than traditional banks. However, modern online banks with high-yield savings accounts often offer better rates on deposit accounts.
Credit Unions May Not Offer the Services You Want
Credit unions may offer better rates than traditional banks, but they're often limited in the services they provide. Some have limited customer service availability or offer a limited selection of loans. You'll find a greater variety of credit cards through bigger banks, as well.
Sometimes you really do get what you pay for, even in banking.  
How To Choose a Bank or Credit Union
Here are a few things to consider when you compare credit unions versus banks:
Service Availability: If you're looking for a particular service — or know you'll need it in the future — make sure the bank or credit union you're interested in offers it. 
Technology: Credit unions invest their profits back into their members. That means they may not have the best technology or offer the most convenient banking experience.
Fees and Returns: If you're willing to give up state-of-the-art technology to pay less on loans and earn more on deposits, credit unions may be your best choice.
Final Take
Banks and credit unions both have their place in today's financial ecosystem. Banks often offer services credit unions don't, while credit unions keep costs low. Consider the pros and cons of each when trying to determine which is best for your financial situation.
FAQ
Find the answers to the most common questions about the credit union versus bank comparison below.
Is a credit union better than a bank?

If you're looking for in-person service and better interest rates, consider a credit union. However, if you're looking for a better online and mobile experience and a greater variety of services, you might be better off with a bigger bank.
Ultimately, which is better for you depends on your unique needs. Consider the pros and cons of each option and how they relate to your situation before you make your decision.

What are three differences between a bank and a credit union?

The three biggest differences between banks and credit unions are as follows:

1. Banks are for-profit businesses, and credit unions are not-for-profit businesses.
2. Credit unions typically charge less interest on loans and pay higher interest on deposit accounts.
3. Banks often offer a greater variety of services than credit unions.

Note that, aside from being for-profit or not-for-profit, there are exceptions to these rules.
Our in-house research team and on-site financial experts work together to create content that's accurate, impartial, and up to date. We fact-check every single statistic, quote and fact using trusted primary resources to make sure the information we provide is correct. You can learn more about GOBankingRates' processes and standards in our editorial policy.