Navy Federal ATM Withdrawal and Deposit Limits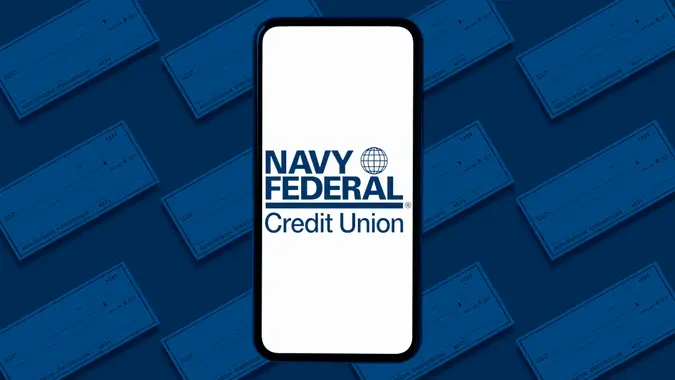 Life is expensive, and it's essential to have access to your cash when you need it. If you have a Navy Federal Credit Union account, you should know its ATM limits and how to access your money. Read on for an overview of Navy Federal's ATM withdrawal and deposit limits.
Understanding Navy Federal's Limits on Withdrawals
Navy Federal's limits vary based on your account type and withdrawal method. Cash and spending limits on accounts include all transactions from a calendar day. You may swipe your card at an ATM or merchant multiple times without limitation on the number of individual swipes. However, you may be subject to additional limitations for security reasons.
Here is how much cash you can withdraw and how much you can spend using your Navy Federal debit card.
Navy Federal ATM Withdrawal Limit
The daily limit for Navy Federal cash withdrawals is $1,000 cash per day. This limit applies to any combination of Navy Federal ATMs, other ATMs and merchants that allow cash back.
Navy Federal Spending Limits
You may spend $3,000 daily using your debit card unless you have a Navy Federal Flagship Checking account. Flagship accountholders have a daily debit card transaction limit of $5,000.
What Is the Maximum Deposit Limit for Navy Federal ATMs?
You can deposit up to $10,000 daily at any Navy Federal or Co-op Network ATM. This includes both cash and checks. For cash or checks totaling more than $10,000, stop by a Navy Federal branch and deposit using the teller line or drive-thru. If you just have checks, you can use the mobile deposit feature of the Navy Federal app to deposit up to 10 checks totaling no more than $50,000 per business day.
How Quickly Are My Funds Available After Making a Deposit?
The first $225 of your check deposit — whether at a Navy Federal ATM or in a branch — is available to withdraw for cash by the next business day after your deposit. Your remaining deposit balance is available by the second business day. Some factors might delay the availability of a check deposit, so be sure the funds have cleared before spending to avoid overdrafts if you don't have overdraft protection.
Cash deposits at Navy Federal ATMs are available immediately for cash withdrawals and by the second business day for other purposes.
What Are the Transfer Limits on My Navy Federal Account?
You can also access your Navy Federal funds by transferring them to an account at another bank. Here's what you should know about the credit union's limits on fund transfers: 
Minimum transfer amount: $5 per transaction
Maximum transfer amount: $5,000 per business day
Transaction limit: No limits on the number of transactions you can complete per day
Weekly limit: $15,000 total per five business days
What Other Ways Can I Get Cash?
If you're nearing your debit card and ATM limits for the day, you may still be able to access your money using the following methods:
Request an Increase
Some financial institutions may grant limit increases, whether temporary or permanent. Call Navy Federal at 888-842-6328 to see if it will give you a temporary increase.
Cash Back on a Debit Purchase
If you aren't near an ATM to make a withdrawal, check a nearby merchant. Many stores and gas stations offer cash back for PIN-based transactions. The limit will vary from store to store.
Withdraw Cash From Another Account
If you have a separate checking account with a debit card, transfer money from NFCU to the other account using online banking and then use that account's debit card at an ATM or merchant to access your funds.
Stop By a Branch
Even if you've reached your cash withdrawal limits at ATMs or merchants, you can still stop by a branch and withdraw cash in person. Make sure you have your identification.
Key Takeaways
Like many financial institutions, Navy Federal has limits on debit card use for withdrawals, deposits and spending. Your Navy Federal ATM withdrawal limit is $1,000 daily, including any cash you get from ATMs or via cash back from merchants. You can spend up to $3,000 or $5,000 daily using your debit card, depending on which NFCU checking account you have. Visit a physical branch to get additional cash.
FAQ
How can I withdraw more than $1,000 from Navy Federal?

You can withdraw over $1,000 from your Navy Federal account at a physical branch. If you aren't near one, you can transfer money from Navy Federal to an account at another bank and withdraw cash from the other account. The limit for outbound transfers is $5,000 per business day up to $15,000 per five business days. You can also contact Navy Federal to see if it will grant a temporary withdrawal limit increase.

What ATMs allow you to withdraw $1,000?

ATM withdrawal limits vary by bank, account type and ATM. If your bank and account allow $1,000 withdrawals but you can't locate an ATM that does, you may have to visit a few different ATMs to make multiple withdrawals totaling $1,000.

Can I pull $2,000 out of a Navy Federal ATM?

No, NFCU members can't withdraw more than $1,000 daily using a debit card at Navy Federal ATMs. The $1,000 limit includes withdrawals at other ATMs and any cash back from merchants.

How do I withdraw large amounts of cash from Navy Federal?

The easiest way to withdraw a significant sum from your Navy Federal account is at a physical branch. If that isn't an option, you can withdraw $1,000 daily using your debit card. You can also use the Navy Federal mobile app to transfer up to $5,000 per business day but no more than $15,000 per five business days from your NFCU account to another bank. You can then withdraw the cash from the other bank.
Katy Hebebrand contributed to the reporting for this article.
Editorial Note: This content is not provided by any entity covered in this article. Any opinions, analyses, reviews, ratings or recommendations expressed in this article are those of the author alone and have not been reviewed, approved or otherwise endorsed by any entity named in this article.