Navy Federal CD Rates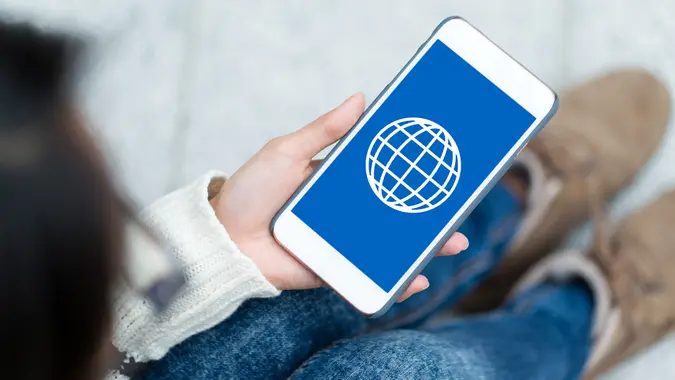 leungchopan / Shutterstock.com
Ranked as the world's largest credit union, Navy Federal Credit Union has much to offer its members. Along with an extensive network of Navy Federal locations and ATMs — as well as 24/7 access to mobile and online banking services — NFCU boasts a number of financial products and services, including loans, credit cards and certificates of deposit. Keep reading to learn more about the CD rates and offerings at Navy Federal.
Navy Federal CD Rates
Navy Federal has several CD options to choose from, with terms ranging from three months to seven years. And you can open one with as little as $50. Navy Federal CD dividends are compounded daily and credited monthly and early penalty withdrawals do apply, according to term length. Here's a look at the different types of CDs Navy Federal offers.
| Type | Term | Minimum Deposit | APY |
| --- | --- | --- | --- |
| Standard Certificate | 3 months-7 years | $1,000 | Up to |
| EasyStart Certificate | 6-24 months | $50 | Up to |
| Special EasyStart Certificate | 12 months | $50 | Up to |
Navy Federal Standard Certificate Rates
Navy Federal offers tiered rates for their Standard Certificates depending on your initial deposit. The rates in the following table are for the required minimum deposit of $1,000.
| Term | APY |
| --- | --- |
| 3 months | |
| 6 months | |
| 12 months | |
| 18 months | |
| 24 months | |
| 3 years  | |
| 5 years | |
| 7 years | |
Navy Federal EasyStart Certificate Rates
Here is a look at the rates that Navy Federal offers for their EasyStart CDs.
| Term | APY |
| --- | --- |
| 6 months | |
| 12 months | |
| 18 months | |
| 24 months | |
Features of Navy Federal CDs
Here are some pros and cons to keep in mind when considering opening a Navy Federal CD.
Pros
You can add money to the EasyStart and Special EasyStart CDs.
Above-average interest rates.
Insured by the National Credit Union Administration.
Cons
Early withdrawal penalties of up to 365 days of dividends, depending on the term.
You must have a Membership Share Savings account to open other accounts.
You must be a member of the armed forces, a veteran, a Department of Defense employee or a family member of one of these groups to join Navy Federal.
Special EasyStart Certificate has a maximum balance of $3,000.
Who Is a Navy Federal CD For?
Given the excellent Navy Federal CD rates, anyone who is eligible for membership might want to open a Navy Federal CD. The flexible options make it a good fit. Those who already have money in savings might want a standard or variable rate certificate. These are good if you know you won't need to access the money right away.
The EasyStart certificates could be a good fit for members who want to build up their savings. These CDs allow you to start with a low minimum deposit and add money at any time. You'll want to be mindful of avoiding the early withdrawal penalty, but if you have trouble keeping your savings in your savings account, an EasyStart certificate could be the encouragement you need to start accumulating savings.
CDs are risk-free — you can't lose money on CDs — so they're an excellent choice for anyone who is nearing retirement or is retired and wants to avoid market volatility.
Who Should Pass on a Navy Federal CD?
Those who don't meet the criteria for opening a Navy Federal CD will have to take a pass. Those who prefer in-person access but don't live near a branch should also look elsewhere.
Another group of people who might want to pass are those who anticipate needing immediate access to funds. CDs are meant for longer-term savings, which is why they have withdrawal penalties. You can work around withdrawal charges by laddering CDs so that the maturity dates are staggered. That way, you always have a CD that's maturing soon so you can withdraw the money as needed.
How To Open a Navy Federal CD
Before you can open a Navy Federal CD, you need to join the credit union. You can join online, by phone or in person at a branch. Here's what you'll need:
Your Social Security number
A valid government ID
A credit card or bank account number and routing number to fund your account
Once you've joined Navy Federal, you can open a CD online, through the Navy Federal mobile app or by visiting a branch. You can add funds to eligible CDs through those methods as well.
Once you have a Navy Federal CD, you will receive a notice before it matures. Unless Navy Federal receives instructions from you stating otherwise, the CD will automatically renew with the same terms. You can make penalty-free adjustments up to 21 days after your CD matures.
Final Take
If you are looking for a new CD account, Navy Federal deserves a look. They offer CDs ranging from three months to seven years with reasonable opening deposits. Their rates are competitive and they are insured by the National Credit Union Administration.
FAQ
Here are the answers to some of the most frequently asked questions regarding CD rates.
Who has the highest-paying CD right now?

CD rates will vary depending on the term but some of the highest-paying 3-year CDs can be found at Alliant Credit Union and Popular Direct.

What is the best 12-month CD rate?

Some of the best 12-month CD rates can be found at Bread Savings, First Internet Bank and North American Savings Bank.

What is the current rate for CDs at Navy Federal?

The rates for CDs at Navy Federal vary depending on the term, type and opening deposit but they can go up to

4.85%

APY.
Rates are subject to change. Information on accounts is accurate as of March 2, 2023. 
Editorial Note: This content is not provided by any entity covered in this article. Any opinions, analyses, reviews, ratings or recommendations expressed in this article are those of the author alone and have not been reviewed, approved or otherwise endorsed by any entity named in this article.