6 Best Joint Bank Accounts of 2023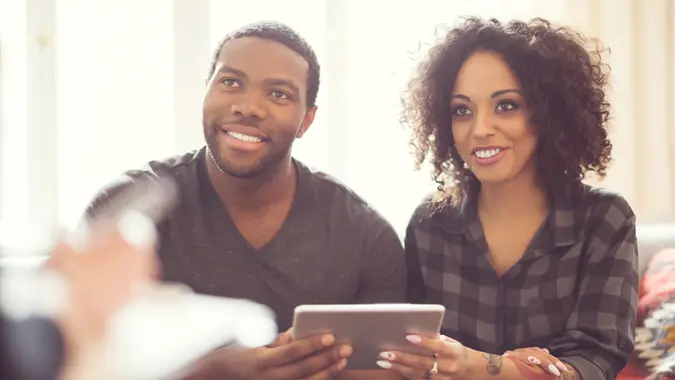 Izabela Habur / iStock.com
Sometimes more than one person needs or wants to have access to the same funds. In these cases, it makes sense to open a joint account. A joint account is simply a bank account with more than one owner. You can usually open any type of bank account jointly. The one notable exception is an IRA, which is an individual retirement account, and therefore can be opened in only one person's name.
Top Joint Accounts of 2023
The factors that make a joint account a good choice are often the same as they are for an individual account — a good interest rate, low or no fees, no minimum balance and so forth. Think about which of these is most important to you before you decide where to open your joint account.
Here are some of the best joint accounts for 2023.
SoFi: Best for earning interest
Capital One: Best for parents and teens
Ally Bank: Best for online-only banking
Axos Bank: Best for couples
Upgrade: Best for frequent debit card users
NBKC: Best for combined checking and savings
SoFi
SoFi is an online-only bank with a great mobile app. It offers a combined checking and savings account that pays APY on the checking balance and up to APY on the money that's earmarked for savings, if you have direct deposit set up.
Earn Perks With A New Checking Account
There are no monthly maintenance fees, and customers have access to over 55,000 Allpoint ATMs for free.
Capital One
Best for: Parents and teens
Capital One checking accounts are good for joint account holders, as they have no fees and no minimum balance. However, they also have low interest at just APY– you'll need to open a savings account for better interest. If you do, you'll earn APY on any balance.
CapitalOne also offers the MONEY Teen Checking account, which gives parents and teens their own access on the mobile app, with separate logins. Teens can manage their money, while parents can see what's going on. Parents can deposit their child's allowance and even freeze their debit card if their spending gets out of control. It's called a "teen" account, but it can actually be used for kids as young as 8. It also offers APY.
Ally Bank
Best for: Online-only banking
Ally Bank's Interest Checking account pays up to APY — not a lot, but better than nothing. And there are no fees or minimum balance requirements. You can add a savings account and get APY on that money. Linking savings and checking lets you easily move money and analyzes your spending to reveal savings opportunities.
Axos Bank
The Axos Rewards Checking account is a good option for a joint account for couples, because many of the actions required to earn the maximum APY also make sense for couples who have established joined finances — though individuals can also meet the requirements.
Earn Perks With A New Checking Account
You can earn interest on the account if you have certain qualifying activities:
Set up direct deposit
Use your debit card for 10 transactions a month
Keep $2,500 or more in a managed investment portfolio
Have $2,500 in a self-directed trading account
Make your Axos loan payment directly from your checking account
If you do all these things, you could be earning APY on your checking balance — if you do only some, your APY will reduce with each activity you're missing. It's a lot to keep track of, but that rate on checking is hard to beat. Plus, Axos is currently offering a $100 welcome bonus if you have $1,500 within a single month in direct deposits during the first three months the account is open.
Upgrade
Upgrade Rewards Checking is a good choice for joint account users who rely on their debit card for everyday purchases.
You get cash back on debit card purchases, similar to the way credit cards offer cash back on purchases. You'll earn 2% cash back on purchases you make at convenience and drug stores, gas stations and restaurants. You'll also earn 2% cash back when you use your debit card to pay for monthly subscriptions, like streaming services, and for your cell phone service — check to make sure your streaming service and cell phone provider participate. You get 1% cash back on everything else you use your debit card for.
Earn Perks With A New Checking Account
Plus, there are no account maintenance fees and no ATM fees. The Upgrade Rewards Checking account does not pay interest, but Upgrade's High Yield Savings account is paying APY.
NBKC Bank
NBKC Bank has an Everything Account, which combines savings and checking. You earn APY on all savings balances, and there's no minimum balance required.
You get free access to 37,000 ATMs and reimbursement up to $12 per month if you use out-of-network ATMs. You can easily move money from checking to savings and vice versa.
Why Open a Joint Account?
When you think of a joint bank account, you usually think of an account shared by two spouses. But there are a lot of other situations in which a joint account makes sense.
For parents who have a child going off to college, for example, it may make sense to have a joint account so parents can deposit money for the child to use. For adults who have responsibility for an aging parent, having a joint account can make it easier for the caregiver to access funds for the elder's needs.
Drawbacks to a Joint Account
There is one important thing to keep in mind when considering opening a joint account: the funds in a joint account belong to all the account holders, jointly.
This means that all account holders have access to the funds, and they are considered an asset of all account holders. So, if a two people have a joint account, there's nothing to stop one of them from withdrawing all the money and moving out of the country.
In addition, the funds in a joint account shared by a parent and teenager can be considered to be an asset of the teen when applying for financial aid for college. And creditors may have a claim to all the assets in the account if one account holder is in default on an obligation.
Takeaway
Taking a few extra minutes to compare the features of available accounts, considering what is most important to you and the other account holder, can help you determine which joint account is best for your specific situation.
FAQ
Here are the answers to some common questions about joint bank accounts.
What bank is best for a joint account?

If you're setting up an account that will be shared between parent and teenager, take a look at Capital One's MONEY Teen Checking account. If what you want is high APYs, Ally might be the bank for you. Or, if you want to earn cash back on debit card purchases, Upgrade might just have what you need.
Ultimately, the best bank for a joint account depends on what you need, so compare the options before you decide.

Is there a downside to joint account?

Joint accounts can be convenient, but they have their downsides

–

the most obvious of which is that if your banking partner proves untrustworthy, you might lose all your money. And if one of you defaults on a loan, creditors may have a claim on the full account, even if half the money is meant to belong to the other party.

Can a boyfriend and girlfriend get a bank account together?

Yes, couples can get a joint bank account even if they are not married. However, without the legal protection of a marriage, you'll want to carefully consider whether it's a good idea. If your partner turns out to be untrustworthy, or even just bad with money, you might find that your finances take a serious hit.
Rates are subject to change; unless otherwise noted, rates are updated periodically. All other information on accounts is accurate as of Jan. 19, 2023.
Editorial Note: This content is not provided by any entity covered in this article. Any opinions, analyses, reviews, ratings or recommendations expressed in this article are those of the author alone and have not been reviewed, approved or otherwise endorsed by any entity named in this article.
GOBankingRates is a personal finance and consumer interest rate website and an online marketing company serving top-tier banks, credit unions and other financial services organizations. Some companies mentioned in this article might be clients of GOBankingRates, which serves more than 100 national, local and online financial institutions. Rankings and roundups are completely objective, and no institution, client or otherwise, paid for inclusion or specific placement. Any opinions, analyses, reviews or recommendations expressed in this article are those of the author alone and have not been reviewed, approved or otherwise endorsed by the companies included in the article. All fees and rates are subject to change at the issuers' discretion. Some interest rates might be short-term or promotional offers only, and it is possible additional terms and conditions must be met to obtain the interest rates listed. Rates and availability might vary by region. Verify terms and conditions before opening an account.
GOBankingRates bases its assessment of "best" and "top" products on the above-stated parameters to create a baseline for comparison. This assessment is an approximation of "best" and "top" designed to help consumers find products that might be appropriate for them. There could be other options available as well. Consumers should consider various options appropriate for their circumstances.
Earn Perks With A New Checking Account