Easiest Bank Accounts To Open Online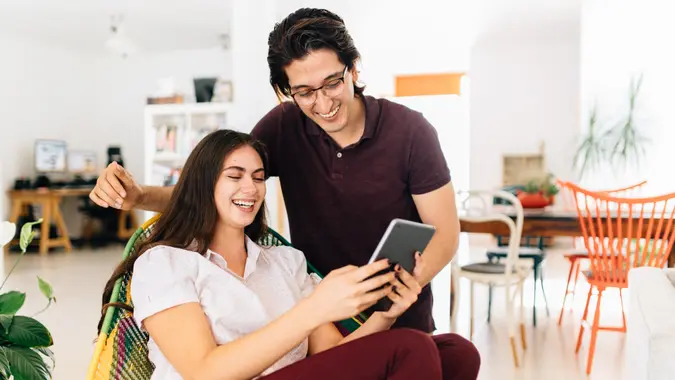 ferrantraite / Getty Images
Bank accounts are a necessity in life for almost everyone. They give you a way to get paid for the work that you do, and a way to pay your bills quickly and conveniently. Nonetheless, opening a bank account can be a hassle at some institutions. For quicker and easier access to your money, some banks have simplified the process of opening an account.
Easiest Bank Accounts To Open
In the past, opening a bank account required multiple time-consuming steps. You had to find time in your day to travel to a bank. Once there, forms had to be filled out and manually approved, which often took days or weeks. Luckily, you now have much easier access. Here are some options for the easiest accounts to open online.
Chime®
Capital One
Revolut
Current
Wise
Majority
Keep reading to learn more about opening an account with these financial institutions.
1. Chime
Chime* is a financial app that offers online-only account access. It ranks as one of the easiest accounts to open online because Chime requires no credit check and no minimum balance. Chime accounts are fairly basic, and probably not the best option for someone that needs a lot of advanced features. However, if you are looking for a simple account that can give you a Chime Visa® Debit Card1 and free in-network ATM withdrawals2, then it is a good option. 
To open a Chime account, you will need to provide the company with your full name, date of birth, address and Social Security number.  
2. Capital One
Capital One offers a basic 360 Checking Account with no minimum requirements and no fees. You can use any of Capital One's 70,000 ATMs without paying any fees, and add cash to your checking account at any CVS location.
The application process is simple and can be done online. You must provide two documents of identification and proof of address. 
3. Revolut
Revolut offers standard banking features like direct deposit and savings accounts. Customers can transfer money between foreign accounts 10 times within a month for free and can exchange currency, up to $1,000 a month. 
The Revolut account takes minutes to open from your phone. Be prepared to supply basic identifying information like full name, date of birth and address. 
4. Current
Current offers low fees and an intuitive mobile banking app. However, it does not offer wire transfers or international transfers, and you cannot have a joint account. This means it may not be the right option for people who want a lot of flexibility. Nevertheless, it's a solid choice for people who are just starting out or for parents who want to get a bank account for their teenagers. 
It only takes a few minutes to apply for a Current account and you will need to provide your address and Social Security number.  
5. Wise
Wise is a good choice if you're often making or receiving international payments. Wise offers money transfers and the option to have a Mastercard debit card. 
To sign up for a Wise Multi-currency account you will need to provide a selfie of yourself holding a form of photo ID as well as proof of address. The account takes minutes to apply for, and up to two business days to verify. 
6. Majority
Majority is a banking platform that offers multi-lingual support, making it perfect for people who would like banking assistance in languages other than English. The Majority app also has international calling options and fairly low fees on money transfers. As a bonus, Majority account holders can access their paycheck up to two days early. 
You can open an account easily on your phone by providing basic information like your Social Security number and proof of address.
Final Take
Opening a bank account often feels like a headache waiting to happen. But that doesn't have to be the case. Some online banks and brick-and-mortar banks have adapted to the technology of today, making it less complicated and faster than ever to open a bank account. 
FAQ
Here are the answers to some of the most frequently asked questions about online bank accounts that are easy to open.
What is the easiest bank account to open?

The easiest bank account to open will depend on what you personally find most difficult. If you find it preferable to provide as little documentation as possible, Current has the most basic identification requirements. If you are more concerned with taking the least amount of time to apply for the account, Chime claims it only takes two minutes to apply.

Can you open a bank account online and use it right away?

All bank accounts have a verification process, meaning that they are not immediately accessible. There is also a chance that your application could be rejected, so make sure the paperwork you are submitting is accurate and meets all of the bank's specific requirements. After your documentation is verified, you can start using the bank account right away.

What is the fastest bank account you can open?

Banks can take as little as one business day to verify, or as many as five. Chime and Wise both claim that account verification will happen within two business days, making them the fastest options.

What banks do not require a credit check to open an account?

For people with lower or no credit, choosing a bank that does not require a credit check may be the best option. All of the following options do not require credit checks to open an account:

-Chime
-Capital One
-Revolut
-Current
-Wise
-Majority
Information is accurate as of Feb. 20, 2023. 
Editorial Note: This content is not provided by any entity covered in this article. Any opinions, analyses, reviews, ratings or recommendations expressed in this article are those of the author alone and have not been reviewed, approved or otherwise endorsed by any entity named in this article.
*Chime is a financial technology company, not a bank. Banking services provided by, and debit card issued by, The Bancorp Bank, N.A. or Stride Bank, N.A., Members FDIC.
1Banking services and debit card provided by The Bancorp Bank N.A. or Stride Bank, N.A., Members FDIC, pursuant to a license from Visa U.S.A. Inc. and may be used everywhere Visa debit cards are accepted.
2Out-of-network ATM withdrawal fees may apply except at MoneyPass ATMs in a 7-Eleven, or any Allpoint or Visa Plus Alliance ATM.