How To Get Free Money: 12 Easy, Proven Ways To Earn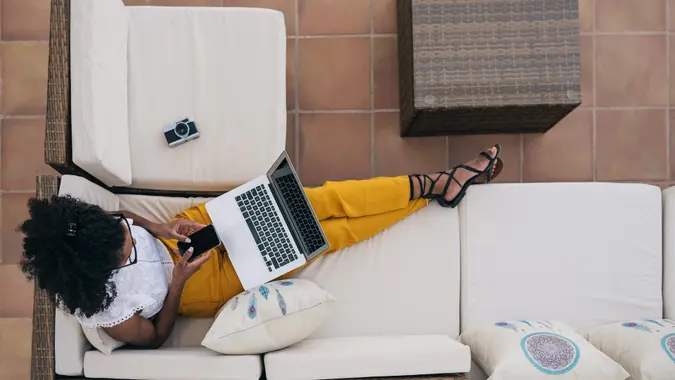 David-Prado / Getty Images/iStockphoto
When you need extra money, you often don't have to look very far. Whether you need to pay the rent, a student loan or another bill — or you just like free money — these 12 simple ways to earn money can boost your bank account balance.
Explore: Your Biggest Money Etiquette Questions Answered
More: Should You Still Buy a Home in Today's Market?
12 Ways To Get Free Money
In most cases, to get free money, you provide something of value and get something in return. You might open an account or download an app, or you might give your time and effort in filling out an application. In return, you can get money — or, perhaps, phone, internet or utility discounts. If you think about it, that's kind of like free money because it's money you would've had to spend otherwise.
Now that you know that these and other opportunities to earn free money are out there, it's time to find out where to look.
Take Our Poll: How Do You Typically Split the Restaurant Bill?
Earn Rewards or Stock Investments
Free money offers can boost your savings or checking account balance. The only thing you need to do is move your funds, and many banks can handle that electronically. Here are some ways to take advantage of rewards or stock investments.
Make Your Money Work Better for You
1. Take Advantage of Bank Promotions
One of the ways banks attract new business is by offering promotions. Just open an account and meet the promotion requirements to earn a bonus from one of these bank offers.
2. Get Free Stock Investments
When it comes to legitimate free money apps, stock apps are some of the best. You can earn money by investing in stock, and some even offer free stock.
Make Your Money Work Better for You
3. Earn Credit Card Bonuses
Much like how banks offer bonuses to entice people to switch, credit cards offer sign-up bonuses. In most cases, you just need to purchase a specific amount to earn the bonus.
Look For Discounts
Another way to get free money is to look for discounts for essential services. Here are some options to consider.
4. Get Help With Utility Bills
Utility bills can make a significant dent in your budget. These government programs can provide free money assistance.
Make Your Money Work Better for You
Government Initiated
Various federal, state and local programs allow you to get free money from the government.
5. Take Advantage of Your Employer's 401(k) Match
401(k)s are retirement funds, so you won't see the money until later. Taking advantage of a 401(k) saves you money now, though, because your contributions are tax-deferred, so they lower your taxable income in the years you pay into your plan.
Even better, federal laws encourage employers to contribute funds. For example, your employer might match 100% of your contributions up to 5% of your salary, which means for every $1 you contribute, your employer will also contribute $1 up to that limit. That's essentially free money.
6. Search for Unclaimed Money
Unclaimed money includes dormant accounts, trust distributions, refunds and more that haven't been claimed. It doesn't hurt to see if you have any unclaimed funds. Finding out that you do could be almost like winning free money.
Products and Services
You likely own items or can perform services that bring in extra money. Here are a few to consider.
7. Make Money From Your Old Devices
You may have old cellphones, computers or other tech devices that you no longer use. You can sell them and put some money in your pocket.
8. Sell Your Old Clothes
If your clothes are in good condition and you gravitate toward name brands, you could make money by selling your old clothes online.
9. Sell Your Photos
If you have an eye for photography, you can make money by selling your professional-quality photos online.
Via Apps and Survey Sites
You've likely heard at least once in your life, "There's an app for that." And that statement holds true for getting free money, too. Here's more.
10. Earn Money While You Shop
Many apps and browser extensions make it simple to earn money while you buy the things you need.
11. Take Surveys
Marketing companies want to know what you think, and you can turn that into free money.
12. Watch TV and Use the Internet
Advertisers also want to know what you watch and your internet surfing habits.
More From GOBankingRates
Our in-house research team and on-site financial experts work together to create content that's accurate, impartial, and up to date. We fact-check every single statistic, quote and fact using trusted primary resources to make sure the information we provide is correct. You can learn more about GOBankingRates' processes and standards in our editorial policy.
Make Your Money Work Better for You