10 Receipt Scanner Apps That Reward You for Everyday Shopping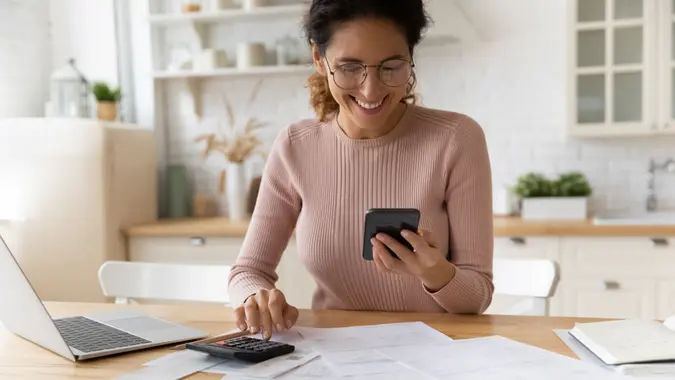 fizkes / Getty Images/iStockphoto
Receipt scanner apps are often used by businesses and consumers to help keep track of ongoing expenses. However, some apps go above and beyond by rewarding you for making everyday purchases. Simply scan your receipt using your smartphone and earn points and bonuses that you can redeem for cash, gift cards and more.
Read: 3 Signs You're Serious About Raising Your Credit Score
10 Best Receipt Scanner Apps for Rewards
Many receipt scanner apps offer reward points and cash-back opportunities. Here are 10 options and what they're best for.
1. Fetch Rewards: Best for Free Gift Cards
Fetch Rewards lets you earn a minimum of 25 reward points by scanning digital and print receipts — 35 points minimum for qualifying purchases. It also offers a 2,000-point referral bonus for both you and the person signing up. Each point is worth $0.001, or a tenth of a penny.
You can convert your points to gift cards in $3, $5, $10, $25 and $50 increments. Fetch lets you choose from a range of brands including Amazon, Papa Johns, Outback Steakhouse and more.
Make Your Money Work for You
Pros
Large selection of gift cards to choose from
Referral bonuses available
Works with paper and digital receipts
Cons
Minimum point conversion amount
Low points per scan
2. TopCashback: Best for Referral Bonuses
TopCashback offers a $10 referral bonus every time you get a friend to sign up. You'll receive cash back on purchases made through TopCashback's network of more than 4,400 merchants. Simply click on a qualifying e-commerce storefront through the TopCashback website.
Pros
$10 referral bonus
Send your cash-back deals straight to your bank or PayPal account
Receive a 5% bonus when you cash out with a virtual Visa prepaid debit card or select a gift card
Cons
Online receipts only
Doesn't work with all e-commerce websites
Cash-back offers are not available until the retailer's return policy has expired
3. Rakuten App: Best for Store Coverage
The Rakuten app lets you earn money on select in-store and online purchases. With a network covering more than 3,500 stores, Rakuten offers an expansive range of opportunities for receiving cash-back deals. 
When shopping, simply tap on the relevant offer in your Rakuten app and add your credit or debit card to the offer. Then pay for your purchase using the same card to receive instant cash back to your Rakuten account.
Make Your Money Work for You
Pros
$5 minimum payout threshold
Online and in-store cash-back opportunities available
More than 3,500 partner stores
Cons
Quarterly payments
Limited payout options
4. Drop App: Best for Speed and Convenience
The Drop app lets you connect your credit and debit cards to the app. You don't need to scan any receipts to start earning points. Instead, the app automatically goes through your transactions for you and rewards qualifying purchases with Drop points. Each drop point is worth $0.001.
Redemption opportunities start once you've accrued 25,000 points — $25. You can select from a range of digital gift cards when cashing out your drop points.
Pros
Automatically sync your credit and debit cards
Earn 1,000 points per month automatically when you link at least one card to your account
Cons
High cash-out minimum
Limited cash-out options
5. Dosh App: Best for Charitable Giving 
The Dosh app connects to your Venmo account, credit cards and debit cards. Every time you make a qualifying purchase, Dosh automatically deposits money into your Dosh account. Unlike other apps, you don't need to worry about point conversions or limited cash-out options.
Make Your Money Work for You
Once you have at least $25 in your Dosh account, you can send your money directly to your bank account, donate it to a charity or transfer it to your PayPal or Venmo account.
Pros
Multiple ways to cash out, including a charity donation option
No receipt scanning necessary when you link to your Venmo account, credit card or debit card
Cons
Minimum cash-out threshold of $25
Cash-back deals are limited to partner companies
6. Checkout 51: Best for Versatility 
With Checkout 51, you'll get a new offer list every Thursday containing various cash-back eligible items. Unlike other apps, these offers aren't limited to specific stores. Simply tap the relevant offers before scanning your receipt. You can take advantage of its choose-your-own offer features to get $0.25 to $0.50 off an item of your choosing.
Checkout 51 lets you cash out once your account hits $20. Payment options include PayPal and paper checks.
Pros
Choose from several different cash-out options
Lets you choose one item to become cash-back eligible
Multiple payout choices
Cons
Limited cash-back eligible items
High cash-out minimum
7. Coupons.com App: Best for Discounts
Coupons.com offers more than discounts for consumer goods. You can also access cash-back deals when you tap on the offers and scan your receipt. It also lets you link your store loyalty card to receive automatic cash-back rewards.
Coupons.com stands out for its lack of a minimum cash-out amount. When you're ready to access your money, just click on it in the app, and it will transfer automatically to your PayPal account.
Pros
No minimum cash-out amount
Links to your store loyalty card
Access select discounts from the same app
Cons
8. ReceiptPal App: Best for Sweepstakes
ReceiptPal lets you earn points from virtually any purchase that comes with a receipt. ReceiptPal also comes with integrations that scan incoming emails for receipts. Scanned receipts earn points, which you can redeem for gift cards in $5 increments.
ReceiptPal caps your weekly point total. If you exceed the limit, it gives you two sweepstakes entries for every receipt you scan. Sweepstakes winners earn $250.
Pros
No restrictions on which stores you can earn points from
Low cash-out threshold
$250 sweepstakes entries available once you pass your weekly scan limit
Cons
Capped weekly point total
Cash-out offers limited to gift cards
9. Trunow App: Best for Fueling Up
Trunow helps you search for the cheapest gas station along your route. Once you're done fueling up, you'll need to snap a photo of your receipt. Get 2% cash back from Trunow partner stations and 1% cash back from all other gas stations. Trunow offers cash-back deals at select restaurants, convenience stores and grocery stores, as well.
You can redeem points at qualifying gas stations or select a cash-back option using PayPal once you've reached a minimum value of $5. Keep in mind that Trunow cuts your point value in half when you select the cash-back option.
Pros
Use the app to find the best gas deals nearby
Earn points at qualifying local businesses, like restaurants and grocery stores
Low cash-out threshold
Cons
Limited point redemption opportunities
Lose 50% of your total value when you choose the cash-back redemption option
10. Makeena: Best for the Planet
Available in both the Android and Apple stores, Makeena is a scanner app that prioritizes healthy and eco-friendly products. The process is a little more involved than some of the other apps on this list. To earn points, you must scan the barcode of each eligible item and then snap a photo of your receipt.
Makeena only works with a narrow list of affiliated brands. However, it doesn't restrict where you purchase these items. Makeena lets you cash out once you've reached $20 worth of points. You can transfer the money to your PayPal or Venmo account.
Pros
Encourages healthy and eco-conscious purchasing decisions
Receive cash back through PayPal or Venmo
Cons
Tedious scanning process
Narrow range of scannable items
Final Take
All of the receipt scanner apps on this list provide solid reward bonuses for users. Ultimately, you should pick the app that most closely aligns with your goals. Don't be afraid to mix and match different receipt apps to achieve your optimal outcome.
FAQ
Here are some questions people often ask about receipt scanner apps.
What is the best free receipt scanner app for rewards?

You might choose Trunow if the price of gas tops your list of concerns. Or if health and the environment matter to you, Makeena may be a better fit. The best receipt scanner app will meet your unique needs.

How do I get my rewards receipts scanned?

With most receipt scanner apps, you scan your receipts with your smartphone camera. Some also allow you to link your credit or debit card to register purchases automatically.

What app gives you money for scanning receipts?

Coupons.com, Makeena, Checkout 51, Trunow and ReceiptPal all offer cash rewards for scanning eligible receipts.
David Granahan contributed to the reporting for this article.
Information is accurate as of March 7, 2023, and is subject to change.
Make Your Money Work for You