8 Best Gas Apps That Help You Save at the Pump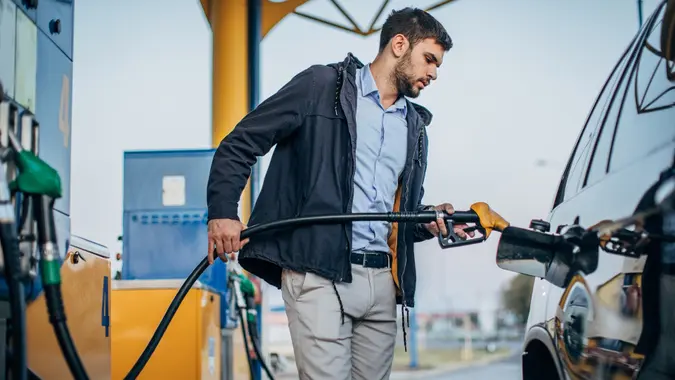 South_agency / iStock.com
Gas prices have dropped considerably since they reached a peak of $5.016 on June 14, 2022, but consumers are still spending a significant portion of their earnings on fuel. You can make your trips to the pump less painful by using apps that help you save money when you fill up. Some are just for gas, others are more general travel apps and some help you save on many purchases, not just gas.
What Are the Best Gas Apps To Use?
Here are the best gas apps to help you save money at the pump:
GasBuddy: Gas-specific
Gas Guru: Gas-specific
Fuelio: Gas-specific
Waze: Directions
AAA Mobile: Directions
Google Maps: Directions
Upside: Cash back
Checkout 51: Cash back
1. GasBuddy: Best for Gas Rewards
App Store rating: 4.7
Google Play rating: 4.1
GasBuddy helps you find the cheapest gas in your area by relying on users to post the cost of gas at stations where they fill up. When you're running low, just check the app and it will point you to the cheapest gas near you.
GasBuddy can also save you money when you use your Pay with GasBuddy card. This is not a debit or credit card, per se, but it links to your debit card. When you pay for purchases or dining with the GasBuddy card, your linked card is debited, and you earn points that you can use for free gas. You get "GasBack" offers from major retailers like Home Depot, Old Navy, Petco and more.
Make Your Money Work for You
The card works at 95% of gas stations, according to GasBuddy. Just pay with your GasBuddy card to fill up, and your cash back will automatically be redeemed. The card saves you up to 25 cents per gallon.
What to keep in mind: GasBuddy relies on crowdsourcing for its prices, so rapidly fluctuating prices may only be as accurate as the last customer who posted the price.
2. Gas Guru: Best for Filters
App Store rating: 3.1
Google Play rating: 3.1
Gas Guru is a directory of gas stations. You can search for gas near you and filter for gas stations that also offer repairs, those with ATMs, those that are open 24 hours a day or those that have a car wash. You don't have to create an account, although you can save your favorite stations so you can see crowdsourced prices at a glance.
What to keep in mind: Another app with crowdsourced pricing, Gas Guru might not be completely accurate in the prices it displays. Some of the less positive reviews mention accuracy and dependability getting worse as you travel farther from home.
3. Fuelio: Best for Business Expenses
App Store rating: Relisted; no average rating yet
Google Play rating: 4.5
Fuelio is a vehicle management app and is useful for those who use their vehicle for business purposes. You can track your business miles and other expenses like gas and repairs, as well as miles per gallon, and you can use it for multiple vehicles. It also has a gas price tracking feature that uses crowdsourcing, so users post gas prices to keep them up to date.
Make Your Money Work for You
What to keep in mind: Fuelio relies on crowdsourcing for its price tracking, so keep in mind you might see some variation.
4. Waze: Best for Hybrids and Electric Vehicles
App Store rating: 4.9
Google Play rating: 4.4
Waze provides driving directions, including suggesting alternate routes depending on traffic or construction delays. It's crowdsourced, so it relies on users to note disabled vehicles, police cars and other potential hazards.
It includes a directory of gas stations that sorts nearby stations by distance and provides the current prices as updated by users. The lowest prices are highlighted in green so you can easily see where the bargains are. When you tap on the station you want to go to, you get driving directions to get you there.
What to keep in mind: EV drivers take note — you'll soon be able to search electric-vehicle charging stations compatible with your car's make and model.
5. AAA Mobile: Best for Overall Benefits
App Store rating: 4.5
Google Play rating: 4.4
If you're a AAA member, you may already have the mobile app for roadside assistance. But it will also show you the cheapest gas within two miles of where you are and will let you know where you can get discounts as a AAA member.
For example, when you enroll in the Fuel Rewards program, you get a 30-cent discount per gallon on your first fill-up at Shell if you make it within 30 days of becoming a member. After that, save 5 cents per gallon on each fill-up of up to 20 gallons.
Make Your Money Work for You
What to keep in mind: AAA membership comes with myriad benefits, but you will have to pay a membership fee of at least $59.99 per year, depending on which membership tier you choose.
6. Google Maps: Best for Directions
App Store rating: 4.7
Google Play rating: 4.1
You probably have Google Maps on your phone already, and you may be using it to get where you're going. But unless you've been paying close attention, you may not know that you can find the best gas prices using this ubiquitous tool.
When you open Google Maps, there's a button for "Gas" among other options, such as restaurants, hotels and groceries, right under the search bar. When you tap on the "Gas" button, you'll see a map of the local area, with gas prices at all the nearby stations. You can sort by distance, and you can also filter to find stations that are currently open or offer wheelchair accessibility.
What to keep in mind: While Google Maps is great for finding nearby gas stations quickly, you may have to do some digging to find the best pricing.
7. Upside: Best for Cash Back on Fuel
App Store rating: 4.8
Google Play rating: 4.6
Upside pays you cash back on purchases at lots of different merchants, including many national gas retailers. In fact, there are more than 45,000 gas stations across the country that will give you cash back when you fill up with Upside.
From the app, look for the offers nearby. Then use your credit or debit card at the pump and follow the instructions on the app to get cash back.
What to keep in mind: Some reviews mention difficulty getting receipts to qualify and accumulating enough cash back to cash out.
Make Your Money Work for You
8. Checkout 51: Best for Cash Back on Everyday Purchases
App Store rating: 4.1
Google Play rating: 4.2
Checkout 51 offers cash back on gas, as well as groceries and other everyday purchases. The app lists the offers that are available, so you can search for gas near where you are. Checkout 51 claims to have 5,000-plus gas station locations as partners, so it doesn't have nearly as much coverage as Upside — but it also lists Walmart, Target, CVS, Whole Foods, Costco and many other locations where you can also earn cash back.
With Checkout 51, you choose your offer and make your purchase. You indicate the items you purchased that are on offer, and then you upload your receipt. Cash back is credited to your account. Once you have accumulated $20, you can cash out.
What to keep in mind: Checkout 51 offers payouts via PayPal, electronic gift cards and physical check.
Stack Your Savings
Apps aren't the only way to pay less for gas. Some companies, like Shell and Speedway, have their own rewards programs. If you register your credit or debit card and use it at the pump, you may get points or an outright discount on every gallon.
You may also be able to earn cash back from your credit card when you pay for gas. Rewards credit cards may offer you 1% or more in cash back on everything, and some provide even more when you make purchases in certain categories, like gas. In some cases, you need to choose the categories you'll get extra cash back for, and gas is a good choice these days.
Make Your Money Work for You
Which App Is Best?
GasBuddy and Upside are the best choices for gas savings. In addition to helping you locate the cheapest gas, Gas Buddy lets you use your earned GasBack at almost any gas station. Plus, the savings can be significant — up to 25 cent per gallon.
Upside's cash-back deals are also generous. Fast-food restaurants such as Popeyes Louisiana Kitchen and Arbys were offering up to 37% cash back on the day GOBankingRates evaluated the app, and gas stations were offering 8 cents to 11 cents per gallon.
Gas is expensive, but you still have to get where you're going. So check your credit card rewards, use a cash-back app — or two — and find the best price for gas where you are. You might find that it's not as expensive to fill up as you thought.
FAQ
What gas app gives you money?

Upside and Checkout 51 are cash-back apps that offer cash rewards when you purchase gas.

Are gas apps legitimate?

They are, but the amount you can save can vary. Some apps tell you where to get the cheapest gas in your area; others will give you cash back when you fill up.

Is there a free gas app?

Many gas apps are available for free, including GasBuddy, Fuelio and Gas Guru.

What gas app is 25 cents off?

GasBuddy's card offers up to 25 cents off per gallon with points you earn from other purchases.

What is the best gas pricing app?

GasBuddy is a well-known gas pricing app that's popular and highly rated among users and is also generally regarded as giving accurate gas pricing information.
However, you might find you like another app better, so it's worth trying a few before you pick your go-to gas app.

What is the best app for finding gas stations?

GasBuddy is among the best apps for finding gas stations, because it locates gas stations near you, generally has accurate pricing and offers driving directions.
However, if you want directions to more than just your chosen gas station, you might prefer Google Maps or Waze.
Make Your Money Work for You
Cynthia Measom and Daria Uhlig contributed to the reporting for this article.
Information is accurate as of March 20, 2023.
Our in-house research team and on-site financial experts work together to create content that's accurate, impartial, and up to date. We fact-check every single statistic, quote and fact using trusted primary resources to make sure the information we provide is correct. You can learn more about GOBankingRates' processes and standards in our editorial policy.