How To Make Money in One Hour: 25 Proven Ways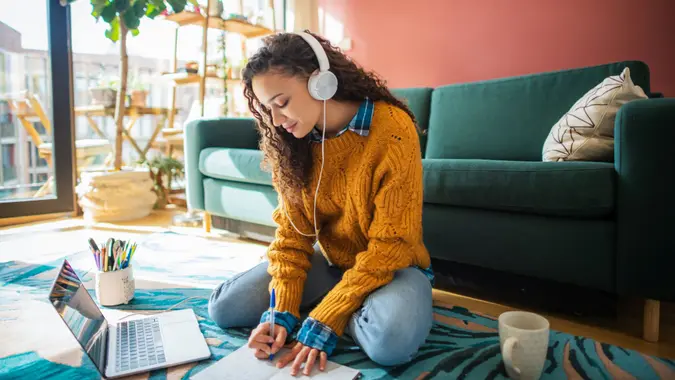 DaniloAndjus / Getty Images
The hustle and bustle of today's world has people searching for quick ways to make money. Whether you're saving up for something special or just looking to supplement your income, there are opportunities to earn in just 60 minutes. Keep reading to learn about some proven methods on how to make money in one hour.
How To Make Money in One Hour: 25 Simple Ways
Whether you're leveraging your unique skills or diving into local opportunities, making money in an hour is not only possible but also more achievable than ever. Here are 25 ways you can boost your income, all within a single hour:
Participate in paid surveys
Freelance quick tasks
Freelance writing
Virtual assistant tasks
Social media promotion
Edit or proofread content
Sell unused items
Participate in focus groups
Drive for a rideshare or delivery service
Rent out a space
Mobile car wash service
Quick house cleaning
Babysitting or childcare
Fitness or personal training session
Tutor on a specific topic
Offer photography sessions
Flip thrift store finds
Provide tech support
Offer personal styling tips
Graphic design quick fixes
Garden maintenance
Play music or perform on the streets
Offer makeup or hair styling services
Teach a skill or workshop
Bake or cook on order
Digital Opportunities
The internet offers plenty of opportunities to earn from the comfort of your home. Digital platforms can provide flexible work schedules and expand your reach globally. From content creation to virtual assistance, the digital domain is bustling with ways to monetize your skills and interests.
1. Participate in Paid Surveys
Average expected pay: $25 an hour
Market research is a billion-dollar industry, and your opinion matters more than you might think. Companies invest heavily to understand their consumers' preferences.
By joining platforms like Survey Junkie or Swagbucks, not only do you get to influence the products of tomorrow, but you also receive compensation for your time. Consider setting a routine — dedicating a specific hour daily — and watch how these small earnings accumulate.
Make Your Money Work Better for You
2. Freelance Quick Tasks
Average expected pay: $9.87 to $58.16 an hour
The gig economy is booming. Whether you're a budding graphic designer or a seasoned professional, platforms like Fiverr or Upwork offer endless opportunities. By targeting clients with immediate requirements and delivering with efficiency, you can optimize your earnings while also building a strong client base.
3. Freelance Writing
Average expected pay: $29 an hour
Content is king in today's digital landscape. If you possess the art of weaving words into captivating narratives, there's a vast audience waiting. Websites like Medium or Upwork provide writers with a platform and audience. Timely, relevant and well-researched pieces can quickly rack up views and earnings.
4. Virtual Assistant Tasks
Average expected pay: $34 an hour
The digital world operates around the clock, leading to a demand for virtual assistants. Organizing emails, scheduling appointments or handling customer queries might seem mundane, but for busy professionals, it's a lifeline. Platforms like Zirtual ensure that your administrative skills find the right match.
What Should You Avoid When It Comes to Fast Cash?

Be careful when looking for quick ways to make money. Stay away from things that promise lots of money without much work, as they might be scams. Don't pay money upfront unless you know exactly what you're getting.

If something seems confusing, especially about how you get paid, think twice. Always check if it's real by looking at reviews or asking others.
Make Your Money Work Better for You
5. Social Media Promotion
Average expected pay: $12.26 to $54.33 an hour
If you've built a loyal and engaged following on social media platforms, brands will value your endorsement. Collaborations, reviews or shout-outs can not only boost a brand's visibility but also your earnings.
6. Edit or Proofread Content
Average expected pay: $27 an hour
Spotting errors or inconsistencies in content is a valuable skill. If you're detail-oriented, consider offering your editing services to build your bank account. You can search on platforms like Upwork or Fiverr for academic papers, blog posts or corporate reports to hone your craft and gain experience.
Physical Services
There's an ever-present demand for services that require a personal touch or physical presence. Whether it's catering to immediate, local needs or offering specialized skills, these hands-on opportunities can often yield instant paydays.
7. Sell Unused Items
Expected pay: Varies by item
Decluttering can be therapeutic and profitable. Those shoes you never wore or that gadget collecting dust can be someone else's treasure. Listing them on platforms like eBay or Facebook Marketplace not only frees up space in your home but also pads your wallet. Remember, good photos and honest descriptions can increase the likelihood of a quick sale.
8. Participate in Focus Groups
Average expected pay: $17.31 to $34.13 an hour
Your perspective is valuable, especially for companies testing new products or ideas. Focus groups allow you to be part of the creative and refinement process. Websites like Respondent.io provide a seamless connection to these opportunities. Moreover, the diverse range of topics ensures that you can always find something that aligns with your interests.
Make Your Money Work Better for You
9. Drive for a Rideshare or Delivery Service
Average expected pay: $14 an hour
The convenience of door-to-door travel and home-delivered food has fueled the rise of services like Uber and DoorDash. Capitalizing on peak hours, surge pricing or special events can significantly elevate your hourly earnings. Plus, it's an excellent way to explore your city.
10. Rent Out a Space
Average expected pay: $10 to $200 a night
Space, especially in urban areas, is a premium. If you have an underutilized parking spot, room or even a garden space, it can be a source of income. With platforms such as Airbnb and SpotHero, monetizing your space is more accessible, and they also prioritize the protection of your property.
11. Mobile Car Wash Service
Average expected pay: $15 an hour
A sparkling vehicle is a joy for many, but not everyone has the time or tools to achieve that gleam. Offering mobile car wash services, especially at convenient locations or times, can be a win-win. It's not just about cleaning — it's about delivering convenience and shine.
12. Quick House Cleaning
Average expected pay: $7.65 to $18.98 an hour
A clean space promotes productivity and well-being. However, juggling responsibilities can make regular cleaning challenging for many. Offering specific cleaning services, tailored to needs, ensures that homes sparkle and you earn.
13. Babysitting or Childcare
Average expected pay: $16 an hour
In our hectic lives, a little help can go a long way. Offering babysitting services, especially during emergencies or events, can be a boon for parents. You can start by reaching out to friends, family or neighbors. Remember, successful babysitting goes beyond mere supervision — it's about establishing trust and ensuring a child's safety.
Make Your Money Work Better for You
14. Quick Fitness or Personal Training Session
Average expected pay: $32 an hour
Health and fitness are top priorities for many. Offering tailor-made workout sessions or fitness advice can be the motivation someone needs. Whether it's at a local park, a gym or even virtually, your guidance can shape someone's health journey. To kick off your venture, consider starting a social media page showcasing exercise tips and routines.
Creative and Artistic Ventures
For those with an artistic flair or a knack for innovative ideas, there's a large audience out there eager to appreciate and pay. Whether it's through crafts, performance or design, these ventures provide a platform to express oneself and turn passion into profit.
15. Tutor on a Specific Topic
Average expected pay: $15.98 to $36.71 an hour
Education is evolving, and e-learning is at its forefront. Your expertise, whether academic or skill-based, can be a beacon for someone struggling. Platforms like Chegg Tutors or Tutor.com facilitate this teacher-student connection. Personalized attention, especially on pressing topics, can fetch a premium, making this a lucrative option.
16. Offer Quick Photography Sessions
Average expected pay: $28 an hour
Good photography stands out. From families eager to seize cherished moments to professionals seeking polished headshots, your expertise with the camera can fetch you a clientele. Offering short sessions, particularly during holidays or special occasions, can swiftly boost your bookings and income.
17. Flipping Finds
Expected pay: Varies by item
Make Your Money Work Better for You
If you love finding treasures at thrift stores or garage sales, selling them online can be a good way to make money. Begin by learning what items have value. Once you find them, take good pictures and post them for sale online. Not only can you earn money, but you're also helping the environment by giving things a second chance.
18. Provide Tech Support
Average expected pay: $36 an hour
If you're the person family and friends turn to for tech woes, why not monetize that skill? Platforms like TaskRabbit, or even local community boards, can be avenues to offer quick tech solutions and earn in the process.
19. Offer Personal Styling Tips
Average expected pay: $18 an hour
Fashion is always changing, and many seek guidance to keep up. If you have a great sense of style, your insights can transform someone's confidence and look. Collaborating with platforms like Stitch Fix or local fashion stores can be the start of a glamorous and rewarding journey.
Is There a Guarantee That You Will Make Money in One Hour?

While many opportunities claim to provide quick cash, there's no absolute guarantee that you'll make money in just one hour. How much you earn depends on the job, what people want, your skills and sometimes luck.

Remember that some tasks might give quick money, while others need more time and work.
20. Graphic Design Quick Fixes
Average expected pay: $49.81 per hour
Make Your Money Work Better for You
Good design is a standout feature for online spaces. Simple tweaks, an attractive logo or a catchy social media post can make a brand or individual stand out. Platforms like 99Designs connect designers with clients, ensuring your skills fetch the value they deserve.
21. Garden Maintenance
Average expected pay: $9.93 to $21.98
A well-maintained garden elevates a home's aesthetics. However, not everyone has the green thumb or time. Offering garden maintenance, especially specialized tasks like pruning or landscaping, can turn your hobby into a lucrative venture.
22. Play Music or Perform on the Streets
Expected pay: Varies based on area and tips
Music speaks to everyone, young and old. If you've got a musical talent, why not share it on the streets? Before you start, check out local rules about street performances. Then, pick a busy spot and let your tunes reach new ears. It's a fun way to make money and share your gift.
23. Offer Makeup or Hair Styling Services
Expected pay: Varies based on event and group size
Offering quick makeup touch-ups or trendy hairstyles can transform someone's day or event. Think about helping out for events like dances, parties or even job interviews. Everyone wants to look their best, and you could be the one to help them shine. Start by offering your services to friends and family, and word will quickly spread.
24. Teach a Quick Skill or Workshop
Average expected pay: $26 an hour
Teaching others is a rewarding experience. By hosting short lessons, either online or in-person, you can pass on valuable skills. Whether it's demonstrating a unique dance step, sharing a favorite recipe or teaching a crafting technique, your expertise can benefit others. Consider starting with free tutorials or workshops in your community, or creating informative videos online.
25. Bake or Cook on Order
Average expected pay: $15 to $20 an hour
Everyone loves tasty food. Making special dishes, whether sweet desserts or delicious savory items, can win people's hearts and keep them coming back for more. Use social media platforms to showcase your culinary creations. Consider sharing photos of your dishes online or starting a small delivery service in your local area.
Making the Most of Your Earnings: Steps To Financial Growth
Once you start making money, it's important to be smart with it so it can grow. Here's how:
Save some money for emergencies. Put it in a special savings account so it can grow a little.
Think about investing. You can put your money in things like stocks or bonds. If you're not sure how, ask someone who knows, like a money expert.
Put some money aside for retirement. Consider a 401(k) or an IRA.
Always check how you're doing with your money and change your plans if you need to. Remember, it's good to not just earn money but also to make that money grow for you.
Final Take
Thinking about how to make money in one hour involves a mix of original ideas, talents and building connections. Your local area and what people want can really impact your earnings. To keep customers coming back and maintain a steady income, always aim to provide real value in what you offer.
FAQ
Here are the answers to some of the most frequently asked questions about making money fast.
How can I earn in one hour?

Making money in just an hour means using your skills and offering what people really want right now. A few fast ways to do this are:

Offer mobile car wash or detailing services in a busy area.
Provide rapid graphic design fixes or edits for local businesses or friends.
Take on garden maintenance tasks like lawn mowing or weed pulling.
Perform virtual assistant tasks like email management or quick research.
Play a musical instrument in a bustling area, collecting tips from passersby.

It's important to market your services on platforms that can get you instant jobs. Consider TaskRabbit, Care.com or even local Facebook groups.

How can I make money ASAP?

To make money as quickly as possible:

Sell unused items from around your house on platforms like eBay, Craigslist or Facebook Marketplace.
Offer babysitting or pet sitting services in your community.
Do rapid house cleaning tasks for neighbors or family.
Use ride-sharing platforms like Uber or Lyft if you have a car.
Offer tutoring sessions in subjects you're proficient in.

How can you make $100 in 24 hours?

By combining multiple quick-earning methods, you can easily make $100 in a day:

Offer personal shopping or delivery services.
Take on several quick gig tasks on platforms like TaskRabbit or Fiverr.
Offer makeup, hair styling or beauty services for events or parties happening that day.
Conduct a short workshop or class on a skill you possess.

What is a gig worker?

A gig worker is someone who does short, one-time jobs. These jobs will sometimes be alongside regular jobs. Examples are Uber drivers, freelance artists or online teachers. Gig work lets you pick when and where you work, but it might not be as steady or have the same perks as a usual job.
Pay data is accurate as of Sept. 6, 2023, and was sourced from ZipRecruiter, Salary.com and Indeed.
Editor's note: This article was produced via automated technology and then fine-tuned and verified for accuracy by a member of GOBankingRates' editorial team.