Top 10 Most Expensive Beanie Babies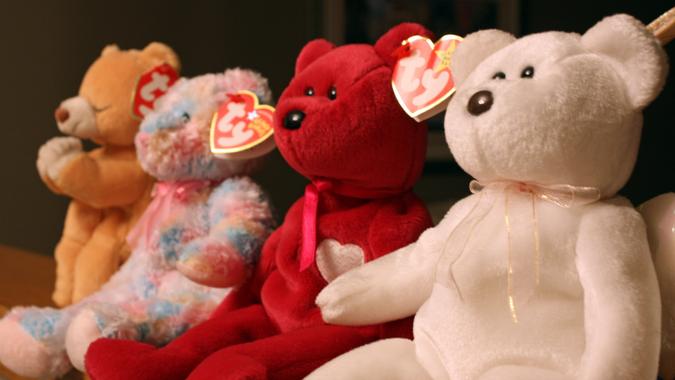 Dominique Godbout / Flickr.com
Beanie Babies were a huge hit in the 1990s, but they quickly faded into relative obscurity. The once-popular children's toys now draw a different crowd — collectors.
The same tiny stuffed animals that once sold for only a few bucks now sell for thousands of dollars on the secondary market. As a rule, the more unique the Beanie Baby, the more valuable it is, which means that certain versions with slight variations in styling or even errors in production often command the highest prices.
Top 10 Most Expensive Beanie Babies
Compiling a list like this can be a bit difficult because there's no real consensus regarding the valuation of Beanie Babies. Browse around online and you'll likely notice that the most expensive Beanie Babies have a wide variety of prices, depending on where you look.
In this article, GOBankingRates lists the top 10 Beanie Babies that fetch the highest prices on eBay . To weed out fraudulent listings, only those from experienced sellers with a large number of positive feedback for items they've sold have been included.
Make Your Money Work Better for You
1. Halo the Bear – $4,000
Halo, a bear in the likeness of an angel, was born on August 31, 1998, and was released 30 days later. Her poem depicts her as a guardian angel watching over you from above.
It may be that Halo was one of the most expensive bears to produce because of her iridescent fabric, which explains in part why some examples have sold for thousands of dollars.
2. Halo II the Bear – $4,300
Halo II has sold for even more than the original recently. She was born on Jan. 14, 2000 and was released a month later. Like the original Halo, Halo II has iridescent gold wings and a halo.
3. Princess (Diana) – $4,800
This royal purple bear's name is Princess, but she's also known as Princess Diana because Ty introduced her to commemorate the death of Diana, Princess of Wales. Princess' English rose emblem further identifies her connection to her namesake. 
Although the $4,800 Princess wasn't filled with the PVC pellets that make some issues of this Beanie so valuable, she still sold for a premium price.
4. Cubbie and Curly – $5,000
Make Your Money Work Better for You
Two bears — Cubbie and Curly — both sold for $5,000 recently.
As one of the nine originals, Cubbie, a brown bear released in 1994, is an OG among Beanie Babies. This particular Cubbie was a pre-first generation Beanie, according to its authentication letter from True Blue Beans. 
Curly is a brown bear with a dark red ribbon adorning his neck. He's not a particularly uncommon bear — he's known to have been given away at pro sporting events by the thousands in the late '90s.
Still, he's a top-selling bear among all retired Beanie Babies on eBay.
5. Valentino – $7,600
Valentino is a snowy white bear with a festive red ribbon around his neck and a big red heart. Contrary to popular belief, Valentino always has a brown nose, but that didn't stop this seller from listing a brown nose as one of the errors that boosted the Beanie's value — a lesson to let the buyer beware. 
6. Erin – $7,950
Erin is one of many bear Beanie Babies, but she's special because Ty produced her for Ronald McDonald Charities. She was released in 1999. However, her birthday is 1997, and her tush tag is dated 1993. Also adding to her value is an incorrect spelling of Ty's location on the back of the Erin's blister pack.
7. Squealer – $8,000
Squealer the Pig is another original Beanie Baby. But that's not what made this particular Squealer so special that it fetched $8,000. This sweet pink pig had the rarest tag, from 1993, and first-generation hang and tush tags from China and Korea, respectively.
8. Valentina the Bear – $10,000
As you might guess, Valentina was born on Valentine's Day 1998. The seller claimed that there were errors and oddities on the swing and tush tags. Undeterred by the exhorbitant price, an eager buyer snatched this Valentina up for $10,000.
9. Tuffy – $12,679.59
Tuffy is a cute two-toned terrier you can buy new for $10, but this one recently sold on eBay for almost $13,000. One reason is that its registration number indicates it was manufactured for the Korean market, which means it wasn't mass-produced, according to the seller. In addition, the tags contained a long list of errors, all of which upped the premium for this Beanie pup. 
10. Hippity the Rabbit – $18,999.97
Hippity is an adorable mint green rabbit with pink whiskers and an emerald-colored ribbon tied around his neck. Most of these go for double-digits, but this one with a missing period after the 'C' in P.V.C. sold for a few cents shy of $19,000 in December of 2021.
Perhaps it's the high value and the rarity of this Beanie with such an error or perhaps the buyer was motivated by charity — This seller donates 10% of many high-priced Beanie Baby sales to charity. 
Good To Know

People often find a trunk of old Beanie Babies and get excited when they see the prices that people have listed examples for online. Sadly, that doesn't really tell you much about their true value.

A collector's item is only worth what someone will pay, not what the seller asks. If you have some Beanie Babies to sell, find out what rare examples look like then look for consistent sales in the same price range, not at the outliers.
Remember to research collectibles Beanie Babies using reputable dealers before you flip the toys online. Unscrupulous individuals sometimes post phony listings with exhorbitant prices in an effort to drive up prices. Overpricing may be part of the reason only a small percentage of the high-price Beanies listed on eBay actually sell.
Branford Shaw contributed to the reporting for this article.
Our in-house research team and on-site financial experts work together to create content that's accurate, impartial, and up to date. We fact-check every single statistic, quote and fact using trusted primary resources to make sure the information we provide is correct. You can learn more about GOBankingRates' processes and standards in our editorial policy.