Top 10 Most Expensive Beanie Babies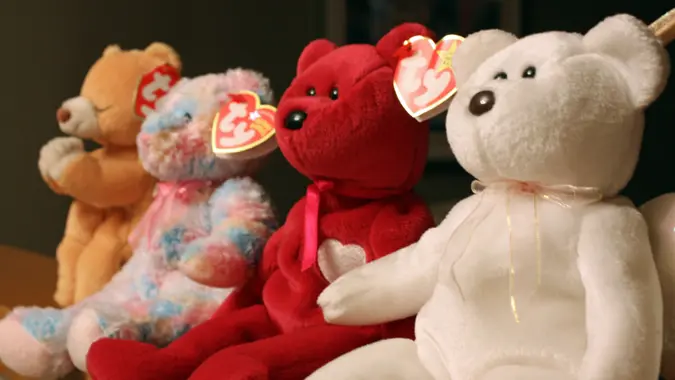 Dominique Godbout / Flickr.com
Beanie Babies were a huge hit in the 1990s, but they quickly faded into relative obscurity. The once-popular children's toys now draw a different crowd — collectors.
Some of the same tiny stuffed animals that once sold for only a few bucks now sell for thousands of dollars on the secondary market. As a rule, the more unique the Beanie Baby, the more valuable it is, which means that certain versions with slight variations in styling or even rare errors in production often command the highest prices.
Top 10 Most Expensive Beanie Babies
Compiling a list like this can be a bit difficult because there's no real consensus regarding the valuation of Beanie Babies. Browse around online and you'll likely notice that the most expensive Beanie Babies have a wide variety of prices, depending on where you look.
In this article, GOBankingRates lists the top 10 Beanie Babies that have fetched some of the highest prices on eBay recently. Items that show as having been sold and relisted were excluded.
Make Your Money Work Better for You
The prices listed below are sold prices — the amount the buyer paid as opposed to the price at which the seller listed the Beanie.
10. Old Face Teddy the Bear, Teal — $450
Teddy the Bear, which came in six different colors, was first released on June 25, 1994 and retired on Jan. 7, 1995. It also had two face varieties — old and new. One way to tell if an old face teddy is authentic is to look for a v-shaped seam on the back of the toy's head, according to Beaniepedia.
9. Clubby the Bear — $820
Ty produced several versions of Clubby in different colors. The original is bright blue in color and has a tie-dye ribbon around his neck and a Beanie Babies Official Club button on his chest. Clubby was released on May 1, 1998, and retired on March 15, 1999.
8. Humphrey the Camel — $999
Humphrey is a cute camel with splayed legs that was produced in different versions, each with its own shade of brown. The earliest version, which recently sold for $999, was introduced on June 25, 1994, and retired one year later.
Make Your Money Work Better for You
This is one of the few Beanies that truly is valuable, as only 25,000 were produced, according to Beaniepedia.
7. Spot the Dog — $1,070
Spot the Dog — in this case, the version without spots — was on the market from Jan. 3, 1993, to April 13, 1994. He's a white dog with black on the undersides of his ears, around his left eye, cheek and on his tail.
6. Coral Casino Bear — $1,259
Coral Casino is a pink and coral bear with black eyes and a black button nose. Just 588 were produced, according to Beanipedia — Members of the Coral Casino Beach Club at the Santa Barbara Biltmore Hilton received them as gifts in December 2001.
Ty Warner signed each swing tag, adding to the bears' value. The buyer of this particular Coral Casino also received a certificate of authenticity from Becky's True Blue Beans.
5. Peanut the Elephant — $1,350
Peanut came in several different versions, including the royal blue one with peach-colored inner ears. It had a short run — it was introduced on June 3, 1995, and retired on Oct. 2, 1995, because its color was a production error, according to Beaniepedia.
4. Chilly the Polar Bear — $1,825
Recently, a first-generation Chilly the Polar Bear in a sealed box with a certificate of authenticity was sold on eBay for $1,825. However, Beaniepedia warns that due to this Beanie Baby's rarity, counterfeits are out there. To spot a fake, look for coarse or dirty white fabric on the bear and an orange swing tag instead of a red one.
Make Your Money Work Better for You
3. Quackers the Duck — $2,500
Quackers was introduced in April 1994 and retired in January 1998. The version that sold for $2,500 was the more common one with wings, but Ty also made one without wings that was on the market for just over a year.
2. Gobbles the Turkey — $3,000
Gobbles is a cute brown turkey with a yellow beak and red on his head and wings. He was released on Oct. 1, 1997, and was retired on March 31, 1999, which means he had a longer production run than some.
Despite that, a seller and a buyer agreed that this Beanie, which had PVC pellets and tag errors, was a collector's item worth $3,000.
1. Valentina the Bear — $3,300
As you might guess, Valentina was born on Valentine's Day 1998. The seller claimed that there were errors and oddities on the tags and loop and in the included poem. Undeterred by the exorbitant price, an eager buyer snatched this Valentina up for $3,300.
Good To Know

People often find a trunk of old Beanie Babies and get excited when they see the prices that people have listed examples for online. Sadly, that doesn't really tell you much about their true value.

A collector's item is only worth what someone will pay, not what the seller asks. If you have some Beanie Babies to sell, find out what rare examples look like then look for consistent sales in the same price range, not at the outliers.
Remember to research collectible Beanie Babies using reputable dealers before you flip the toys online. Unscrupulous individuals sometimes post phony listings with exorbitant prices to drive up prices. Overpricing may be part of the reason only a small percentage of the high-price Beanies listed on eBay actually sell.
FAQ
What Beanie Babies are worth the most money?

Beanie Babies that are worth the most money are those that have a rare production error and are in mint condition. For example, if you have a Batty the Bat with an extra foot, it could be worth almost $125,000.

What are the five rarest Beanie Babies?

The five rarest Beanie Babies are among those made in the first generation back in 1993, which include the following: Splash the Killer Whale, Flash the Dolphin, Squealer the Pig, Pinchers the Lobster, Spot the Dog, Legs the Frog, Chocolate the Moose, Brownie the Bear and Patti the Platypus.
Branford Shaw and Cynthia Measom contributed to the reporting for this article.
Information is accurate as of Nov. 8, 2022. 
Our in-house research team and on-site financial experts work together to create content that's accurate, impartial, and up to date. We fact-check every single statistic, quote and fact using trusted primary resources to make sure the information we provide is correct. You can learn more about GOBankingRates' processes and standards in our editorial policy.
Make Your Money Work Better for You