14 Smart Ways To Earn Money Online in 2020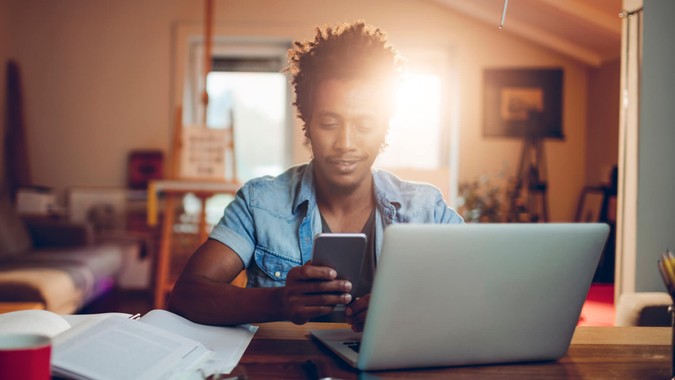 Geber86 / iStock.com
Remote work isn't new. As many as one-fourth of Americans worked a few hours from home even before the COVID-19 shutdowns. However, in the digital era, more online-earning opportunities are available than ever before. You can generate money without working around the clock — or leaving the house at all.
Plus, working online has benefits that a traditional 9-to-5 job doesn't have, such as extreme flexibility, passive income and even total financial freedom.
Are you feeling motivated yet? If so, check out these great ideas for making money online from home.
Smart Ways To Earn Money Online
If you're going to take the leap into the digital workspace, choose work that aligns with your goals. Fortunately, you have plenty of options — from selling your photos to teaching peers — to earn money online and boost your savings.
Remote Work and Freelancing Jobs
A growing number of companies are hiring remote workers. It's also possible to be your own boss and work as a consultant or freelancer. Here are a few examples of full- and part-time jobs that let you earn money from home.
Sponsors of
1. Take Remote Freelancing Assignments
If you have a passion for writing, you might be able to make money online in 2020 by writing content for blogs or websites. Many companies offer assignments to aspiring and experienced writers alike.
Demand: In 2019, before the pandemic, freelancers contributed to nearly 5% of the U.S. Gross domestic product, according to Upwork's Freelancing and the Economy in 2019 report,
and demand is expected to increase.
Potential earnings: The median wage for freelancers is $20 per hour.
How to get started: Sign up for an account through a freelance platform like Upwork or Fiverr. Set your rates, then start applying for projects.
An Increased Need for Freelancers

Freelance sites, such as the popular Upwork, often have jobs available for virtual assistants, bookkeepers, web designers and more. Demand for has freelancers increased dramatically during the COVID-19 lockdowns. According to Freelancer's "Fast 50" report, job postings on its site increased by 41% in the second quarter of 2020 — compared to the same quarter in 2019.
2. Become an App Developer
If you design a wildly popular app, you might be able to generate significant income. You can earn money by charging for the app, displaying in-app ads or charging for in-app features and upgrades.
Americans own more smartphones than computers. Moreover, the number of Americans who rely on their smartphones is expected to increase. This also increases the demand for new apps, so you can make money online with a smartphone while using your smartphone.
Demand: The demand for app developers is expected to increase by more than 30% through 2029.
Potential earnings: Average base salary for app developers is $70,163.
How to get started: If you don't know how to code, you can take a course in app development from an experienced developer. You can also create your own app through no-code development platforms, such as Apper or Appy Pie. However, you'll need to purchase a developer account to sell from Google or Apple to sell your app on Google Play or the App Store.
3. Offer Graphic Design Services
If you have an interest in web development, take advantage of the demand for designers to build sites for businesses or organizations. Most graphic designers have a bachelor's degree. Knowledge of design, computer graphics and design software are necessary.
Sponsors of
Sites such as Upwork are a good place to start for finding clients and building your portfolio.
Demand: Overall demand is expected to decrease over the next 10 years, but a need will remain for graphic designers in areas like computer systems design.
Potential earnings: Median pay in 2019 was $52,110, according to the Bureau of Labor Statistics.
How to get started: Take a beginner course in graphic design from a learning platform like Udemy.
Digital Media Products
If you have in-depth expertise about a specific subject, you could create digital media products to sell your knowledge and skills to others. Choose the format that best suits your audience and skill set, and then start producing.
4. Start a Podcast
If you have a story tell or special knowledge to share, record it in a podcast. Podcasts are surprisingly simple to create and cost significantly less to produce than other digital media. The one drawback, however, is the ease of entry which can lead to overcrowding in the marketplace.
Demand: The podcasting market is expected to increase by 30% and generate more than $1 billion in revenue, according to

Deloitte, a personal services firm.

Potential earnings: The median salary for podcasters is between $55,000 and $80,000 per year, according to a 2019 Werk It survey. Salaries vary regionally.
How to get started: You need a recording device and editing software to create and produce your podcast. Sign up with a platform like Spotify, SoundCloud or iTunes to distribute your podcast.
5. Become a YouTube Vlogger
YouTube is one of the largest social networking sites in the world. In 2019, the site had more than 2 billion monthly viewers who logged in to see a variety of amateur and professionally produced videos, according to Statista.
There's plenty of competition on YouTube, but certain types of content provide greater opportunities for beginners. Vlogging — a type of video diary that gives viewers a glimpse of your daily life — is one example. You can be your own reality television star.
Demand: YouTube generated over $15 million in ad revenue for its parent company, Google, in 2019. Marketers expect to see usage increase, paving the way for even more opportunities to monetize content.
Potential earnings: A vlogger with 5,000 views a day can earn up to $459 per month. Earning increases with the number of views and other merchandising opportunities.
How to get started: You'll need a few ideas for videos, a camera, a tripod, a microphone and editing software. Sign up for a YouTube creator account and start uploading.
6. Create Digital Books
If you love to write and believe you can craft an entertaining fiction or nonfiction book, consider authoring and publishing a digital book through Amazon's Kindle Direct Publishing platform. Convert your book into an audiobook to reach an even greater audience.
Demand: The audiobook market is expected to increase by 20% to 25% over the next few years, according to Deloitte.
Potential earnings: Median wage for authors in 2019 was $63,200, according to the Bureau of Labor Statistics.
How to get started: Write your manuscript. When you're ready to publish, you'll need an account with a self-publishing platform, such as Kindle Direct Publishing or Audible.
7. Contribute Photos, Videos and Other Media
Sites such as Adobe Stock allow you to contribute your prized photography in addition to other media, which can generate royalties from each sale. Best of all, you retain all of the rights to your photos. You can use them in your own work or promote them on other sites.
Authentic and candid images — those that project realness — are in demand, according to the Photography Trends 2020 Report from Stock Photo Secrets.
Demand: Although digital cameras are becoming more and more affordable, which will reduce the need for professional photographers, there will still be a demand for stock photo services, according to the Bureau of Labor Statistics.
Potential earnings: Adobe pays a commission of 33% for photos sold on the site. The pennies from each sale can add up to big bucks.
How to get started: Sign up for an Adobe user account. You'll upload your photos to the site.
Services
The internet makes it easier to match people in need with those who offer in-demand services. Platforms like Fiverr and Care.com — and even online classifieds listings like Craigslist — give you a place to advertise.
Some services, like tutoring, can be done over the internet. Others, like food delivery, take place in the real world. Here are a few examples of each.
8. Offer Transcription Services
Medical transcriptions provide a valuable service to healthcare providers. They listen to recorded notes from doctors and other practitioners and type them into reports. It's a great option for working at home on your own time.
Demand: Advances in technology have reduced the need for medical transcriptionists. There are still opportunities for work thanks to an aging population that relies heavily on medical services.
Potential earnings: Median annual income for medical transcriptionists was $33,380 in 2019, according to the Bureau of Labor Statistics.
How to get started: In most cases, you need a transcriptionist certificate. A medical background is also helpful.
9. Deliver Food
Pizza delivery has been a staple part-time job for years. Now food delivery apps like Door Dash and Grub Hub have expanded the concept to restaurants of all types. All you need is a reliable vehicle and working GPS to find your way around town.
You'll work when restaurants are busy, mostly during lunch and dinner times.
Demand: The food and beverage industry brought in nearly $800 billion in 2019, according to Statista. At least 10% of Americans use a food delivery service once a week.
Potential earnings: Your earnings will vary depending on where you work. Papa Johns reports that drivers earn $15 to $20 per hour or more with tips.
How to get started: You can apply for a job with a restaurant that offers delivery services. Or you can sign up as an independent contractor through a delivery app. In both cases, you need a reliable vehicle and working knowledge of the neighborhoods where you will deliver food.
Via Apps
If you have a smartphone, there are options to earn money from an app in 2020. Some of the top apps include cash-back services and mobile listing sites. Best of all, you can do this work wherever you are.
10. Earn While You Shop
Some apps pay you cash back to purchase everyday items from groceries to housewares. All you have to do is sign up for an account and follow the directions in the app to earn some cash back on things you were going to buy anyway. Ibotta and Rakuten are two well-known apps that pay you to shop.
Demand: Retailers benefit from learning your shopping habits, so as long they see value in the data, there's a demand for these services.
Potential earnings: Earnings vary. You can earn 1% to 10% — or even more — of the purchase price as cash back on Rakuten. On Ibotta, you earn cash back for purchases and for completing bonuses in the app.
How to get started: Sign up for an account. Some sites ask you to upload receipts. Others require you to shop through the app to earn the cash back.
11. Sell Clothing Online
Selling secondhand clothing on apps has been so successful that it now has its own name: recommerce. Start by cleaning out your closet. Then browse yard sales, clearance racks and local thrift stores for pieces to sell for a profit in your fashionable side hustle.
This is one of the easiest ways to earn $100 quickly. You just need in-demand products that are priced to sell.
Demand: Resale is expected to grow 5x over the next five years, whereas retail is expected to decline, according to ThredUp's 2020 Resale Report.

Potential earnings: Earnings will vary. You set your prices, and the company takes a cut. The brand and level of wear are factors buyers consider.
How to get started: Sign up for an account with a clothing-specific app like Poshmark or ThredUp. Or use the mobile version of traditional sites like Craigslist and eBay.
Online Business
You can do more than market products and services online. It's also possible to earn money on a website in 2020, especially if you use a website to sell merchandise or set appointments for services.
12. Set Up an Online Store To Sell Handcrafted Items
If you have an artistic side, consider selling handcrafted items on Etsy or another site to make money off your hobby. Some of the trending items on the platform include products that support specific communities, home goods, self-care and activities.
Demand: Etsy reported a significant year-over-year increase in sales for items like pantry labels, living room art, craft kits and planners.
Potential earnings: Earnings vary depending on the demand for your product. A pack of wood boxes currently sells for more than $50. Charm necklaces sell for $13 each. Crocheted washcloths sell for $7.
How to get started: Sign up for a seller's account. Upload pictures of your products and set a price.
13. Teach an Online Course
Create online video courses and earn money from students. For example, you can teach students how to play the ukulele, meditate or use a software program. Online platforms, such as Udemy, help aspiring teachers find paying students in their chosen disciplines.
U.S. course prices range from $19.99 to $199.99. Instructors earn between 25% and 97% of the revenue share.
Demand: Top topics in the U.S. are Adobe Illustrator, photography and graphic design. Udemy also reports that growth mindset, focus mastery and communication are trending topics on the platform.
Potential earnings: Earnings depend on the course price and your percentage of the revenue share. This could range from a few dollars each month to a few thousand dollars.
How to get started: You'll need accounts with Udemy and PayPal. Courses need at least 30 minutes of video content. Upload your course and start promoting it on other channels.
14. Sell Customized Shirts Online
Selling graphic T-shirts is a big business. Sites such as Teespring allow you to design and sell these shirts for a profit. You can increase your profit margin through Teespring's pricing discount, which triggers as you sell more and more shirts.
There's a growing demand for customized t-shirts. Companies use them to increase brand awareness among their target market. Custom T-shirts also meet a need in the fashion industry among consumers striving to show support for a cause.
Demand: Demand for custom t-shirts is expected to increase over the next few years, according to Grand View research.
Potential earnings: On Teespring, you can potentially earn a $14 profit off a shirt that sells for $24.
How to get started: Create your design in Teespring's launcher to submit a design. Then, promote your products.
How To Keep Earning Money Online
When you first start out seeking online opportunities, you may be looking for the fastest way to make money. But a few gigs here and there won't give you a sustainable stream of income.
The best way to earn money online is finding a way you can support, sustain and scale your services or products over time. For many companies, the ultimate measure of success is giving customers what they want. As long as you meet a need, you will get customers. And some of those customers will give you repeat business and even referrals, which will help you grow your client base.
Taylor Bell, Grace Lin and Bill Pirriglia contributed to the reporting for this article.
This article has been updated with additional reporting since its original publication.
Our in-house research team and on-site financial experts work together to create content that's accurate, impartial, and up to date. We fact-check every single statistic, quote and fact using trusted primary resources to make sure the information we provide is correct. You can learn more about GOBankingRates' processes and standards in our editorial policy.