7 Best Apps To Sell Stuff, From Clothing to Electronics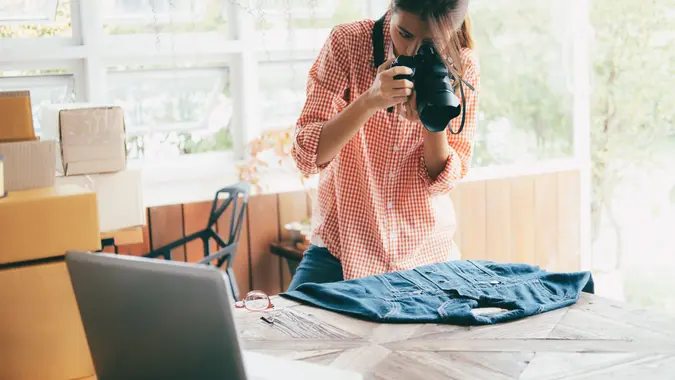 ijeab / Getty Images/iStockphoto
If you want to make some extra money or start a side gig, selling stuff online may be the answer. Chances are that you have things around your house that you're no longer using — things that other people may pay good money for.
Many sites and apps allow you to list used items for sale. Read on to learn about the best apps you can use to sell your stuff and make the most money in the process.
Which Apps Are the Best for Selling Items?
Here are seven of the best apps to sell stuff on:
OfferUp
Facebook Marketplace
Poshmark
Mercari
Decluttr
eBay
5miles
1. OfferUp
You can sell almost anything on OfferUp, from your kids' unwanted toys to a used car. OfferUp has a website and mobile app, making it easy to list your items for sale. It's a free marketplace, so you won't be charged fees to list or sell your items, with a few exceptions.
Promoted Listings
OfferUp has promoted listings that get 14 times more views than regular listings, on average. OfferUp sellers can also pay a one-time fee to promote an item for one to three days. The Promote Plus feature is available to those who want to pay a monthly subscription fee to always have one promoted item listed in the top 50 results for relevant searches at any time during the month.
Make Your Money Work Better for You
Shipping Fees
While cash transactions on OfferUp aren't charged any fees, there will be a service fee if you ship an item. This will be 12.9% of the sale price, with a minimum of $1.99.
Tips for Using OfferUp
If you want your item to sell quickly, use a detailed description that has searchable keywords. There is also a chat feature you can use to negotiate prices and plan a meetup. Have your notification settings turned on so you can respond quickly to potential buyers.
If someone pays you through OfferUp, you can receive your money fee-free using regular bank transfers. If you activate its Fast Deposit feature for a fee of 50 cents or 1%, whichever is greater, you can receive your money as soon as it clears.
2. Facebook Marketplace
Through Facebook Marketplace, you can sell items for local pickup or offer to ship them. There are no fees to list or sell items for local pickups paid with cash. Accepting payments using apps like Venmo and PayPal may incur a fee. Shipping costs for shipped items will be paid by either the seller or buyer per the agreed-upon terms of the sale.
Make Your Money Work Better for You
Some products are prohibited from being sold through Facebook Marketplace, so review Facebook's terms and policies before posting any items for sale.
Tips for Using Facebook Marketplace
Buyers are more likely to trust that a sale is legitimate when photos of an item are original rather than product photos taken from a store's website. Facebook recommends that you have a buyer look over any item they are buying from you to ensure they want the item before you accept payment.
3. Poshmark
Poshmark is best known as a platform for selling name-brand clothes, shoes and accessories, but you can also list items that fall under certain categories, including electronics, home decor, makeup and pet products, among others.
It doesn't cost anything to list your items for sale on Poshmark, but the platform does charge a fee for each sale. If your item sells for less than $15, Poshmark charges $2.95. Anything $15 and over incurs a 20% fee. Your earnings accumulate in your Poshmark account, and from there, you can transfer them to your bank account.
Make Your Money Work Better for You
Tips for Using Poshmark
People can follow your Poshmark store, so you may get repeat sales if you list similar items frequently. You can also offer discounts to customers who buy more than one item from your shop, boosting your chance for sales.
Poshmark does restrict the sale of some items, including:
Items that you list as "inspired by" a brand name
Medical products/medical claims
Counterfeit brands
Furniture
Appliances
4. Mercari
You can sell almost anything you have on Mercari, except for offensive, illegal and related items that are not allowed on most selling platforms. There's no face-to-face meeting, so plan on shipping your items to the purchaser.
Listing your items for sale is free, and Mercari charges 10% on all sales. Mercari charges an additional 2.9% payment processing fee plus 30 cents on each sale. Essentially, you'll pay 12.9% plus 30 cents on each sale.
On Nov. 1, the payment processing fee will increase to 2.9% plus 50 cents on each sale.
Other Fees on Mercari
Payments accrue on your Mercari account for transfer to your bank account. As long as you transfer $10 or more at a time, you won't incur a fee. If you transfer less than $10, Mercari charges $2. If a payment is returned to Mercari for some reason, you incur a $2 fee.
Tips for Using Mercari
Beware of scammers. If someone asks you to complete a sale outside of the site, decline. It is prohibited by Mercari's terms. Mercari provides up to $200 in shipping protection with all its prepaid labels and items delivered with Mercari Local. The shipping protection covers items in the event that they are lost or damaged while in transit.
Regular transfers of your earnings to an external account may take a few business days, but you can pay $2 for an Instant Pay transfer to your bank account. You can initiate Instant Pay transfers for up to $500 per month. Keep in mind that even though the transfer is "instant," it may take up to 30 minutes for the balance to be reflected in your bank account.
5. Decluttr
Decluttr works a little differently than other selling sites. Instead of selling person-to-person, you sell to Decluttr and its team handles the rest. Decluttr may be a good option for your used books, technology and Lego-brand blocks.
To place an item on sale, select the appropriate category from the Decluttr website and search for your specific item. You can search by barcode, brand name or ISBN for books. Decluttr asks questions about the condition of your item and offers a price.
If you accept, you can print a label and ship the item(s) to Decluttr. You can drop items off at UPS for easy shipping. Once your items arrive, the Decluttr team checks them and should pay you within 24 hours. You can choose to receive your payment via direct deposit or PayPal.
Tips for Using Decluttr
While Decluttr doesn't charge fees, shipping costs and processing are taken into account in the price you're offered. You might make more on other sites. The greatest benefit of Decluttr is that your sale happens quickly. You don't have to wait for the right person to come along to buy your item.
6. eBay
EBay was one of the originators of the concept of buying and selling stuff online — the digital marketplace dates back to 1995 when it was launched as AuctionWeb. As of July 2022, eBay was second only to Amazon for the most visited online shopping site, according to Statista.
You can sell pretty much anything on eBay, from sneakers to watches, electronics and toys. For most categories, it's free to list your first 250 items per month. However, you'll pay a final value fee, which is a percentage that varies depending on the total amount of the sale, and 30 cents per order when your item sells. When your item sells, eBay directs funds to your linked checking account or Visa or Mastercard debit card.
Tips for Using eBay
According to eBay, there are four elements to the perfect listing: a descriptive title, a clear item description, high-quality photos and a competitive price. If you're not sure what you should price an item for, eBay recommends looking at the prices of similar items sold in the past 90 days.
One of the advantages of using eBay over other platforms is that you can allow offers rather than selling for a fixed price. This allows buyers to make offers on your item, and you can choose to accept or decline them or make a counteroffer.
7. 5miles
The 5miles app is another option for selling locally, specifically to people within five miles of your current location. In addition to selling things, you can also sell services, post jobs and even post garage sale information. You can sell just about anything on the platform that you can on other apps, and most listings are free, but there is a 10% fee for sold items.
Tips for Using 5miles
You can allow users to pay via the app or pay you directly. 5miles claims that using the online payment system can increase your chance of selling an item by 30%.
To make selling on the platform safer, the app provides a list of Safe Exchange Area Locations for handing off purchases to clients. The 5miles website notes that these are typically well-lit areas that have surveillance.
Takeaway
The best apps to sell stuff on are the ones that ultimately help you sell your items easily and quickly for reasonable fees. Before choosing an app, first determine if you will be selling niche items, such as clothing or a variety of things, and then pick an app that will allow you to sell all of your items on a single platform. Next, consider fees, review the app's terms and policies, determine how you'll get paid, and review any buyer protections the platform may offer. Once you are ready to list your items for sale, review and implement any tips the platform provides for pricing items and encouraging sales.
FAQ
If you're looking to make money selling items online, you may be in search of an easy-to-use selling platform with reasonable fees. These quick answers to common questions about selling apps may help.
What is the easiest app to sell stuff on?

Since each selling app has different features and policies, it is difficult to determine which app is the easiest for selling. Many allow you to post a listing in a few quick steps. However, by reading user reviews and the FAQ pages, terms and policies for each platform you're interested in, you can better pick an app that allows you to easily sell the items you have for fees you can afford.

What app can I use to sell my stuff for free?

Apps that allow local sales that do not require shipping often let you carry out these sales for free. Facebook Marketplace and OfferUp are two apps that allow you to sell locally for free. Other apps, such as Poshmark or Mercari, allow you to list items for free but will charge fees when you complete sales.

Which selling app should I use to make the most money?

You will likely make the most money on the selling app that's best suited for the items you have for sale. For instance, those who sell designer clothing will likely make more money on Poshmark or eBay than on Facebook Marketplace or OfferUp. Those who sell refurbished electronics may have the most success on eBay. It is best to research various selling apps to determine which ones have sellers successfully earning from the same items you have to sell.
Andrea Norris and Gabrielle Olya contributed to the reporting for this article.
Information is accurate as of Oct. 18, 2022.
Make Your Money Work Better for You