9 Facebook Marketplace Scams To Look Out For in 2022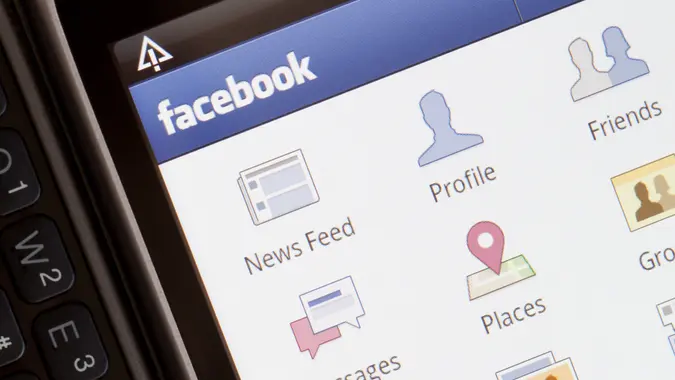 martin-dm / Getty Images
Facebook Marketplace has become a go-to for consumers looking to buy and sell everything from vintage clothing to a used bike to furniture, or for those looking to rent an apartment or even buy a car. It's targeted to your area of choice, giving you access to goods right in your neighborhood. Classified ads in the newspaper and even blurbs offering for-sale items posted to Craigslist have given way to Facebook Marketplace.
Learn: 3 Easy Tips to Turn Your Credit Woes into Wows
A 2022 report from social media management platform Hootsuite says Facebook Marketplace has 1 billion monthly active users worldwide, with its ads reaching 562 million people. One of the reasons it has become so popular is that — unlike paying a fee to sell an item on eBay or placing a newspaper ad — Facebook Marketplace links buyers and sellers at no charge.
Make Your Money Work for You
While the overwhelming majority of Facebook users are honest, with millions of people using one site, dishonest people will creep in. Here's a guide to some of the common Facebook Marketplace scams — and how you can protect yourself.
Identifying Facebook Marketplace Scams
Facebook, itself, acknowledges the possibility of scamming on its platform. But how can you tell if someone is scamming on Facebook Marketplace?
"Scams can happen on the buyer and seller side of a transaction. Some listings may also be scams," Facebook writes in its help section. "Scams come in different forms, so it's important to know what to look for when buying and selling on Marketplace."
But just what should be a red flag on Marketplace? Hari Ravichandran, the founder and CEO of consumer cybersecurity company Aura, has some tips.
"Beware of quick responses, fast payments and urgency," he said. "If you get a response immediately after posting an item for sale on Facebook Marketplace, I recommend that you wait at least 12 to 24 hours before responding to see if you get any other offers. Most legitimate buyers will ask for additional information about the item for sale, the condition of the item, or to see the item in person before agreeing to pay."
Make Your Money Work for You
Ravichandran also notes that potential buyers who push for personal information — like your email address or phone number — or wants to pay you quickly are likely scammers.
Red Flag: A New Account
As you interact with a potential buyer and seller on marketplace, check out that person's account. Since it is a legacy social media provider, Facebook accounts tend to be well-established.
If you're interacting with someone with a new account, it could be a scam account. Be very careful and ask all the right questions before conducting business.
A Closer Look at Marketplace Scams
Can you get scammed as a seller on Facebook Marketplace? Yes. As a buyer? Yes.
Buyer scams occur when someone tries to buy or trade for an item without paying. With seller scams, someone offers something for sale but doesn't come through with an item as promised.
Common scams, as identified by Facebook and security experts, include these 9 tactics.
Make Your Money Work for You
1. Send the Item Before Payment Is Received
A prospective buyer might produce a fraudulent receipt claiming a payment has been made and ask for the merchandise to be sent right away. Conversely, a legitimate seller won't ask a buyer to pay in advance.
When you're buying merchandise sold on Marketplace, Aura recommends using an accepted payment method, such as PayPal, or Facebook Marketplace. If paying with PayPal, don't state that you are making a payment to someone who is a friend or family member. You'll lose your protection that way, per Aura.
2. A Deal Too Good To Be True
Did you see a listing for the latest popular Nike shoes, for example, at a fraction of the retail price? The shoes probably are counterfeit.
Ask to see multiple photos of the shoes, a live video or even an original sales receipt before agreeing to buy. Again, pay with PayPal or another method that provides protection in case they are counterfeit.
3. Immediate Interest
A "buyer" wants you to send a text to arrange an immediate pickup of the item. That's an attempt to get your phone number, at which point the scammer could register quickly for a Google voice number, which will trigger a verification code sent to your phone. The scammer will ask you to send the code — just to verify you are a real person.
In reality, that code will unlock the Google voice number, which can help the scammer to perpetuate more scams, including stealing your identity.
Don't communicate outside of Marketplace.
4. A Fake Rental Property
The house advertised might be just what you're looking for, but don't send a deposit until you, or someone you trust, has had a chance to tour the place to make sure it is as advertised — and it's available.
Scammers will advertise properties that aren't even for rent, take a payment and vanish.
5. A Broken Item
That gaming system you just paid $200 for? It doesn't work, even though the listing might have said it was barely used. You handed over that $200 to the seller at your meeting place in the parking lot of the local McDonald's without plugging it in. And you'll never find that seller on Facebook again.
It's best to turn on and test electronics or other items that might not work before you hand over payment.
6. Bait and Switch
Advertising one item, then seeking to substitute it is the classic bait and switch. You see an item you've been searching and searching for, then the seller tells you it isn't available and offers another, more expensive item in its place.
Don't be afraid to walk away from a deal if it's not what you originally wanted.
7. Overpayment
Say the buyer and seller agree on a $20 sales price, but the buyer pays $50, tells the seller it was an error and asks for $30 back. That isn't a problem until the bank catches up with you. The card that the seller used to pay you could have been stolen or a check was counterfeit. You're out the original payment — plus the "overpayment" you returned.
It's best to decline overpayments and ask the buyer to resend payment in the correct amount.
8. Giveaways
If you see an offer for something free or a drawing for a free item, skip it. It likely is a phishing scheme. You hit a link to enter the drawing, and malware or a virus could be downloaded to access your confidential information, according to Aura.
9. The Lost Package
According to Facebook, a marketplace user can claim an item purchased was never received when it was or that the item was shipped to you when it wasn't. In either case, that user will be seeking a refund from the honest person in the transaction — you.
Make sure you have tracking information for any shipments involved to help fend off this scam.
How To Report a Facebook Marketplace Scam
Can you trust Marketplace on Facebook? The site makes it easy to report a suspected scam, and Aura's Ravichandran recommended following through.
"If you are scammed, immediately report it to Facebook Marketplace," he said. "If you spot a seller or buyer trying to pull off a scam, report it to protect other unsuspecting sellers and buyers."
How To Report a Listing Scam

If you come across a listing for sale that you believe to be a scam:

With the item listing open on your device screen, click the three dots in the upper right-hand corner.
Click "report listing." A menu of action items will pop up.
Click "scam," "appears to be counterfeit" or the action you deem appropriate.
You also will have the option to block the seller.

How To Report a Seller Scam

To report what you think is a scam by a seller on Marketplace:

With the item listing open on your device screen, tap the name of the seller.
Tap the three dots below the seller's name.
Click "report seller."
Follow the prompts.

How To Report a Buyer Scam

To report a perceived scam by a buyer on Marketplace:

With the item listing open on your device screen, click the box that reads "more options."
Final Take
It's unfortunate that we have to worry about financial fraud being perpetrated through a scam, but we do, and it even happens on Facebook Marketplace. The key takeaways to remember: be cautious, don't engage with another party outside of Facebook, stay away from links or other tools that could be phishing for information and report any scams to keep yourself and others safe.
Information is accurate as of Dec. 15, 2022. 
Editorial Note: This content is not provided by any entity covered in this article. Any opinions, analyses, reviews, ratings or recommendations expressed in this article are those of the author alone and have not been reviewed, approved or otherwise endorsed by any entity named in this article.
Our in-house research team and on-site financial experts work together to create content that's accurate, impartial, and up to date. We fact-check every single statistic, quote and fact using trusted primary resources to make sure the information we provide is correct. You can learn more about GOBankingRates' processes and standards in our editorial policy.
Make Your Money Work for You