Common Scams on OfferUp and How To Avoid Them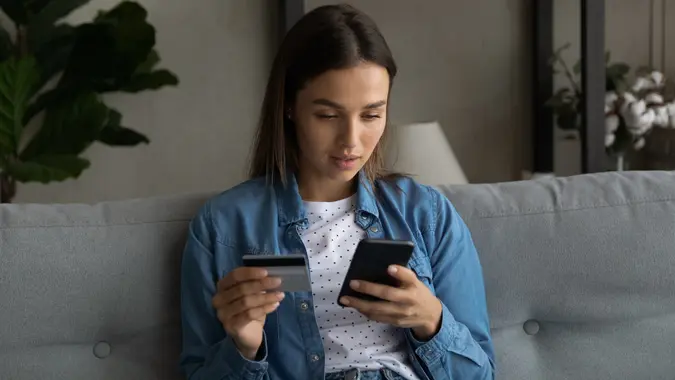 fizkes / iStock.com
Looking to buy or sell something on OfferUp, the mobile-driven Craigslist and Facebook Marketplace rival, but concerned about scammers? Here are some common methods used by tricksters and a blueprint to avoid them.
What's OfferUp All About?
First, a quick history and guide to the app. It was founded in 2011 by Nick Huzar and Arean Van Veelen — then-new fathers who, the company says, were inspired to start OfferUp when they "found themselves with more stuff than they wanted and less stuff than they needed."
The app allows users to quickly list items by snapping a picture, setting a price and offering a brief description. Potential buyers can scroll through a gallery of photos, negotiate a price and set up an in-person or shipping sale. Sellers can pay to promote their items to appear in the top 50 featured positions within search, browse and category results.
Make Your Money Work for You
Within these listings lurk some common scams that, armed with the right information, can be circumvented. Let's get to it.
Fake Accounts
The heart of any scam starts with the scammer. You can avoid bad situations by researching a seller's history. It's a good sign if they have multiple listings and great reviews. But be wary of profiles without any reviews, if the account has duplicate information, blurry images of their products, or if they want to communicate outside the app.
You should also keep an eye out for accounts with negative ratings and reviews. Reviews a person receives on OfferUp will show on their public profile. If you give one to three stars, you'll be given the option to add negative reviews, such as "Item not as described," "Impolite," "Problem with meeting location," "Late," Uncommunicative" or "Other." Choosing four to five stars will prompt you to add positive reviews, including "Reliable," "On time," "Friendly" and "Communicative." The compliment a person has been given most is listed first and any others will follow in decreasing order.
Make Your Money Work for You
Fake Cash or Checks
You've landed a sale, and now it's time to collect payment. If you're meeting in person — OfferUp lauds itself as a local marketplace — cash is the best way to go. And even then, there's the chance that those crisp bills for that TV, furniture or even a vehicle could be counterfeit.
Keep in mind that counterfeit detection pens are not always accurate. The best way to determine whether a note is genuine is to rely on the security features, such as the watermark and security thread. The U.S. Currency Education Program, managed by the Federal Reserve, has a guide on the design and security features of U.S. currency, which includes tips on easy ways to determine if a note is real.
Don't accept checks — ever. Scammers could simply provide a fake one, and when the bad check bounces, you could not only be out of the item but incur a bad-check fee from the bank.
In any case, prior to meeting, be sure to confirm your agreed terms.  
To skirt these problems, keep your conversations within the app and do not share your personal information, such as your phone number or email address. 
Make Your Money Work for You
Overpayment Scams
Use the OfferUp app for shipping transactions. Otherwise, you could be susceptible to another check scam that involves bad actors sending more than the agreed amount and asking for a refund of the overpayment. You could be out of hefty sums and also be penalized by the bank for the bad check. Similarly, OfferUp notes that you should be wary of buyers who follow up with a request that you use a different carrier or ship to a different address.
Google Voice Verification Code Scam
In this scheme, someone asks for your phone number so they can send you a Google Voice verification code — just to make sure you're the real deal. Don't do it. The request is likely a lure for you to send the code back. If you do, the scammer can link a Google Voice number to your own phone. This gives the bad actor the ability to open new accounts and become a fake seller. It's an open door to scam new crops of victims.
Slip away from these predators by only using the app's messaging system.
Additional Shipping Costs
Shipping costs are processed through the OfferUp app, so don't fall prey to another common OfferUp scam in which sellers insist that an item has additional shipping costs. OfferUp lists its shipping fees and policies on its website. For instance, the shipping cost is calculated when an item is listed and is based on the item's estimated weight and dimensions. That cost for the item will be shown when it is posted.
Fake Websites
Some scammers set up bogus sites that look just like OfferUp and will email links to the fake site, which will be loaded with fake ads. When you attempt to buy an item, you'll be prompted to log in with your email and password to complete a purchase. A general rule of thumb: Stay within the authenticated OfferUp website or app and don't click on a link from any user that requires you to log in. Not only will you not get the item you thought you had agreed to purchasing, you'll be out of the money you paid for it. The official OfferUp site offers purchase protection for purchases made and shipped through the app.
Fake sites could also place malware on your device.
Too-Good-To-Be-True Scams
A seller is offering the latest, top-of-the-line iPhone for $50. Sound fishy? That's because it probably is. Scammers with those types of offers may ask buyers to wire transfer money over before an item can be delivered. The scammer will then accept the money you paid for it, and you won't receive the item you thought you had purchased.
Paying Outside OfferUp 
If you're not paying cash in person, stick within the app for shipping transactions. Offerup notes that sellers might request gift cards; a certified check; payment via Venmo, PayPal or Cash App; or a wire payment via Western Union or MoneyGram. Some of these methods are untraceable, making it a lot more difficult to attempt to recoup your cash.
What To Do If You've Been Scammed
If you've been scammed on OfferUp, here are a few steps you can take:
Buyers can file a claim for any shipped purchase, but OfferUp encourages users to first request a refund before filing a claim. If you're lucky, this might mean that your issue will be resolved more quickly.
You can anonymously report prohibited items or offensive or suspicious behavior by tapping on the three dots in the upper right corner of the poster's profile, then hitting the flag for Android users or "Report" for iOS users. Select a reason or block the person on the next screen. Tap "Submit report."
Of course, you can also report criminal activity to the police. They will need details such as the user profile of the person you were interacting with. OfferUp notes that once you've made your report, you should ask the investigating officer to contact OfferUp and provide a case number or event ID so the company can work with the officer.
Our in-house research team and on-site financial experts work together to create content that's accurate, impartial, and up to date. We fact-check every single statistic, quote and fact using trusted primary resources to make sure the information we provide is correct. You can learn more about GOBankingRates' processes and standards in our editorial policy.
Make Your Money Work for You