10 Best Websites To Sell Stuff Online for 2023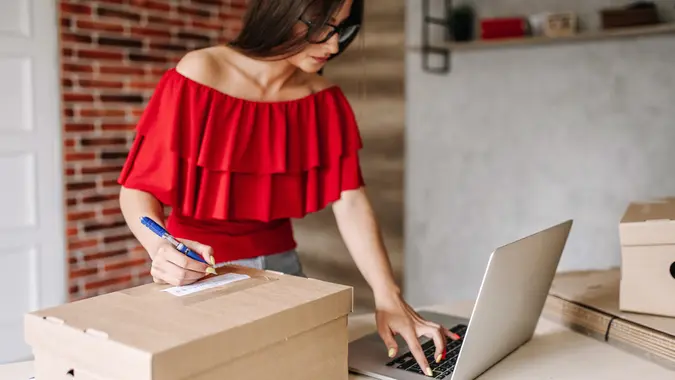 PhotoAttractive / Getty Images/iStockphoto
Whether you want to start your own e-commerce or online business, or just want to declutter your house, selling stuff online can be pretty lucrative. Online marketplaces, social media, websites and apps are convenient starting points to buy and sell online. If you are curious about where to start your online sales adventure, finding the right website to sell your stuff is a great first step.
10 Best Online Selling Sites
Selling stuff online can range between vintage items and clothing to home decor and antique furniture. When you list an item, not only do you need to factor such things into your profit margin as sale price, listing fees, selling fees, final value fees, service fees or transaction fees when an item sells, but also whether or not the site your selling on is worth the costs. Here are 10 of the best websites to use when selling stuff online:
Amazon
Bonanza
eBay
Etsy
Facebook Marketplace
Mercari
Nextdoor
Poshmark
Ruby Lane
Swappa
1. Amazon 
Fees: $39.99 monthly fee plus $0.99 selling fee
You may have heard of this little online bookstore that has since become one of the most dominant global conglomerates in e-commerce. It is a trusted website that sells hundreds of items per minute. This can mean great exposure and traffic for your items but does come with a relatively high monthly cost. As it is a huge marketplace, it may be worth checking out to see if the amount of sales you get justifies the monthly fees. 
Make Your Money Work Better for You
2. Bonanza 
Fees: $0.25 per transaction plus 3.5% of the Final Offer Value
Though Bonanza does offer membership which can save you on transaction fees, it is not required to sell on the site. They structure their fees based on the cost of your item in addition to the shipping cost. They call this the Final Offer Value. If your Final Offer Value is more than $1,000 the fee would be a flat 1.5%.
3. eBay 
Fees: $0.30 transaction fee plus 13.25% of final value fee
Another popular site to resell or sell your stuff that can reach millions of people is eBay. There really are no limits as to what kind of items you can list for sale. From crafts to cars, as long as you are aware of the insertion and transaction fees, it cannot hurt to explore this site's large buyer network. 
4. Etsy 
Fees: $0.20 list fee, 6.5% transaction fee and 3% of sale plus $0.25 processing fee
Known for selling unique or handmade items, Etsy is the site for you if you are feeling crafty. Though it has a more niche market, it does have a large following and it is a known and respected site to sell wares. It also has a strong customer service feature that helps both buyers and sellers. 
5. Facebook Marketplace 
Fees: 5% per shipment or $0.40 for shipments under $8.00
If you already have a Facebook account, selling on Facebook Marketplace is simply a few clicks away. Because so many people are familiar with this platform it creates a feeling of security to both buy and sell items on. Be sure to familiarize yourself with the requirements and guidelines of selling on the marketplace before you begin.
Make Your Money Work Better for You
6. Mercari 
Fees: 2.9% processing fee plus $0.50 transaction fee
This Japanese online marketplace has a focus on selling small electronics like cameras, phones or speakers, but that is not to say you can't sell pretty much anything on this site. Designer clothes, bags and purses as well as video games or gaming systems all sell well on Mercari. 
7. Nextdoor 
Though Nextdoor has no fees, there are options to pay for advertising of your products to reach a broader audience within your city. This platform is best to sell items within your community or neighborhood. Selling on this site is just a small part of this community-driven concept as everyone on it lives near you.
8. Poshmark 
Fees: $2.95 flat commission fee for sales under $15, 20% commission fee for sales over $15
Break out your old wardrobes and get ready to mine for gold through your designer or vintage clothing, shoes, accessories or more. If home decor or beauty products are more your bag, no worries, you can also sell those things on Poshmark. Though it is mostly known for fashion items, it is good to have options. 
9. Ruby Lane 
Fees: $25 monthly fee plus 9.9% of purchase order total
Ruby Lane is a great site to sell both vintage items and antiques. It has a strong following of enthusiasts for these types of products which can make the higher than average fees feel worth it if your inventory starts moving quickly. 
Make Your Money Work Better for You
10. Swappa
Fees: 3% seller fee, plus PayPal transaction fee when applicable
Turn your old smartphones, cameras, small electronics or other tech gadgets into cash by selling them on Swappa. It has a good reputation for having high security and a solid screening process for listings which comforts both buyers and sellers.
Final Take 
Though selling your stuff online can feel like a saturated market, this is not to say there aren't ways to make a lot of extra cash by doing so. Do your research to choose the best site that fits not only the type of items you are selling but also your financial plan for profitability. 
FAQ
Here are the answers to some of the most frequently asked questions about websites for selling stuff.
What is the best site for selling stuff?

Here are some of the best sites to sell your stuff:

-Amazon
-Bonanza
-eBay
-Etsy
-Facebook Marketplace
-Mercari
-Nextdoor
-Poshmark
-Ruby Lane
-Swappa

What is the best free website to sell stuff?

Nextdoor is a free website to join to sell things within your community. However, one of the best ways to avoid service, transaction or processing fees from a third party site is to build your own website from which to sell your stuff. There are many website building assistant platforms out there for no or low cost.
Make Your Money Work Better for You
Information is accurate as of March 24, 2023.