8 Best Apps To Sell Your Stuff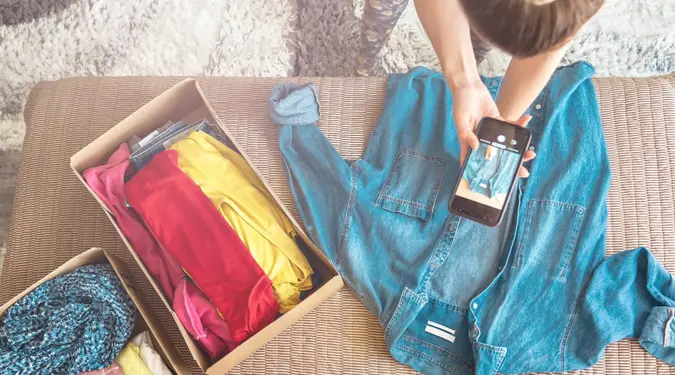 Anna Gorbacheva / Getty Images/iStockphoto
Whether it's just for some extra cash or for a full-time side hustle, selling stuff on apps is a great way to make money. You can download an app and be up and running in no time, and best of all, you can sell virtually anything you can think of — be it a luxury handbag, a used cell phone, sunglasses or even LEGOs. 
Selling stuff via an app is generally a better way to make money than through holding a yard sale or selling to a local consignment store because the world is your oyster — in other words, you have a wider audience of prospective buyers. Additionally, you can get paid quickly, as well as list a large number of items at once. 
Best Apps for Selling Your Stuff
Here's a look at 8 of the best apps to sell your stuff on. 
1. eBay
Founded in 1995, eBay now reigns supreme as one of the top apps to use for selling your stuff. The mammoth online marketplace is a goldmine for sellers who specialize in the following categories, all of which are bestsellers according to eBay.
Automotive 
Clothing, shoes and accessories 
Collectibles 
Business and industrial 
Home and garden 
Jewelry and watches 
Health and beauty 
Sporting goods
Make Your Money Work Better for You
If your item doesn't fall into one of these categories, you're better off heading to a different app.  
Pros
Wide variety of item categories
Huge audience of buyers
Cons
Commission and shipping fees
2. OfferUp
OfferUp was founded in 2011 as a competitor to Craigslist and has become a favorite in the online marketplace space. You can sell pretty much anything you want on OfferUp, but there tends to be a big emphasis on household items like appliances and furniture. You can also find and list cars on OfferUp.
Pros
No listing fee
Ability to sell a variety of items
Cons
App stresses in-person transactions
3. Poshmark  
If you've been sitting on designer handbags, clothing, shoes or accessories now is the time to open a Poshmark account and get to listing. According to Small Business Trends, sellers on Poshmark can rake in anywhere from $100 a month to $2,000 a month based on the number of active listings they have on the app. In addition to women's fashion, the app also lets you sell home decor and beauty products, but really fashion is what it is known for so if you have anything else to sell, best head elsewhere.
Make Your Money Work Better for You
Pros
Straightforward selling process and fee transparency
Can sell high-end clothing and accessories
Cons
Best for high-end items and items without any flaws
4. Facebook Marketplace 
Like OfferUp, Facebook Marketplace is intended for those who are selling to people in their area. So this isn't an app for those looking to cast a global or even statewide net. Launched in 2016, it's a great place to sell big-ticket items like appliances, furniture and cars. Facebook makes money off the service by running ads. 
Pros
Good option for selling larger items
By selling to people in your area, you can avoid a shipping fee
Cons
5. Decluttr
Decluttr, which launched in the U.S. in 2014, specializes in reselling tech including smartphones, tablets, wearables, CDs, DVDs and games. But you can also sell books and LEGOs here as well. Decluttr takes care of the cost of shipping, which is a big plus — you just send the items to them with a prepaid shipping label they provide. Then they pay you whatever they think your items are worth.
Make Your Money Work Better for You
Pros
Process is very simple
Good customer service
Cons
As they set the price, you may not get what you think your item is worth 
6. Mercari 
Born in Japan but now fully operational in the U.S., Mercari is an online marketplace that allows users to sell everything from clothing and accessories to tech and used books. According to Reselling Revealed, items that sell best on Mercari are: 
Small electronics like cameras, phones, speakers, etc.
Video games and gaming systems
Trendy or designer clothing
Purses and bags
Outdoor and sporting goods
If you are selling outside of these categories, it's best to use another app.  
Pros
Low commission fees
Highly rated
Cons
Limited range of popular item categories

You should take extra precautions due to scammers
7. Tradesy 
For high-end apparel, head to Tradesy where best-selling brands include the likes of Chanel, Louis Vuitton and Gucci. If you're selling non-designer clothing, best head to eBay.
Pros
Connects you to a wide audience looking for designer goods
Consumers have rated Tradesy very highly
Cons
Only for high-end apparel
Has a transfer fee for earnings
8. Nextdoor 
Nextdoor is where neighbors go to connect — and to vent. It's also where they go to sell things — all kinds of things. Like Facebook Marketplace and OfferUp, unload your wares for a price that you set at no fee to buyers in your area. 
Pros
Connects you to buyers locally
Easy to avoid a shipping fee
Good for larger items
Cons
No buyer protection in place
You should take extra precautions due to scammers
Which App Is the Best To Sell Items On?

The best app to sell your stuff on depends on what items you have to sell.

Poshmark and Tradesy are best for designer apparel and accessories. Sell your old tech and DVDs on Decluttr. For almost anything else eBay is best — unless it's a car or a heavy item, in which case you should sell locally via OfferUp or on Facebook Marketplace.  
Final Take
Selling on apps has never been easier. When you sign up for a new app, be sure to go straight to the "How it works" sections and read all the fine print so that there are no last-minute surprises. Also be sure to be as transparent and detailed as possible when describing your items, and to take impeccable photos in good lighting. No flaw must go unnoted!
FAQ
How can I sell my stuff fast for money?

If you need cash fast you can list your stuff on OfferUp or Facebook Marketplace with a strict "Must Go By" deadline.

What app do people sell things on?

People sell their stuff on a variety of apps including, but not limited to:  

eBay
OfferUp
Poshmark
Facebook Marketplace
Decluttr
Mercari
Tradesy
Nextdoor

Where can I sell my stuff in 2022?

You can sell your stuff in 2022, 2023 and beyond on these apps:

eBay
OfferUp
Poshmark
Facebook Marketplace
Decluttr
Mercari
Tradesy
Nextdoor

What is the best app to sell women's sunglasses?

The best place to sell sunglasses for women is Poshmark.

What is the best app to sell men's athletic goods?

The best app to sell men's sporting goods is eBay.

What is the best app to sell used furniture?

The best app to sell used furniture is a local listing app such as Facebook Marketplace, OfferUp or Nextdoor.
Data is accurate as of Dec. 28, 2022, and is subject to change.
Our in-house research team and on-site financial experts work together to create content that's accurate, impartial, and up to date. We fact-check every single statistic, quote and fact using trusted primary resources to make sure the information we provide is correct. You can learn more about GOBankingRates' processes and standards in our editorial policy.
Make Your Money Work Better for You