How To Sell On Poshmark: Getting Started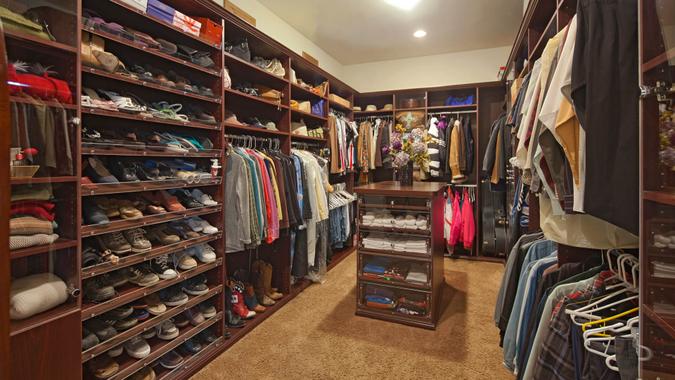 IPGGutenbergUKLtd / Getty Images/iStockphoto
Do you have clothes and shoes that you don't want to keep but don't want to give away for free? Consider selling them online. It can be overwhelming trying to figure out how to get started, but this guide will give you the information and confidence you need to take the first step to selling your clothes online with Poshmark.
What Is Poshmark?
Poshmark launched in 2011 as a resell platform focused specifically on clothes and have since expended to include accessories, personal care items and even select home goods, pet items and electronics. They used venture capital to combine e-commerce and social media to create an experience that was supposed to be like going through your best friend's closet.
How to Start Selling on Poshmark
Selling your stuff on Poshmark is fairly straightforward. Below is a step-by-step guide on how to sell on Poshmark from the platform itself.
1. Create an Account
If you don't already have an account, head over to their website to make one — it's free. You can use this account to buy or sell items on Poshmark. Poshmark can work on a computer, but it's intended to be used as a mobile app, and it's easier that way. You can download the Poshmark app from the Apple App Store or on an Android device.
Make Your Money Work Better for You
2. List Your Items
Open the app and tap the "sell" button with the camera icon. Upload a picture of the item that shows it in its best light but also shows any wear or defects. Poshmark will not let buyers return items if they are the wrong size, but they can return them if the description or pictures are misleading or unclear. You can upload as many as 16 pictures in your listing, so it's a good idea to upload photos of multiple angles so buyers can see every part of the item.
Next, fill out the description. Include as many details as you can. List the size and condition and make sure to note any defects, no matter how small. This is also where you'll include keywords that help buyers find your item, so include the color along with the style, styling suggestions and appropriate events.
You can choose the price for your items, but Poshmark will take their cut when the item sells. That's $2.95 for items under $15 and 20% of the price for items above $15. Be sure to factor that into the price you choose, but be careful not to price too high — Poshmark takes price gouging seriously and your listing could be removed or your account suspended for unreasonably high prices on essential items.
Make Your Money Work Better for You
3. Make Sales
Social media comes in handy when selling on Poshmark. You can share your "closet" — the items you have up for sale — to repeatedly get eyes on them. Poshmark hosts four virtual parties every day where you can share items that match the theme for extra exposure, and you can host your own parties if you want. You can also follow other users and comment on and share their items.
When someone likes an item or adds it to a bundle, you can send them a private offer with a lower price. Buyers can also send you offers, which you can accept, counter offer or decline. These offers are not bids. If you accept them, then the item is effectively sold.
4. Ship Sold Items
Poshmark has a simple shipping process. Shipping is a flat rate paid by the buyer. Poshmark items are all shipped using USPS Priority Mail, so the shipping is quick, and you can get boxes for free from the post office.
All you have to do is pack up the item or items, attach the provided shipping label and drop it off with USPS. You can use a blue USPS mailbox if it fits or drop off the parcel at a brick-and-mortar post office. You can also set up free USPS home pick up.
Make Your Money Work Better for You
5. Get Your Money
After an item is marked as delivered, buyers have three days to start a return. If they don't, then you get to keep the money. There is no three- to six-month return period like on other platforms.
You can withdraw your earnings whenever you want, whether that's after every sale or after your earnings have built up a little. There is no minimum for withdrawing your money on Poshmark. You can also choose to leave the balance in your account and use it to make purchases on the platform.
What's the Secret to Making Money on Poshmark?
There's a lot of advice out there regarding selling successfully on Poshmark, but no single secret. Like all social media-based entrepreneurship, the most successful sellers follow these main tips:
Share daily.
Engage on the platform.
Most of all, be persistent.
Takeaway

Use this information to get started on Poshmark and experiment to see what works best for your closet. Different things work for different people, as you'll see if you search the thousands of blogs and YouTube channels dedicated to Poshmark. Don't be afraid to trial and error to find what works best for your style.
Editorial Note: This content is not provided by Poshmark. Any opinions, analyses, reviews, ratings or recommendations expressed in this article are those of the author alone and have not been reviewed, approved or otherwise endorsed by Poshmark.