Learn How to Make Money on YouTube
Here are the steps for how to earn money from YouTube.
Being an online personality just might be the best career option ever. But is it possible to make a living as one? Even if you have a creative niche, how do you make money on YouTube?
Fortunately, there are a few basic things you can do to start answering these questions and try to monetize your YouTube videos. With a little hard work, these tips might become the secret ingredient to completing your goal to get rich this year.
1/6
Jacob Lund / Shutterstock.com
5 Ways to Make Money Online With YouTube
Making money with your video content can take studying and testing the waters. Focus on providing something unique, different or interesting for the viewer. Then, use one of the following different methods to monetize your work.
Click through to learn how to make money with your YouTube page.
2/6
Roman Samborskyi / Shutterstock.com
1. Intend to Monetize Your Content
Perhaps the most useful thing you can do is understand your purpose for creating and publishing content on YouTube. If you don't make up your mind to earn money on the platform, you won't be intentional about sticking with strategies and tactics that will help you earn money from YouTube.
In order to have a profitable presence on YouTube, you've got to be intentional about earning money and willing to do what it takes to make it happen. You can learn how to monetize YouTube content, but it could take a considerable amount of effort.
3/6
LightField Studios / Shutterstock.com
2. Set Up Your Channel to Earn Money
YouTube announced in February 2018 that it will require channels to have 4,000 hours of watch time within the last 12 months — in addition to 1,000 subscribers — to be eligible for monetization. According to YouTube, these are the steps you must take if you are eligible to activate ads:
– Read and agree to the YouTube partner terms.
– Set up an AdSense account.
– Set monetization preferences — choose the videos you want to monetize.
– Get your channel reviewed once you reach 10,000 channel views.
Though anyone can start posting videos on YouTube, it doesn't guarantee that you're going to get rich quick. For example, one way of monetizing your video content is having display ads on your videos. By default, your channel and videos are not set up to display these ads.
4/6
Shawn Goldberg / Shutterstock.com
3. Grow Your Audience
YouTube's Creator Academy provides some useful tips on growing your audience if you're just starting your channel. Here are some simple tips that you can use to be found, seen and followed on YouTube:
– Craft content and wording that allows the search algorithm to rank your video appropriately for keywords and phrases.
– Write smart descriptions so other users can find your content related to the searches they are performing.
– Publish content regularly (preferably on a schedule) so users will come back to your channel regularly.
– Create compelling thumbnails to draw people to your videos.
– Add calls to action on end cards so your viewers will take action related to your content.
Pays to Be Famous: 15 Free Perks Only Celebrities Can Get
5/6
Dean Drobot / Shutterstock.com
4. Incorporate Affiliate or Product Marketing
Ad revenue isn't the only source of income you can get from video marketing. You can also make money online simply by selling products on your YouTube channel, just like Jeff Rose, a CPA at Good Financial Sense.
Rose recently relaunched his YouTube channel and found that once he began placing product links in the description area of his videos, he was able to earn more money by promoting affiliate products and his own products — in addition to getting more leads for his financial planning practice. "My first income source was from ads," Rose said. "Then I began to earn money promoting products."
6/6
MIND AND I / Shutterstock.com
5. Create Sponsored Content
Imagine that your views are climbing and you're getting more subscribers. At this point, you might be prime time enough to start considering sponsored content. If you've got a sizeable audience with very specific demographics, your voice could be used to promote certain products and services.
Brands will actually pay you to create sponsored videos that promote something they want you to sell to your viewers or find a way to naturally weave it into content you're already creating. For example, if you provide instruction videos on how to play guitar, you might consider getting sponsored by a company that makes speaker amps.
Up Next: How to Make More Money, According to Science
Learn, test and repeat what works for your YouTube channel. Learning how to make money online, especially as an online personality, is not an easy feat. But with a lot of determination and hard work, it's certainly not impossible.
About the Author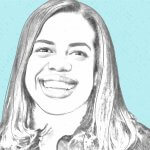 Aja McClanahan is a personal finance and entrepreneurship writer, and influencer among the millennial crowd when it comes to creating palatable, actionable content in the realm of finances. She writes on my own website, www.principlesofincrease.com, as well as for a number of other web publications, including Huffington Post, Quicken Loans and other web properties.