What Is Patreon? How Content Creators Are Using the Platform To Make Money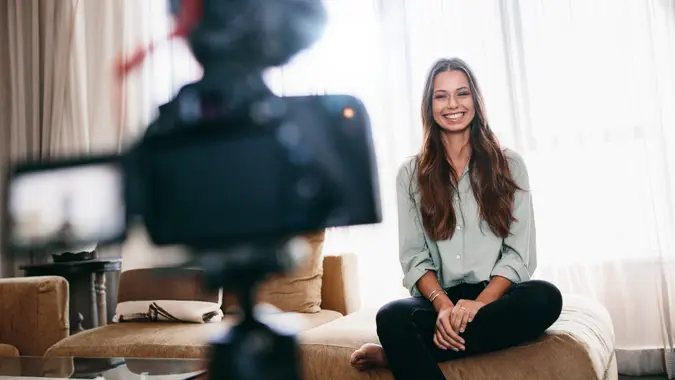 ©Shutterstock.com
Patreon is an online platform that makes it easy for creative types to make money from their work. Artists, writers, filmmakers and musicians, among others, flock to Patreon to share their masterpieces with the paying public.
‌For some creative types, Patreon is a lucrative source of support amid a growing sea of part-time job options that didn't exist 30 years ago. Here's what you need to know about making an income through the platform.
What Is Patreon?
The concept behind Patreon is as old as the Renaissance. Wealthy individuals began paying artists and musicians to create definitive works during this time. Patrons are the lifeblood of culture to this day.
Patreon embraced this concept and made it much, much bigger. The platform lets creators set up pages that help make it possible for them to earn small donations from their followers — which can turn art into a living for many. Over 6 million active patrons worldwide connect with more than 200,000 creators, generating over $2 billion in earnings since 2013. The custom pledge suggestion for patrons is $5 by default, while the minimum a patron can give is $1.
Make Your Money Work Better for You
How Can You Set Up a Patreon Page?
Get paid for what you love in a few simple clicks. Open the Patreon sign-up portal and follow the four steps below.
1. Figure Out Which Kind of Membership Is Right for You
Patreon lets you decide how to collect from your patrons. Set up recurring monthly donations or charge for access to privately posted content.
Stick to what you choose. No one likes to find a new monthly charge or feel deceived.
2. Present Yourself to the Public
After picking your membership, carefully craft your homepage to capture an audience. ‌Use your personality and style to pique the interest of your target audience and encourage people to donate.
Here are a few ways to get started:
Create a video to share your vision with like-minded individuals.
Offer a few captivating lines of content.
Present a sample of your budding portfolio.‌
3. Choose Benefits To Offer Your Patrons in Tiers
People want to feel appreciated. They helped you because they believe in you. Returning their kindness builds a lasting and fruitful relationship.‌
Make Your Money Work Better for You
‌There are a variety of ways to show fan appreciation. Many creators give away content for free. Musicians post songs available on YouTube, writers send out signed copies of their work, and graphic artists maintain an online portfolio.‌
‌Go a step further by offering paying donors a perk they simply cannot get for free. Extra content behind a paywall or a mug and T-shirt giveaway can move people in the right direction.
Good To Know

Since no two people are alike, creators who opt for the Pro or Premium plan can set up tiers of benefits at different donation levels. A few levels of support you might choose from include entry- or low-level tiers with suggested donations of $3 and $5, mid-level tiers for donations of $10 and $20, and high-level tiers set at $30 and $50.

Pick as many levels as you'd like. Creators with two to five tiers make more than those with none, according to Patreon.
‌‌
‌4. Launch Your Page
When you're ready, start publishing posts. Publicize your Patreon page so that your fans can show their support.‌
‌Don't forget to post regularly. Keep your page fresh to avoid letting it become stale. Post text, images, videos and even live streams on your Patreon page to regularly engage your audience. Give them a reason to keep coming back.‌
Make Your Money Work Better for You
How Can You Make Money as a Creator on Patreon?
You'll want to make your new profile a part of your artistic journey and social media universe. Show off every campaign and finished project. Nudge your fanbase back to Patreon.‌
‌Remember your Patreon benefits? Start to build your brand and relationship by sharing them on social media. Ensure that your fans know about your bonus content, swag or shoutouts in return for following you on Patreon.‌
‌Use social media to brand yourself and push your campaigns.‌
How Much Money Can Content Creators Make on Patreon?
Before you even launch your Patreon profile, do some basic calculations to estimate how much you're likely to earn from the site.‌
Your future earnings from Patreon depend on how many fans you have, the benefits you're offering to your patrons, and their dedication. Take a look at your YouTube, Instagram and other social media pages. Estimate the number of followers you already have.‌
‌You can determine how many followers are passionate about your art. They are the ones who leave comments, make purchases, and come back again and again. This crowd is the most likely to make the leap to your Patreon page.‌
‌Get a feel for this number. Roughly 1% to 5% of your largest, most engaged audience become patrons at the lowest tier alone, according to Patreon. Take this number and multiply it by the price you set for your lowest tier to get a conservative estimate of your earnings.
How Much Does It Cost To Use Patreon?
Keep in mind that Patreon keeps a portion of your earnings. It collects as little as 5% or as much as 12% of your donations, depending on the plan you select. In return, you gain access to its marketplace and tools.
There are also several other fees related to using Patreon. You can expect a payout fee for transferring money to your bank or PayPal account, and there are charges for payment processing. Patreon also charges a 2.5% fee to convert between currencies.
Factor these costs into the cost of doing business. Make sure to declare all of your income on your tax forms.
Build Your Brand To Boost Your Earnings
It's easy to join Patreon. That's a huge plus for any creative looking to boost their income. Still, success requires knowing how to run yourself as a business.
‌You need to know how to handle your new revenue stream as patrons start to support you. Make sure to obtain the right tax forms and create a bank account to track your earnings.
It is easier than ever to earn a living as an artist with the help of crowdfunding sites such as Patreon. Get started by building a homepage and brand while learning how to manage the business of art.
It's very important to be realistic about Patreon and its potential. Once you launch a page, focus on building a following over the long run.
Other Ways to Make Money
Make Your Money Work Better for You