5 Legitimate Ways To Get Paid To Chat & Earn Extra Money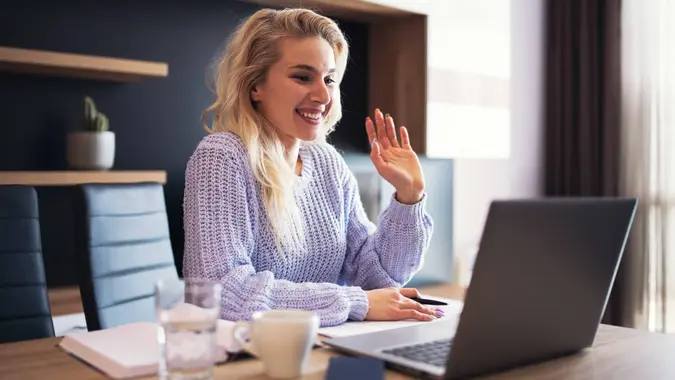 ArtistGNDphotography / Getty Images
In this age of unprecedented connectivity, the ability to speak to others on the other side of the planet is as simple as a single click. But despite the seemingly endless ways to connect, many people still struggle with loneliness and isolation.
That's why nowadays, many people turn to the internet to find meaningful connections and build relationships. But did you know that you can get paid to chat with others? Here are five ways to get paid to chat with people online — some with the option to meet in person after chatting.
How Do I Get Paid To Chat?
Multiple online services allow you to get paid to chat with others online. Below are the top five sites that let you do so from the comfort of your home. Some even allow you to meet face to face.
1. RentaCyberFriend
You can connect with people based on shared interests with RentaCyberFriend, a pay-per-minute video call service.
How It Works
The payment is per minute, with a 20% platform fee. You can set higher or lower rates for different topics, as well.
Make Your Money Work Better for You
For example, you can charge $3.00 per minute to talk about cooking and $1.00 to talk about movies.
Potential Earnings
If you charge $3.00 per minute and chat for two hours, you'll make $288.00 after the platform fee. If you do it full-time, you can make thousands per week.
Pros
Do not have to meet in person
Set your own rates
Cons
No app — you must be able to video chat on your computer
Security
The platform is secure with end-to-end encryption.
2. Phrendly
If you're looking for a little friendly flirting, Phrendly might be right for you! This social networking platform allows you to chat with people and get paid. It is a friendship-based site that allows flirting but is not for explicit content.
How It Works
You get paid to chat per message on Phrendly and earn a portion of the fee. When someone sends you a gift, called "drinks," you get to keep 90% of the earnings.
Potential Earnings
You receive $0.35 per chat message sent by a user, 70% of your earnings from phone and video calls — minus a $0.20 per minute connection fee — and 90% of the value of any gifts received from users.
Pros
No obligation to respond to video or phone calls
Chat through texting to make money
Make Your Money Work Better for You
Cons
Cannot keep all your gift earnings
Site does not work on Google Chrome
Security
The site takes security safely and hides your personal information from users unless you wish to disclose that information.
3. RentAFriend
Are you looking to make new friends and get paid while you're at it? RentAFriend helps people meet local friends in person after chatting. If someone is moving to a new city or is on vacation, they can connect with you via the platform and meet.
How It Works
Once you create a profile, you must complete a questionnaire that gauges your interests. When users look for friends, you show up based on age, gender and interests.
Potential Earnings
Earnings depend on location, demand for friends in your area, availability and your hourly rate. According to the site, most earn between $10 to $50 per hour, with some charging higher for specialized experiences.
Pros
Great for outgoing people — meet friends in person instead of just over the phone
Make Your Money Work Better for You
Cons
In-person meetings aren't as safe
Security
Meeting strangers always comes with security risks. It would be best to gauge whether you want to risk meeting someone who may not be as they present online.
4. Fiverr
You might not think of a freelancing platform when looking for someone to chat with, but Fiverr is a platform where people pay others for their services, and friendship is one such service.
How It Works
As a freelancer, you can set the price of your "friendship service" and chat with customers. Once you reach an agreement, you receive payment upfront for your time.
Potential Earnings
Depending on your popularity and ratings, you can make good money on Fiverr. Fiverr takes 20% of the total "project" cost.
Pros
Get paid upfront
Set your own pricing
Cons
Typical use for Fiverr is freelance projects, advice and business — it might be hard to find your audience
The pros are that you get paid upfront and can set your pricing. The cons are that people usually use Fiverr for freelance projects, advice, and business.
Security
You can report people who are abusing the service. Moderators are also on standby to ensure that no scams or inappropriate behavior happens.
Make Your Money Work Better for You
5. Facebook Groups
If you have a special interest or know a lot about your local area, you can start a Facebook group and monetize it — charge people for being members and speaking with you. You can also ask for donations, sell products or answer questions for cash.
How It Works
You can create a group and control the settings. Once people request to join, you can charge a fee for your time speaking and interacting with them.
Potential Earnings
How much you'll make depends on pricing, engagement and the time you invest in the group, but you can make a good amount by charging others to become members.
Pros
Control what goes on in the group
Decide who you want to speak with and how much time you want to spend
Cons
Security
As long as you work within the group, you can control who can speak with you. If you are worried about a troublesome member, you can kick them out of the group or report them for misuse/abuse.
Is Getting Paid To Chat With Strangers Legitimate?
Getting paid to chat with strangers may seem unusual, but it is increasingly becoming an essential service. Many people in the United States have no one to talk to consistently. In fact, the Centers for Disease Control and Prevention states that one-third of people above 45 feel lonely, and one-fourth of adults over 65 are socially isolated.
Make Your Money Work Better for You
Chatting with people who experience these issues is a win-win situation, allowing you to make extra money and them to make healthy connections.
Takeaway
While these platforms let you get paid to chat and earn money online, always be aware of how you interact with others. It's essential to set boundaries, understand what your comfort zone is and stay safe online.
By staying mindful and taking necessary precautions, chatting with others online can be a fun and lucrative way to connect with new people and make extra cash.
FAQ
Can I get paid for chatting with people online?

Yes, you can get paid to chat with people on sites like RentaCyberFriend, Phrendly, Facebook Groups and others!

Can I get paid to text chat?

Yes, you can get paid to text. Phrendly, Talkroom, JustAnswer and Steady are just a few of the websites where you can chat with people through text and get paid.

How can I make money on Omegle?

A few ways to make money on Omegle are selling products, advertising, moderating a paid chat room and offering tutoring or lessons in skills you have.
Make Your Money Work Better for You
Our in-house research team and on-site financial experts work together to create content that's accurate, impartial, and up to date. We fact-check every single statistic, quote and fact using trusted primary resources to make sure the information we provide is correct. You can learn more about GOBankingRates' processes and standards in our editorial policy.
Make Your Money Work Better for You