8 Legitimate Ways To Get Paid To Text and Earn Extra Money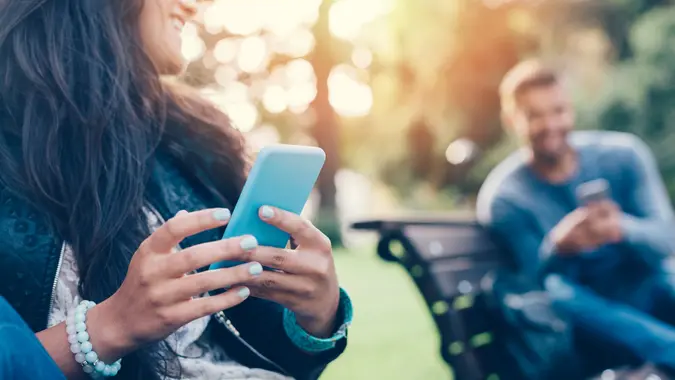 martin-dm / iStock.com
If you're going to be using your phone every day, you might as well make some extra cash while you're at it. That's why apps and websites that pay you to text are exploding in popularity. But not all the websites are reputable and it may not be easy as it seems to make money on certain sites.
8 Ways To Get Paid To Text
Here are some of the top apps and websites that pay you to text to find the best. You can earn hundreds of dollars per week with some of these websites, so why not give it a try?
1. IMGR
Do you love sending fun text messages to friends using cute emojis? Well, who doesn't? With IMGR, you can earn extra cash while texting your friends and family about your favorite brands.
IMGR seems to be one of the easiest texting apps. You can start earning points that convert to cash with the very first message you send. You can also earn bonuses. To start earning, download the app, invite your friends and start sending and receiving branded messages. The texts you send may include special deals and discounts that you can take advantage of, too.
Make Your Money Work Better for You
The FAQ isn't clear on exactly how much money each point is worth, but Premium users can earn up to $40 per month, while other users can earn up to $20. You become a Premium user by accruing 2,000 points for six months in a row.
One major drawback, though is that points reset to zero at the start of every month — if you haven't accumulated the 90 points required to cash out, you lose your rewards.
2. Talkroom
Talkroom is a new app available in The App Store for iPhone and iPad users that shows a lot of promise as a way to make money chatting. Talkroom lets you charge people to chat with you.
To profit off the platform, it helps to have a network in place willing to pay money for your time or an area of expertise that enables you to teach others. Ideal for influencers, coaches and consultants, this app lets you set a price before you let someone slide into your DMs or "pick your brains." You can even get paid in crypto if you prefer.
And don't worry. You can exempt close friends and family from paying to speak with you.
Make Your Money Work Better for You
3. McMoney
McMoney is an app designed for Android users. The platform pays you money to receive text messages, which the company uses to test and improve mobile operations.
The platform seems simple enough to use, although the website says you have to download the app to find out how much you can earn and when you can cash out into your PayPal account. You can also earn referral bonuses when a friend uses your code to install and use McMoney.
4. Fiverr
Fiverr is a freelance jobs platform that offers many opportunities to get paid to text. In spite of the name, you can make more than $5 per gig. You set your own rates for freelance gigs that may involve handling customer service over text, organizing SMS marketing campaigns or even translating text messages.
Some of the gigs advertised on Fiverr related to texting in March 2023 include illustrating a text with hand lettering to make it stand out, proofreading and editing texts in a variety of languages and providing customer support through text-based chat.
Make Your Money Work Better for You
5. 1Q
The 1Q app, available on the Google Play Store for Android and in The App Store for iOS users, offers up to 25 cents instantly per question that you answer via the app. Brands use the app seeking customer feedback and are willing to pay you for your opinions.
If you like taking online surveys, this could be a good chat opportunity to explore. The app has a 4.4-star rating on Google Play with more than 3,200 reviews, making it one of the more reputable chat apps.
One reviewer said they earn between 50 cents and $20 with each interaction. Money is transferred to your PayPal account instantly. That's also enticing compared to apps that make you wait until you've reached a specific level of earnings to cash out.
6. JustAnswer
If you are an expert in any in-demand industry, you could make extra money through JustAnswer. The platform connects professionals in a variety of areas, including doctors, mechanics and lawyers, with subscribers in need of expert advice and guidance.
Make Your Money Work Better for You
According to the website, experts earn between $2,000 and $7,000 per month, and can set their own hours and work as much or as little as they want.
7. Hummr
The Hummr app, from Corific Technologies, is similar to Just Answer and Talkroom in one. Experts and influencers can set chat and call rates for people to connect with them.
You can also market your services by sharing stories, photos and videos to make connections with other users and like and comment on other people's posts. The more you interact, the more you will connect with people willing to pay for your time and knowledge. Hummr is available for Android users in the Google Play store.
8. Steady
Steady is a bit different from the other apps on this list. The app helps connect people looking to earn extra money with opportunities to do so.
These opportunities may include taking surveys for cash or side hustles like delivering food with DoorDash. The opportunities offered are based on your skills and capabilities, depending on your answers to a few quick questions.
The website says it has helped put an extra $5 million in the pockets of members through these Income Boosters and has paid out $15 million in cash incentives to Steady members. Steady can also help you find a full-time job, offering data from top companies regarding pay rates and job availability in your region. The app can also connect you with emergency resources.
Make Your Money Work Better for You
FAQ
What app pays you to reply to messages?

If you have a certain level of skill or expertise, you can get paid to reply to messages on JustAnswer and Hummr. Fiverr and Talkroom also offer opportunities for you to get paid for replying to messages, though they might require more work upfront to establish yourself on the platform.

Can I get paid for texting someone?

You can get paid for sending text messages, replying to questions and chatting through an app. IMGR will pay you to send branded texts to your contacts, for example, and McMoney will pay you to receive texts.
Information is accurate as of March 21, 2023.
Make Your Money Work Better for You