Financial Advice: 8 Ways To Get Free or Cheap Advice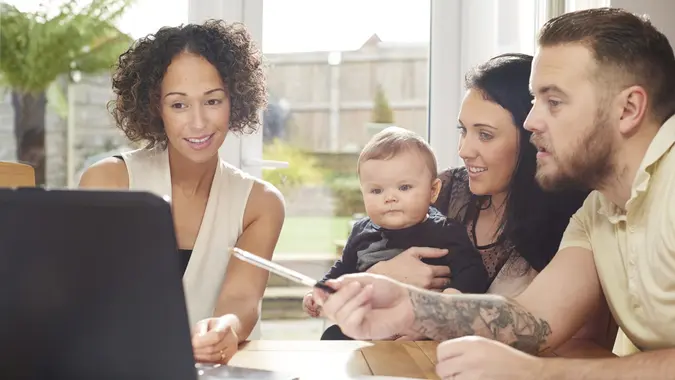 sturti / Getty Images
At some point in your life, there's a strong chance you're going to need financial advice. And although finance can be an interesting topic, it's not one that everyone is comfortable chatting about with friends and family. On the other hand, you may have to pay a pretty penny to talk to a Certified Financial Planner, or CFP.
Read: 3 Ways to Recession Proof Your Retirement
What do you do if you need financial advice but you can't or won't spend the average $2,500 for a plan from a CFP? Look for free and low-cost options. Read on for eight great picks to help you figure out your next money moves.
8 Ways to Get Free or Cheap Financial Advice
Believe it or not, you don't have to pay for financial advice in many situations. Banks, employers, 401(k) providers, brokers and several other entities provide advice free of charge. Moreover, there are multiple low-cost options for accessing advice. Find the top eight options below.
1. Go To Your Local Bank
If you need financial advice, one of the best places to go is your local bank. Your banker will be happy to discuss your financial details and outline products that may help you given your unique circumstances.
However, some banks are going even further. For example, in late 2022, Bank of America, Member FDIC, announced Operation Hope: free financial counseling in 17 markets and 180 financial centers across the United States. The program offers in-person financial coaching sessions to help customers improve their credit scores, build savings and create a more stable financial future.  
2. Talk to Your Employer
Your employer isn't just someone that writes your paycheck for a job well done each week. The best employers offer wide-ranging benefits that show they appreciate you and the effort you put into helping them build their businesses.
In many cases, financial wellness programs are part of these benefit packages. If you're not sure if your company offers a program like this, all you need to do is ask your supervisor. It may surprise you how much of a difference an employer-sponsored financial wellness program can make.  
3. Reach Out to Your Broker
As is the case with banks, many brokers are willing to provide financial advice. In some cases, you'll have to pay for that advice, while it's free in others. For example, Charles Schwab offers a wide range of educational resources and free financial planning tools.  
4. Reach Out to a Credit Counseling Agency
When you think about financial advice, the first thing that may come to mind is investing. However, there's far more to the world of finance than stocks. In fact, understanding how your credit works and taking steps to build and maintain a good credit score is one of the most important things you can do for your financial stability.
There are several non-profit organizations that offer credit counseling for free or at a significantly reduced cost. For example, you could reach out to the National Foundation for Credit Counseling. The best part is that they don't just help you with your credit. The NFCC will work to help you create a complete financial plan that will set you up for a better financial future.
5. Contact the Foundation for Financial Planning
The Foundation for Financial Planning is another worthwhile resource for financial advice. The Foundation works to provide free financial planning services to communities across the U.S.
All you need to do is reach out to the Foundation and let them know you would like help planning your finances. They'll guide you through the rest.
6. Get a Free Consultation From an Investment Advisor
Investment advisors aren't cheap, but many offer free consultations. Take advantage of these consultations for free discussions that could put your investments on the right track.
Of course, if you want them to handle your finances, you'll need to hire them, but the information you get in the free consultation may prove invaluable. Advanced Wealth Advisors is one example of an advisory company that offers free consultations. 
7. Take Advantage of a Financial App
There are countless financial apps that can help you get your finances on the right track. Although you won't have one-on-one discussions, the information and planning offered through apps like Betterment, Personal Capital and Mint can make a real difference in your financial future. 
8. Use Discounted Robotic Options
If you're interested in getting your investment portfolio started, but you're not sure how to do it, consider working with a robo-advisor.
For example, Betterment is a robo-advisor that only charges $4 per month or 0.25% of your portfolio's value per year. That's a significant discount from the 1% average advisory fee that traditional financial advisors charge. 
Final Take
If you're in need of financial advice, don't stress about how much money it's going to cost you. Instead, use one of the options above to access the advice you need for free or at heavily discounted rates.
FAQ
Find the answers to the most common questions about low-cost financial advice below.
How do I get good financial advice?

You can pay for financial advice through a financial advisor or use one of the eight free and low-cost ways to access financial advice listed above.

Do banks offer free financial advice?

Many banks do offer free financial advice. You can make an appointment or walk in to speak with a banker.

What is the best financial advice?

One of the best things anyone can do is plan for financial stability in the future. Contribute to a 401(k) or other retirement plan, build your emergency fund and invest in a variety of assets.
Remember that the best financial advice for your neighbor may not be the best advice for you. You will need to discuss your personal situation with whatever advisory service you choose.

Is it worth speaking to a financial advisor?

Financial advisors are typically worth their fee in complex financial situations. However, if you don't have much complexity in your finances, you may want to forego the fee.
Our in-house research team and on-site financial experts work together to create content that's accurate, impartial, and up to date. We fact-check every single statistic, quote and fact using trusted primary resources to make sure the information we provide is correct. You can learn more about GOBankingRates' processes and standards in our editorial policy.