17 Ways To Make Money on YouTube Without Making Videos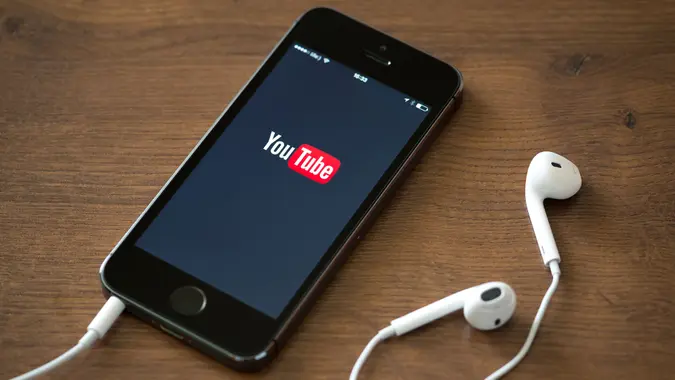 pressureUA / Getty Images
In today's gig economy, many people are looking for ways to make extra money online. Having multiple revenue streams can help you better manage your budget during times of high inflation — and give you added security in case of a recession.
You might be considering making money on YouTube as an additional revenue stream or even your primary income. But maybe you don't like appearing on camera and don't have video editing skills. The good news is you can still make money on YouTube without ever hitting record on your phone.
How to Make Money on YouTube Without Making Videos
You can make money on YouTube in a variety of ways that don't involve creating original video content, appearing on-screen yourself or even posting a video. Sharing third-party content and building up enough of a following can earn you money through ad revenue as a YouTube partner. There are also other ways to earn money on YouTube, including becoming a YouTube consultant.
1. Making Money Through Content on YouTube
If you decide you want to post content on YouTube to make money, but don't necessarily want to show your face on camera, you have plenty of avenues to choose from.
The first step to making money on YouTube is to set up a YouTube Brand account. A Brand account is free and lets you set up multiple channels, hide your email and choose a different name — so you can put your brand in the forefront instead of your own face, name and personality.
Then, you'll want to set up a channel based on the topic you'd like to focus on. Some of the most popular YouTube channels that don't showcase people include the Meditation Mindfulness channel, a Daily Dose of Internet — which is a clip channel of funny and interesting videos from across the Internet — and many podcasts that are audio-only.
Make Your Money Work Better for You
2. Curate Content from Other Places
Whether you decide to share funny animal videos, movie trailers or interesting and weird news, you can find people interested in your YouTube channel. The best part of curating content is that you don't have to get behind — or in front of — a camera at all.
If you're aggregating third-party content, however, make sure you have explicit permission or rights to share that content. Otherwise, you could get hit with a "Matched Third-Party" notification. If the notification was sent in error, you should dispute it immediately. Always make sure you have permission to share the content you post.
Often, you can find content posted under a "Creative Commons" license. This gives third parties the right to use the video. Follow the rules for creative commons licensing. Sometimes, you can't use the videos for commercial purposes or to make money and sometimes you can't alter the videos. You must also give attribution to the original creator.
You can also search for creative commons photos and artwork and put them together with music to create a montage video.
You can find Creative Commons content on YouTube, and you can also go to sites like Vimeo, Pixabay, Videvo and others to search for the video clips and photos you need.
3. Post Slide Decks and Presentations
Whether you are trying to teach people something new or promote your business, a slide deck or presentation is a great way to do it.
Homework help YouTube channels also took off during the pandemic, when parents struggled with homeschooling and virtual learning, trying to teach their kids concepts that they didn't understand themselves or hadn't studied in decades. Even today, many kids turn to YouTube before they ask their parents or a teacher for help.
Make Your Money Work Better for You
4. Record Audio-Only Reaction Videos
The reaction video genre took off in 2020 when people bored at home during the pandemic wanted to share their thoughts on media and entertainment without getting in front of the camera. YouTuber Jaby Koay garnered 1.7 million subscribers with his reaction videos.
But you don't have to share your face to share your views on pop culture, news, common everyday situations and more. Just find clips to share and then record your reactions on voiceover.
5. Post Audio-Only Podcasts
Do you have a topic you love? Is there something you could talk about for hours each day? Consider starting an audio-only podcast about it and posting it on YouTube.
Most people think of YouTube for video content. But YouTube is the top platform to listen to podcasts, according to a recent survey from voiceover marketplace Voices, with 57.8% of consumers polled choosing it as their preferred platform, ahead of Spotify, Apple Podcasts and others.
6. Live Stream Your Video Game Play with Voiceovers
Similarly, if you love playing video games, you can live stream — or even record — your video game play with voiceovers.
While many of the top gaming influencers on YouTube have a distinct brand, like DanTDM who even has a Halloween costume patterned after his trademark outfit, some never show their face. H20 Delirious has kept his identity secret, never showing his face and going by the name of Jonathon.
7. Join the YouTube Partner Program
Of course, curating or creating great content is just the beginning. Remember — you don't have to make the videos yourself. But you will need to aggregate content that people enjoy and then market your channel through social media to get the word out.
Make Your Money Work Better for You
Once you've gotten some views on your videos and generated a following on your channel, you can apply for the YouTube Partner Program. Joining the YPP offers multiple revenue streams to make money on YouTube.
Once you have at least 1,000 subscribers to your channel, 4,000 valid public watch hours in the past 12 months and have kept your YouTube account in good standing, you can apply to the YouTube Partner Program. As a partner, you can generate revenue from ads, subscribers, merchandise and more.
8. Make Money from Ads on YouTube
Once you link your Google AdSense account to your YouTube account, you can begin making money from ads as a YouTube Partner. Earn roughly 10 to 30 cents per ad view, or an average of 18 cents per ad view. This typically equates to $3 to $5 for 1,000 video views, or $18 per 1,000 ad views.
If you have a high-traffic channel and a highly engaged viewership that watches the ads, you can see how quickly you can make a lot of money through YouTube ads.
9. Link Your Content to a Shopify Store
You can link your content to your own Shopify store and sell merchandise related to your brand and your content. Plus, you can promote your store on other social media channels to turn your store into another stream of revenue beyond your YouTube content. Your content and your merchandise can complement each other to help build your brand.
10. Sell Items on the Merch Shelf
You will want to keep your Shopify store running strong even after you've become a YouTube Partner. But YPP members can also list their merchandise on YouTube Shopping as another way to make money. You can feature your own merchandise or merchandise from other brands. There are multiple ways to display these products, including on a product shelf or overlay below your videos.
Make Your Money Work Better for You
11. Set Up a Patreon Account to Support Your Channel
Of course, the content ideas above won't make you money by themselves without a way to generate revenue. You'll need to build up your subscribers and watch time enough to apply for the YouTube Partner Program to make money on ads, subscribers, merchandise and more.
But as you're building up your channel and viewership, you can set up a Patreon account and ask for donations to support your channel. You may want to offer value added content and other perks, such as branded merchandise, to those who subscribe to your Patreon account.
12. Earn Money from Premium Subscribers
YouTube wants to make sure it is supporting its creators. Without content creators, there would be no YouTube. YouTube Premium allows viewers to watch their favorite YouTube channels ad-free. But creators still get paid. You earn a portion of the subscriber's fee each time a YouTube Premium member watches your channel or downloads it for later viewing.
Good news! When people download your videos, it still counts toward your required watch time for the year.
13. Charge Subscribers to Your Channel
If people like your content enough to pay for it, you can collect membership fees separate from what people pay for YouTube Premium. If you are charging subscribers, you'll want to offer value-added content, special videos and other extras to make subscribing to your channel worth their while.
14. Earn Money from Super Chat and Super Stickers
Fans love interacting with their favorite creators, and YouTube has capitalized on this while offering creators another revenue stream through the sale of Super Chat and Super Stickers.
Viewers can purchase Super Stickers — digital or animated images that show up in the live chat feed as a way for fans to interact with creators and with each other. They can also purchase Super Chats, which highlights their message within the chat.
Make Your Money Work Better for You
15. Become a YouTube Consultant
Once you've learned solid strategies for making money on YouTube, you can share your knowledge with others as a YouTube consultant for brands. You can create a profile on MarketerHire or other marketplaces where people look for marketing professionals.
You can also advertise your services through LinkedIn or other social media channels. The best way to land gigs as a YouTube consultant may be through word-of-mouth. Network in your community and online and let companies know you can help them boost their YouTube presence to promote their brand.
16. Watch Videos for Nielsen
Nielsen, the consumer research company that has tracked people's TV habits for nearly a century, will pay you for allowing it to track your viewing habits on YouTube and other streaming networks. Simply visit the Nielsen website to sign up and then download the secure Nielsen app or computer software anywhere you watch videos, including your smartphone and computer.
You most likely won't get rich watching videos for Nielsen, but you can earn up to $60 in gift cards from retailers or in cash deposited to your PayPal account. You'll also get instant win game tokens that could increase your earnings, and you'll be entered into a $10,000 monthly sweepstakes. If you don't mind Nielsen tracking your viewing habits, this is a good way to earn some extra, easy cash on YouTube.
17. Invest in YouTube's Parent Company
Another way to earn money passively on YouTube is to invest in stocks from Alphabet Company, the parent company of Google and YouTube. Right now, Alphabet Company stock is selling for roughly $88, down from its 52-week high of $152.10. Expert investors are calling the stock a "Strong Buy."
Make Your Money Work Better for You
FAQ
Can you make money on YouTube without creating videos?

You can make money on YouTube in many ways without creating videos. You can share audio files, presentations or third-party content. You can create a Shopify store with merchandise and share third-party videos related to the merchandise you're selling.
If you have enough viewers from curated content, you can become a YouTube Partner and take home a hefty sum when people watch the ads in your videos.

 How can I make money on YouTube without content?

You can make money on YouTube with no content by investing in Alphabet stock, which is the parent company of Google and YouTube, or becoming a YouTube consultant to help other brands make money off YouTube.

Can you make money on YouTube with views only?

The average ad on a YouTube channel earns about 10 cents to 30 cents per ad view, which works out to as much as $5 per 1,000 video views. If a video gets 1 million views, that could lead to $5,000 in income. To place ads on YouTube, you must first become a YouTube Partner.

How many views do you need to start making money on YouTube?

To apply to the YouTube Partner Program, you must have at least 1,000 subscribers and 4,000 "valid public watch hours" in the past 12 months. Your YouTube account must also be in good standing, and you'll need a linked Google AdSense account. YouTube Partners have expanded options to earn money on YouTube through ad views, merchandise shelves, subscribers and more.
Editorial Note: This content is not provided by any entity covered in this article. Any opinions, analyses, reviews, ratings or recommendations expressed in this article are those of the author alone and have not been reviewed, approved or otherwise endorsed by any entity named in this article.
Our in-house research team and on-site financial experts work together to create content that's accurate, impartial, and up to date. We fact-check every single statistic, quote and fact using trusted primary resources to make sure the information we provide is correct. You can learn more about GOBankingRates' processes and standards in our editorial policy.