How Much Is Google Worth?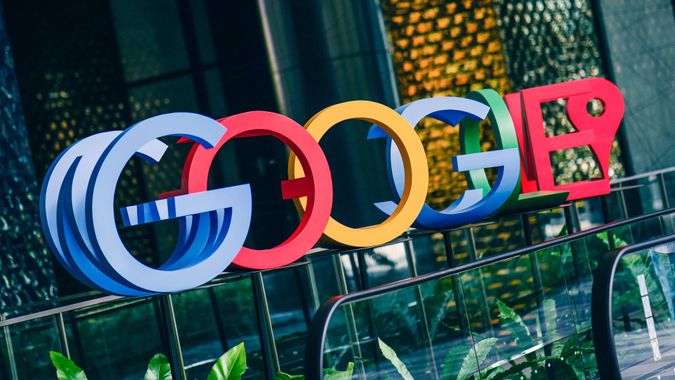 mentatdgt / Shutterstock.com
Google's ubiquity seems to qualify it as less of "a search engine" and moreso "the search engine." Its cultural imprint runs so deep that "Google" has become a verb, and many people use it as their default browser page. With over 3.5 billion searches a day and 1.2 trillion searches a year, the fact that Google is an important part of the daily lives of most people can't be understated. GOBankingRates googled some figures on Alphabet, Google's parent company, to see what this importance means for investors.
On Feb. 4, Alphabet announced its fourth quarter results for 2018. The company generated revenues of $31.84 billion, which beat Wall Street's expectations, but the stock fell 3 percent in after-hours trading.
What Google Is Worth
Google Share Price, 52-Week Range
$894.79-$1186.89
Google Market Cap, 52-Week Range
$313B-$415.2B
2017 Revenue
$110.9B
2017 Profit
$12.7B
GOBankingRates' Evaluation of
Google Net Worth
$279.3B
All information on 52-week range is accurate as of June 15, 2018.
About Google
Headquarters
Mountain View, Calif.
Year Founded
1998
CEO Sundar Pichai Salary
$650,000 base pay
Google Market Cap Range: $313B-$415.2B
One of the most reliable gauges for what a company is really worth is market capitalization, or market cap for short. The market cap is the value of all of the company's stock combined, giving you a sense of what value investors are placing on the company based on the price it is trading at. Alphabet's 52-week range is more than $100 billion, which means that although shares are profitable, the company is also susceptible to market volatility, perhaps as a result of competing with tech giants like Apple or Amazon.
Google Net Worth: $279.3B
Although market cap gives you a sense of what the market values a company at, it's based entirely on market sentiment — essentially reflecting the ever-changing opinions of investors, which can change hourly. The GOBankingRates Evaluation, on the other hand, calculates a company's net worth based on measurable figures like assets and revenue. It's a more conservative valuation taking into account full-year profits and revenue from the last three years, as well as the company's assets and debts.
Based on their revenue and profits from the last three years, Google's net worth is just under $280 billion.
Alphabet Spending Spells Competition for Amazon and Apple
The company went public in 2004, when Google's share price was $85 per, less than 10 percent of what its current 52-week low is. Google has experienced exponential growth since then. By August 2016, Google's stock value had gone up by 1,700 percent. If you had invested $1,000 in Google 10 years ago, your patience would translate to more than $3,600 today.
The company announced a restructuring in 2015 as Alphabet, with Google as one of Alphabet's wholly owned subsidiaries. Alphabet's stock presents some promising gains, and the company is regularly recommended for investors. The company still faces stiff competition, however. In May 2018, Microsoft passed Google in market value, CNN reported.
Alphabet spent at historic levels in first quarter 2018 to bolster its technology, which was lagging behind Amazon and Apple. Doing this might not have been a bad thing though; it means Alphabet has the capital, and the drive, to pursue an even stronger market presence. The reason it spent so much was because it added more than $20 billion to its revenue between 2016 and 2017.
Who Founded Google?
Google was founded in 1998 by Larry Page and Sergey Brin. The two met at Stanford in 1995 and collaborated on a search engine called Backrub. Google is a play on the word "googol," which is a one followed by 100 zeros. The name was a great summary of Page and Brin's mission "to organize the world's information and make it universally accessible and useful."
Google It: Google Makes It Easy to Find the Right College — at the Right Price
Google's Founders and Their Net Worths
Forbes named Page and Brin among the world's richest tech billionaires in 2018, with net worths of $48.8 billion and $47.5 billion respectively. Page and Brin are also shareholders in Alphabet and have concentrated power within the company through "supervotes."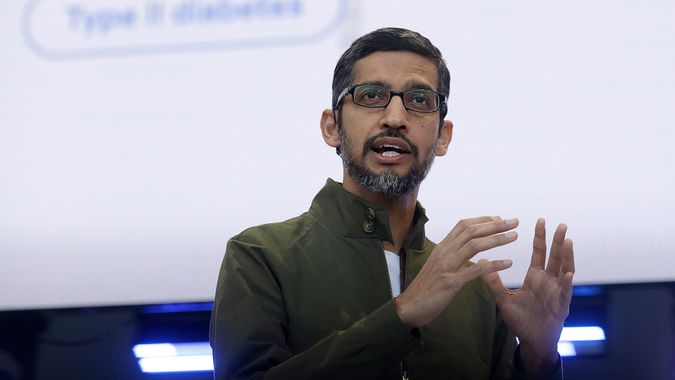 Google CEO Sundar Pichai was also awarded restricted stock units in 2014. Sundar Pichai's salary is only $650,000, according to Salary.com, but Pichai's net worth is likely much higher: In April 2018, he cashed in on $380 million worth of stock awards.
Learn more about stocks like Google's Alphabet that could be worth the investment.
Company Net Worth Guides
More on Business
We make money easy. Get weekly email updates, including expert advice to help you Live Richer™.
Methodology: The GOBankingRates Evaluation assesses a company's net worth based on the company's total assets, total liabilities, revenue and net income from the last three years. Base value is established by subtracting total liabilities from total assets from the company's last full fiscal year. Income value is established by taking the average of the revenue from the last three full fiscal years, 10 times the average of the net profits from the last three full fiscal years, and then calculating the average of those two figures. The final GOBankingRates Evaluation number is the sum of the base value and the income value.
Editorial Note: This content is not provided by American Express. Any opinions, analyses, reviews or recommendations expressed in this article are those of the author's alone and have not been endorsed by American Express.