How Much Is Spotify Premium and Can You Get A Discount?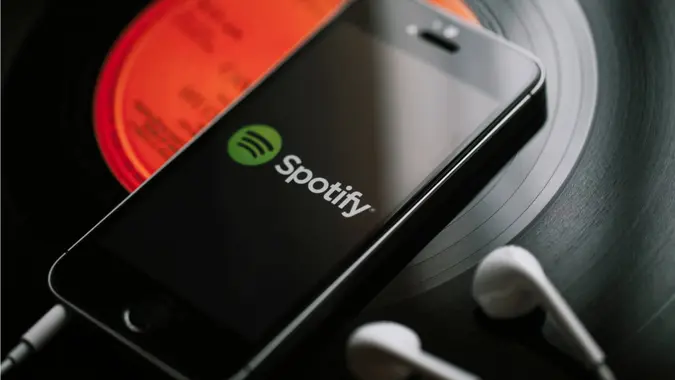 ©iStock.com
Spotify Premium costs $9.99 for the individual plan, $15.99 for the family plan and $4.99 for students.
Overview
Spotify is a digital service that allows you to stream music, videos and podcasts. When you join the platform, you gain access to tons of content from creators worldwide.
Playing music as a primary function is free, and you'll get recommendations that meet your preferences as well as access to podcasts, audio books and Spotify Radio. When you upgrade to Spotify Premium, you get higher quality, ad-free sound. Plus, with Premium, you can download podcasts and music to grow your collections.
You can access Spotify from a wide variety of devices, including phones, computers, tablets, TVs, speakers and even vehicles. While Spotify has a free plan, the premium version offers a more customized experience. Find out how much Spotify Premium is and whether you can get a discount.
How Much Is Spotify Premium?
Spotify offers four Premium plans.
Make Your Money Work for You
Individual Plan: $9.99/Month
When you opt for the individual Premium version, you get:
Access to over 70 million ad-free tracks
Better streaming quality
The functionality to download content, music and podcasts to your phone or other devices
The ability to download Artist, Album or Song Radios from Spotify Radio
To save your tracks for offline consumption
There are no restrictions to travelling abroad with your music with a Premium plan and no mobile app restrictions.
Spotify Duo: $12.99/Month
The Spotify Duo plan allows you to share Spotify access with a person you live with — family member, partner or friend. Both Spotify users have their own Spotify dashboards and a Duo Mix that combines the tastes of both people. You also have a playlist that you can share and update that each member can manage. 
Spotify Family Plan: $15.99/Month
If you want to stream Spotify as a family, this is the plan. The Spotify Family plan allows up to six people under one roof to use one membership, each with their own account. The plan also comes with simplified, effective parental control options and includes a Family Mix joint playlist and Spotify Kids for children.
Spotify Student: $4.99/Month
If you're a student, you can access Spotify Premium for just $4.99 a month.
Re-register each year as a student to keep Premium Student for up to four years and also gain access to the ad-supported plan from Hulu and SHOWTIME.
Make Your Money Work for You
Can You Get a Discount on Spotify?
When you sign up for Spotify Premium, you get up to one month of free access — sometimes more if you catch a promotional rate.
Spotify also often offers deals as part of its marketing campaign. Spotify works with mobile and internet providers, among other companies, to offer special deals to help you get discounts for the service. While these partnership deals change with time, they often include:
AT&T: If you're AT&T's customer and subscribed to the Unlimited &More plan, you can access Spotify Premium content for free. You also get a six-month trial if you don't have the Unlimited plan. However, it's essential to check your AT&T account to know your eligibility.
Xbox: A deal with Xbox lets fans access six months free of Spotify Premium when they sign up for Game Pass Ultimate. The deal is available for those who already have a Spotify account.
Chase: If you have a Chase credit card, you get access to a free six-month plan to Spotify Premium if it's your first time on the platform. Note that the offer is limited to specific cards, which means the option may not be available to all.
Starbucks: Starbucks offers their employees a Spotify Premium account free of charge.
Be on the lookout for other deals so that you can take advantage of them.
Spotify Free vs. Spotify Premium
Here is a comparison between Spotify Free and Spotify Premium.   
| | Spotify Free | Spotify Premium |
| --- | --- | --- |
| Music library | X | X |
| Ads removed |   | X |
| Playback controls |   | X |
| Supported devices | X | X |
| Social features | X | X |
| Curated content | X | X |
| Improved sound quality |   | X |
| Offline listening |   | X |
| Total | 4 | 8 |
Make Your Money Work for You
Is the Spotify Premium Plan Worth It?
Picking between the Spotify Free and Premium versions can be pretty challenging. Many other companies, such as Apple Music, offer similar services, and you might be wondering if you should pay for the premium version of Spotify. 
Takeaway

If you love your music and have no problem giving Spotify more control, the free version might work for you. The free plan also gives you over 50 million songs and podcasts. Besides, you will have access to the discovery and curation functions of Spotify whether you're paying for a Premium account or not.

However, if you want to hear the latest songs, fully control your playback and download music to listen offline, go for Spotify Premium. The Premium plan also offers better sound quality and saves you from having to deal with ads.
Information is accurate as of April 26, 2022.
Editorial Note: This content is not provided by Spotify. Any opinions, analyses, reviews, ratings or recommendations expressed in this article are those of the author alone and have not been reviewed, approved or otherwise endorsed by Spotify.
Make Your Money Work for You