How Much Is Apple Music? Here's a Price Breakdown of Each Subscription Plan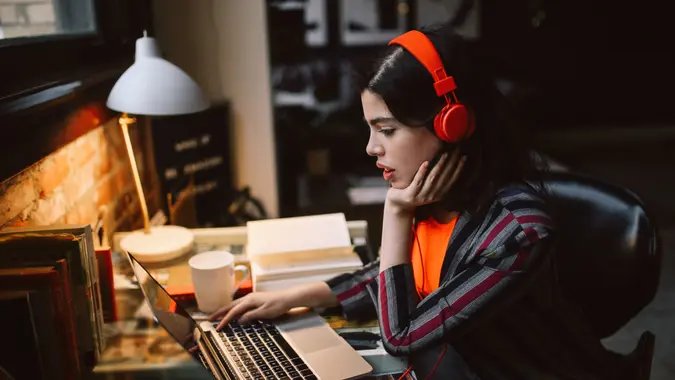 lechatnoir / Getty Images
If you have an iOS device, you may be wondering: How much is Apple Music per month?
Apple Music charges $9.99 per month for individual subscriptions and $14.99 per month for family subscriptions. Pricing may vary depending on your location.
What Is Apple Music?
Apple Music is one of the most popular subscription-based music streaming services, like Spotify. The streaming platform offers over 90 million songs and comes with various features, including offline listening.
The application runs on iOS devices, making integration with Siri possible. You can allow Siri voice commands for better interaction. Apple Music also lets you listen to a wide variety of live radio stations for the ultimate listening experience.
Here's a breakdown of the cost of Apple Music per month and how you can save money on a subscription.
How Much Is Apple Music a Month?
Apple Music lets you enjoy all the features for one month at no cost after signing up for the free trial. Once the trial period expires, you will have to pay a monthly fee for your Apple Music subscription.
In addition to four stand-alone Apple Music subscription plans, there are three Apple One plans to choose from. All three tiers bundle together access to Apple Music and additional Apple services.
Here's a look at each of the Apple Music and Apple One plans that are available.
Individual Plan: $9.99
The cost of the individual plan for Apple Music is $9.99 per month.
If you opt for the Apple One individual plan, which costs $14.95 per month, you'll enjoy Apple TV+, Apple Arcade, and 50GB of cloud storage on the iCloud+ service, in addition to the music catalog.
Make Your Money Work for You
Family Plan: $14.99
The Apple Music family plan will set you back $14.99 a month. With this plan, you can share access to the streaming service with as many as five other users.
The Apple One family plan, which costs $19.95 per month, lets you access Apple Music, Apple Arcade, Apple TV+ and 200GB of iCloud+ storage. 
Student Plan: $4.99
The student subscription plan allows students enrolled at universities and colleges to access the platform for a discounted monthly rate of $4.99 per individual, for a maximum of four years. The student plan also comes with a limited-time offer of free access to Apple TV+.
Voice Plan: $4.99
The Apple Music Voice Plan features a monthly fee of just $4.99. This plan allows you to access the Apple Music catalog exclusively via voice commands using Siri. This means that your devices should be Siri-enabled Apple devices. 
As with the other three Apple Music plans, the Voice plan allows you to listen to live radio stations and curated playlists. However, users with this plan don't have the option to use the platform to view lyrics, and the plan does not include access to music videos. And whereas all three of the other Apple Music plans offer spatial audio, in addition to lossless audio for the entire catalog, the Voice plan lacks both of these features.
Apple One Bundles: $14.95-$29.95
All three Apple One plans offer access to Apple Music, Apple Arcade and Apple TV+, in addition to varying amounts of iCloud+ storage. With the Premier plan, you get 2TB of iCloud+ storage along with access to Apple News+ and Apple Fitness+. You can share access to all of the services included in this plan with as many as five other people. The Premier plan comes with a monthly fee of $29.95, making it the highest-priced Apple One tier as compared to the monthly fees of $14.95 and $19.95 for the individual and family plans, respectively.
Make Your Money Work for You
How To Get Free Access to Apple Music
It's a good idea to look into Apple Music deals before signing up. Here are just a few of the top deals that are currently available:
If you sign up for Apple Music for the first time, you can get six months of free access to the streaming platform via the Best Buy website. Simply visit the offer page and create an account to enjoy this offer.
Verizon's Apple Music promotional offer is open to customers with select unlimited plans. If you are eligible, you can get free access to Apple Music for either six months or for as long as your unlimited plan remains active, depending on which plan you have.

First-time subscribers can get six months of free access to the streaming platform with the purchase of

eligible AirPods, Beats or HomePod devices

.
How To Save Money on Apple Music
If you're looking for ways tosave money on Apple Music,consider the following options:
Subscribe to an Apple One bundle

instead of maintaining separate subscriptions to multiple Apple services. By doing so, you can save $6 with the individual plan, $8 with the family plan or $25 with the Premier plan each month.

If you are a student at a college or university, sign up for the student plan, which will help you save half the cost you would otherwise pay with the individual plan.
Use discounted Apple gift cards toward an Apple Music subscription.
Information is accurate as of April 25, 2022.