6 Best Free Audiobook Apps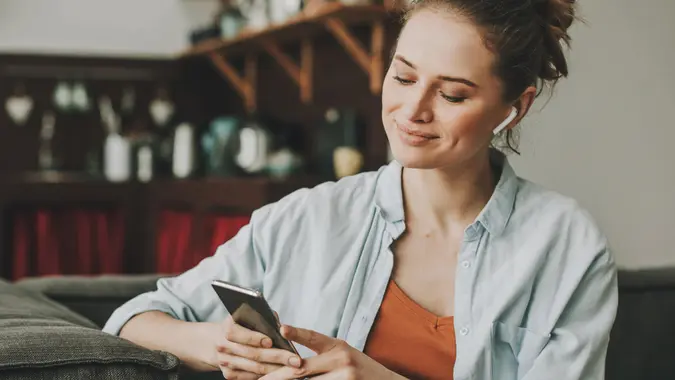 YakobchukOlena / Getty Images/iStockphoto
If you love a good book and don't have time to curl up in a cozy corner to read, audiobooks are a great alternative. You can listen to your favorite authors and stories in the car, at the gym and in bed as you fall asleep. Best of all, you can carry your audiobook library wherever you go — conveniently stored in your phone or tablet.
Which Free Audiobook Apps Are the Best?
Audiobook apps give you access to audiobooks in all genres. They often include features like bookmarks, sleep timers, pause and playback to keep track of your progress in the book. These apps are free to download and use to listen to audiobooks, but some require you to subscribe or purchase books individually.
If you're looking for completely free options, here are the best free audiobook apps to consider:
Apple Books
Barnes & Noble Nook
Google Play Books
Hoopla
Libby
LibriVox
Keep reading to learn more about these apps and why they're worth a closer look.
1. Apple Books
Apple Books debuted in 2018, replacing the iBooks app. If you own an iPhone or iPad with at least iOS 12, you likely already have the app on your device. You also can download it from the App Store and get instant access to audiobooks, e-books and more.
Make Your Money Work for You
Compatibility: iOS, macOS
Why GOBankingRates chose this app: Apple Books is a convenient option for Apple users, with the user experience and design you've come to appreciate from Apple products. The library includes an impressive number of free audiobooks in addition to titles for purchase. You'll find the usual classics available free of charge, but Apple also gives you newer releases as well.
2. Barnes & Noble Nook
Barnes & Noble merged the Nook Audiobooks app with the Barnes & Noble Nook app in 2022, creating a one-stop shop for audiobooks, e-books and podcasts from the bookseller's catalog. You can sign up for a subscription service that gives you one free audiobook when you sign up and one credit for an audiobook each month, but the app also includes a variety of free books available.
Compatibility: Android, iOS, Nook devices, web browsers
Why GOBankingRates chose this app: You have to download audiobooks to your device before listening to them in the app (streaming is available through Barnes & Noble's website). The advantage of this step is that you can listen to the book without an internet connection — a convenient option for traveling. Most of the titles in the free audiobook collection are classics, but that's true of most of the apps on this list.
Make Your Money Work for You
3. Google Play Books
Google Play Books is the Android equivalent of Apple Books, and you can download it to Apple devices as well. The free books are mostly classics read by artificial intelligence, which may not appeal to all listeners. However, it's an easy-to-use app that sorts audiobooks by series so you can quickly find them.
Why GOBankingRates chose this app: Google Play Books uses AI to narrate books in the public domain, a feature that appeals to publishers who want a simple, affordable option for creating audiobooks. Audiobooks are available in English and Spanish. The app automatically syncs across devices, so you can seamlessly switch between logged-in devices without losing your spot in the book.
4. Hoopla
The Hoopla app connects your device with libraries across the United States, Canada, Australia and New Zealand. You'll need a valid library card from your local library to sign up for the service, and then you'll be able to access a variety of digital content — audiobooks, e-books, music, video and more.
Compatibility: Android, iOS, web browsers
Why GOBankingRates chose this app: Within the Hoopla app, you have access to most of the titles available in all Hoopla partner libraries. This means you can enjoy more than the classics for free. However, Hoopla also accepts original work from content creators, which gives you a greater library of works and genres.
Make Your Money Work for You
5. Libby
Libby is the latest app released by the people who launched OverDrive in 2000. It serves as a replacement for the OverDrive app, which will be discontinued in 2023. Libby includes many of the same features that made OverDrive one of the leading lending apps, with more than 500 million digital library loans in 2021.
Compatibility: Android, iOS, Fire OS, web browsers
Why GOBankingRates chose this app: Libby is an upgrade from the original OverDrive app, and like its predecessor, it connects you to the audiobooks and other digital content available at your local library. It features a modern interface that lets you tag books, filter search results and select preferences, so it's easier to find and track your borrowed material.
Those who use Libby for e-books can adjust the font size and screen lighting or use the OpenDyslexic font option to increase readability.
6. LibriVox
Comprised of works from the public domain, LibriVox's library of more than 40,000 free audiobooks is similar to what you'll find in other free audiobook apps. In addition to features like a sleep timer and bookmarks (not available in the web browser), the app comes with Bluetooth control.
Why GOBankingRates chose this app: LibriVox stands out from the rest of the apps on this list because it features works read by volunteers instead of using AI and professional narrators. In addition to classic works of literature, you'll also find a selection of favorite radio dramas. When you find a narrator whose work you really enjoy, you can quickly search for more of their work in the app.
Make Your Money Work for You
What To Consider When Choosing a Free Audiobook App
When choosing the best app for free audiobooks, consider the devices you plan to use for listening. Most apps are compatible with Android and iOS devices, but also note whether they sync your library across all of your logged-in devices and the features they provide. For example, if you plan to listen to books before bed, you may want an app with a sleep timer so it doesn't continue playing while you sleep.
It's also helpful to look for the app with the greatest selection of free books in your favorite genres. If you love the classics, you'll have no problem finding free books, but you may need to pay closer attention to what's available if you prefer more modern tales. Ultimately, the best free audiobook app is the one that you can and want to use.
Make Your Money Work for You