10 Sites That Will Pay You to Read Books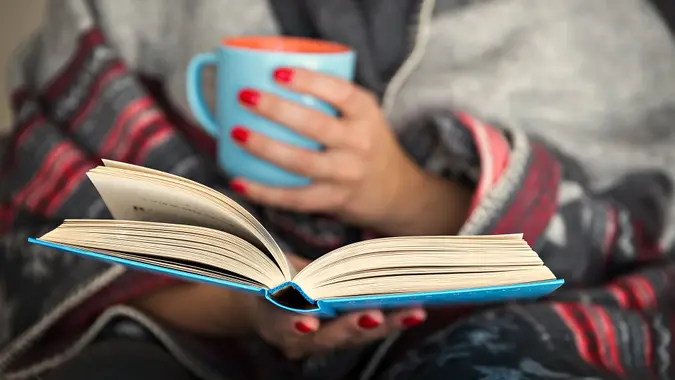 fotyma / Getty Images/iStockphoto
For many people, curling up with a good book is the best way to pass the time. But it may not have occurred to you to turn your love of reading into a stream of income. There are many websites that pay you to read, review and even record books.
As with any side gig that helps you make money fast, there's no such thing as a free lunch. That means you'll need to put in the work to earn pay. But it's possible to earn as much as $300 per hour creating recordings of books, and up to $100 for short reviews of books you've read.
How Do I Get Paid to Read Books?
When you're looking for companies that will pay you to read books, keep in mind there's usually something more to the arrangement than just reading the book. Some companies will ask for short reviews. Some will want longer articles. Companies that create audiobooks will require you to submit a recording of your reading the book, which is a great way to make money on your phone.
How Do I Get Paid To Read by Amazon?
If you're interested in reading and reviewing books, you may be thinking about the holy grail of e-commerce bookstores: Amazon. However, you cannot get paid to review books on Amazon, or you could have your Amazon account banned.
Make Your Money Work Better for You
You may receive free books from authors and, subsequently, review them on Amazon. But the author cannot request the review in exchange for the book. You also cannot review any books or products written or sold by a close friend, relative, business associate or employer.
The best way to get paid from Amazon for reading books is to start a book review website. Then you can try to open an Amazon Associate's account and share Amazon affiliate links within product reviews on your own site. You must disclose that the links are affiliate links and that you earn a commission from each sale.
In general, successful affiliate marketing requires an engaged audience and a high-traffic website, but some of the top affiliate marketers bring in $100,000 per month. If you're just starting out, you can expect to make less than $1,000 per month.
What Company Will Pay You $200 for Every Book You Read?
WordsRated advertised that it would pay their "Bibliophile-at-large" $200 for every book read. The job required reading books and taking notes on details such as the story's setting, number of certain key words and phrases, how many questions were asked in the book, animals that appeared in the book or number of characters by gender. The company used the data to create studies and statistics about books, ranging from the classics to popular fiction.
Unfortunately, according to the website, applications are currently closed for the bibliophile-at-large position. But the sites below will also pay you to read books.
10 Sites That Pay Book Readers
While you may not be able to make $200 per book, you can still make reading books your side gig with these sites.
Make Your Money Work Better for You
1. Kirkus Review
Payment: Undisclosed
Kirkus Review is a highly reputable website that reviews books of all genres and formats. The site is seeking experienced reviewers of English and Spanish titles written by self-published authors for Kirkus Indie.
This gig does not appear to be for newbies, as the site requests a resume, writing samples and a list of reviewing specialties. With most freelance gigs, the more impressive your writing samples and the more prestigious places you have been published, the better your chances of being selected.
To Apply: Submit your resume and some writing samples to Kirkus Indie Editor David Rapp at Drapp@kirkus.com to put your hat in the ring.
2. Booklist
Pay: $15 per review
Booklist is part of the American Library Association. Its reviewers help school and public library workers to choose books for purchase or recommendation to library patrons. Booklist calls its reviews "the haiku of book reviewing," requesting 150-to-175-word reviews that include a plot synopsis, suggest the book's ideal audience and recommend similar titles.
To Apply: Booklist is currently taking applications on their website.
3. ACX
Pay: Hourly rate or 50% royalty share
Love audiobooks and have a great voice? ACX offers professional narrators and audiobook producers the opportunity to earn money working with published authors who need a narrator for their book.
You can enlist the help of other studio professionals to complete and finalize your audio recording. You'll get paid once the audiobook is published or you'll receive ongoing pay equal to 50% of the royalties on sales. Once you have at least 25 audiobooks under your belt, you can apply to be an Audible Approved Producer.
Make Your Money Work Better for You
You can also earn money by referring Audible users to your recorded books through the Bounty Referral Program.
To Apply: Visit the ACX website and create your profile to get started. Upload samples of your voice work based on accents, genre, style and more. When an author or Rights Holder chooses you, you will record an audition by reading a few minutes of their manuscript.
4. Findaway Voices
Pay: Undisclosed
Findaway Voices works similarly to ACX, where authors choose narrators to create audiobooks for them. It offers a comprehensive guide with all the tools to help you succeed.
To Apply: First, create a profile as a narrator. You'll receive a custom URL to make it easy for authors to find you. Then, upload samples of your work, along with an audio intro, bio, cover image and an avatar.
5. Voices
Pay: Varies
Voices is a marketplace for voiceover artists to find jobs or list their availability for projects. The platform says that more than 5,000 jobs are posted each month. When you're done with a project, your payment is deposited automatically into PayPal.
Projects listed under the "audiobooks" skill offer pay ranging from $250 up to $375. As a voiceover artist, you can choose your rates and delivery time when you list your services.
To Apply: Create your profile and upload samples of your work — you can upload an unlimited number of samples for free. If you opt for the paid Premium membership, you'll be matched with jobs that fit your profile.
6. The US Review of Books
Pay: Undisclosed
Make Your Money Work Better for You
With the tagline "Professional Reviews for the People," The US Review of Books publishes a monthly newsletter of book reviews to help authors get the word out about their newest titles. Reviewers are expected to write between 250 and 300 words, offering a plot synopsis and insights. The site's guidelines request "heart and succinct writing," without using first-person language in the review. The review can compare similar books, offer opinions or discuss the author's experience and previous titles.
Reviewers can request their preferences from a list of titles. Once assigned, The US Review of Books expects reviews to be submitted within two to three weeks.
To Apply: You can apply by sending your resume, sample work and two professional references to editor@theUSreview.com.
7. Reedsy Discovery
Pay: Tips from $1 to $5 from those who read your reviews
Reedsy Discovery doesn't pay a flat rate, or even an hourly rate, for reviews. Instead, it allows readers to share tips of $1, $3 or $5 to reviewers in appreciation of their work. You won't get rich writing reviews for Reedsy, but it is a great way to hone your skills if you are looking to write reviews for larger, more well-known sites, like Kirkus Reviews.
To Apply: The application process for Reedsy is easy. Just provide your email address and first and last name to create an account. You'll also have an opportunity to upload an avatar. Then, answer a few questions about your reading habits and the genres you'd like to review. Include a brief bio. To improve your chances of being selected, share links to some of your best reviews. You can submit reviews on video or in written form.
Make Your Money Work Better for You
8. BookBrowse
Pay: Undisclosed, described as "modest"
BookBrowse requires review applicants to have good quality sample reviews of at least 300 words before applying. Reviewers must also submit a "Beyond the Book" article in conjunction with each review. Most reviewers write one review per month, and titles include adult fiction and non-fiction, as well as young adult fiction.
To Apply: The application process is easy and requires listing your favorite genres, sharing two high-quality reviews — plus a link to other reviews if you'd like — and a short bio.
9. Upwork
Pay: Varies
Upwork is one of the largest online marketplaces for freelancers, and you can find plenty of book review opportunities amidst other freelance writing gigs. Qualifications and requirements will vary depending on the client and the specific project. In many cases, Upwork can provide a foot in the door to ongoing work as a book reviewer, making it one of the best sites that will, indirectly, pay you to read books.
To Apply: Create a Freelancer account on the site, list your skills and experience and upload a portfolio. Then search for jobs and submit proposals for the ones you want. If a client wants to hire you, they'll send you a contract.
10. Online Book Club
Pay: $5 to $60
OnlineBookClub.org lets you choose the titles you'd most like to read from a list of books. You receive the books free and then write a review. Your won't be paid in cash for your first review, but subsequent reviews pay between $5 and $60, according to the website.
To Apply: Unlike many other online review websites, you do not need to submit an application or have previous book review samples published. That makes this website more open to beginning reviewers.
Make Your Money Work Better for You
Final Note
If you have a passion for reading and a way with words, you can combine your hobby with your skillset to get paid for reading books. The 10 sites listed above provide easy ways to get started.
More From GOBankingRates
Our in-house research team and on-site financial experts work together to create content that's accurate, impartial, and up to date. We fact-check every single statistic, quote and fact using trusted primary resources to make sure the information we provide is correct. You can learn more about GOBankingRates' processes and standards in our editorial policy.