Get Paid To Read Books Aloud: 14 Proven Ways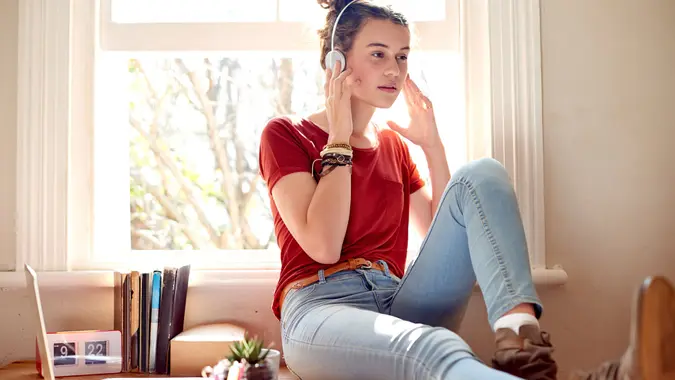 Mikolette / iStock.com
Reading books is a favorite hobby of many people all over the world. If you are someone who likes to read books aloud, there is a way to monetize that skill. Keep reading to learn more.
Get Paid To Read Books Aloud: 14 Simple Ways
Audiobooks have become increasingly popular. People love to listen to books instead of reading them because it saves them time. Moreover, it is fun to listen to a story that is being narrated by someone else. If this is something that interests you, here is a look at some sites where you can get paid to read books aloud:
ACX
Audible
Peopleperhour
Upwork
Brilliance Audio
Voices.com
Voice 123
Findaway Voices

Bunny Studio

Scribie
Fiverr
Freelancer.com
Mandy Voices

Casting Call Club
1. ACX
ACX is a prominent platform for those looking to earn by reading books aloud, with opportunities to produce content for Amazon, Audible and iTunes.
Narrators can create a profile, upload audio samples to demonstrate their range in accents, genres and styles, and set their preferred payment method. The platform allows for auditions for preferred books, offering a mix of hourly payment or royalty sharing.
2. Audible
Audible, a major audiobook platform, provides a significant opportunity for narrators through its connection with Amazon.
Narrators must create an account through ACX and focus on refining their skills to compete in this large market. Freelancers can work from home, provided they have suitable recording equipment.
3. Peopleperhour
Peopleperhour, an AI-driven freelance platform, includes a specific section for audiobook narration. Narrators have the flexibility to set their rates or choose from existing projects. The platform operates on a credit system for applying to projects.
Make Your Money Work Better for You
4. Upwork
Upwork, a global freelancing hub, offers diverse job categories including audiobook narration. Freelancers can set their rates and bid on projects.
Despite the extensive network, many freelancers may run into difficulty finding gigs on Upwork because of underbidding. That is why you should conduct thorough research about the pricing techniques and set your rates before you start your narration journey at Upwork.
5. Brilliance Audio
Brilliance Audio, known for its high-quality audiobooks published on Amazon and Audible, offers narrators the opportunity to work on significant projects. Prospective narrators must reach out to the company to explore career opportunities, facing a selective recruitment process.
6. Voices.com
Voices.com is a leading marketplace for voice-over work, with a vast array of jobs including audiobook narration. The platform allows for profile creation and audio sample uploads, with premium membership offering job matching.
Narrators have a broad range of projects to choose from and can earn a significant amount per finished hour.
7. Voice 123
Voice 123 serves as a platform for voice actors and narrators, attracting clients from well-known brands. Narrators can create a free account, audition for projects and negotiate directly with clients, setting their own rates based on project nature and personal skill level.
8. Findaway Voices
Findaway Voices offers a platform for narrators to get paid for reading books aloud. Narrators need to create a profile, set their rates and adhere to company guidelines. The process involves downloading production notes, uploading samples and submitting complete files for each project.
9. Bunny Studio
Bunny Studio is a multifaceted freelance platform that includes opportunities for audiobook narration. Narrators can register, set up their profile and choose projects, with the freedom to set their rates based on their skills and the project's requirements.
Make Your Money Work Better for You
10. Scribie
Scribie offers a starting point for those new to audiobook narration, functioning primarily as a transcription and translation service. After signing up and passing a proficiency test, freelancers can browse narration jobs, submit samples and start narrating books, getting paid per audio hour completed.
11. Fiverr
Fiverr, a well-known freelance marketplace, allows narrators to create custom gigs for audiobook narration, setting their own rates and terms. The platform facilitates communication with clients, proposal submissions and project acceptance, with success hinging on quality delivery and client reviews.
12. Freelancer.com
Freelancer.com connects freelancers globally, including audiobook narrators. Users can register, bid on narration projects and discuss project specifics with clients. Payment is secured through the platform's system upon client approval of the work.
13. Mandy Voices
Mandy Voices specializes in providing a platform for voice actors, including those in audiobook narration. Professionals can create a profile, apply for jobs, submit auditions and negotiate their terms for various projects.
14. Casting Call Club
Casting Call Club is a community-driven platform for voice actors and audiobook narrators to find various projects. Users create profiles, upload narration samples, apply to relevant casting calls and work on selected projects under agreed terms.
Final Take
Narrating audiobooks is an excellent way to get paid to read books aloud while doing something you're passionate about. In fact, it ranks among the top skills for making money online. The rising popularity of audiobooks has transformed this field into a significant career opportunity, offering a unique way to engage with literature and storytelling.
Make Your Money Work Better for You
FAQ
How much do audiobook narrators get paid?

The payment for audiobook narrators can vary widely based on several factors, including experience, the length of the book and the platform used. Generally, narrators are paid per finished hour of recording. Rates can range from $100 to $500 per finished hour for less experienced narrators, while more experienced narrators or those with a strong portfolio may earn higher rates.

Can I get paid to read books out loud?

Yes, you can get paid to read books out loud. There are various platforms and companies that offer opportunities for audiobook narration. These include ACX, Audible, Voices.com and several others. Each platform has its own process for signing up, auditioning, and getting work, but they all provide opportunities for you to earn money by reading books aloud.

What company will pay you $200 to read a book?

On platforms like Fiverr or Upwork, the payment for narrating a book is not fixed and can be set to what you want. For instance, if you set a rate of $40 per finished hour of narration, and it takes five hours to complete a book, you could potentially earn $200 for the whole project. Keep in mind, your rates can fluctuate based on factors such as your experience and your ability to negotiate with clients.

Can I earn money by reading books?

Yes, you can earn money by reading books. This can be done through audiobook narration. By working with platforms like ACX, Audible, Scribie, Fiverr and others, you can find opportunities to narrate books and get paid for your work. The amount you earn will depend on the platform, the length of the book and your experience as a narrator.
Suchetana Bhattacharyea contributed to the reporting for this article.
Information is accurate as of Nov. 14, 2023.
Editor's note: This article was produced via automated technology and then fine-tuned and verified for accuracy by a member of GOBankingRates' editorial team.